Halt of work order on tents in Khirbet Humsa Al-Fouqa / Tubas governorate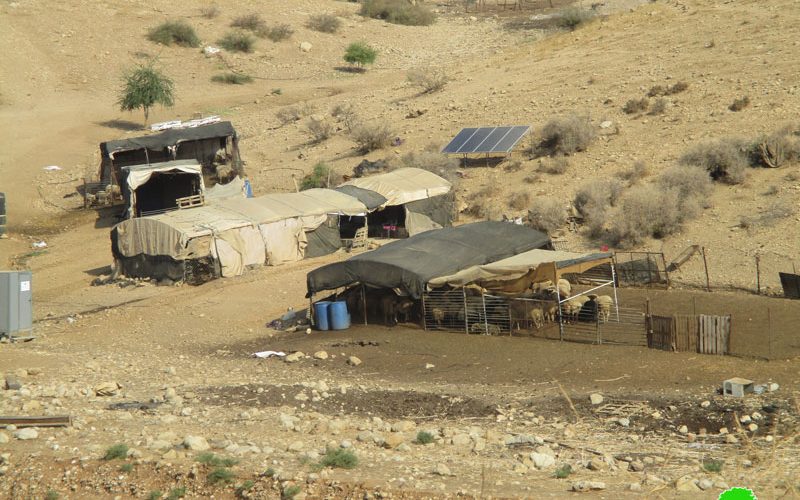 Violation: Halt of work order on residential and agricultural tents.
Location : Khirbet Humsa Al-Fouqa in the northern Jordan Valley.
Date: 10th of October 2019.
Perpetrator: The Israeli occupation civil administration – building and organization department.
Victims: Family of Muhammad Abu Al-Kbash.
Description:
Thursday morning , The Israeli occupation forces accompanied by a building and organization officer raided the area of "Humsa Al-Fouqa" , and served Issa Abu Al-Kbash (61) a halt of work order numbered (00532) on residential and agricultural tents on the pretext of building without licenses. The occupation set October 29 , as the building and organization session in Beit El military court to decide the fate of the structure.
The following table shows more information about the damages:
Affected citizen

Family members

Cattle heads

The targeted facilities

Military order number

notes

Mohammad Abu Al-Kbash

8

120

-2 residential tents (each one is 45m2)

-cattle tent 90m2.

-barn 60 m2.

-Feed tent 16m2.

-Kitchen.

00532

The structure was notified earlier in 2010
Affected citizen told LRC reporter:
"We have been living in Humsa Al-Fouqa for about more than 7 years , we came here from Aj-Jiftlik area close to Al-Humra checkpoint , we moved by force from Aj-Jiftlik after the occupation refused to provide us with licenses. Despite the simple life style , but the occupation forces are insisting to force us to leave the location."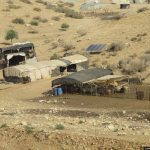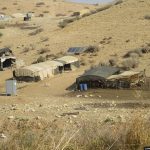 Photos 1-2: the threatened houses and facilities in Khirbet Humsa Al-Fouqa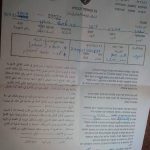 Photo 3: the military order that targets houses and facilities
Humsa Al-Fouqa:[1]
Khirbet Humsa Al-Fouqa is within the borders of Tamoun municipality with an area of 66,340 dunums and a built up area of 4,037 dunums.
[1] GIS-LRC
Prepared by