Settles torch 100 aging olive trees in Ein Siniya / Ramallah
Violation: Torching trees.
Location : Ein Siniya north Ramallah.
Date: 26th  August 2019.
Perpetrators: Settlers gangs.
Victims: Farmer Yousif Nassar.
Description:
 Monday, 26th of August 2019, a group of fanatic settlers protected and covered by the occupation forces , headed towards an olive grove east the village in an area known of "Wadi Az-Zaytoun" , 2 km away from the town's houses.
The fanatic settlers poured highly flammable materials on the trees, then torched fire , the fire spread rapidly, torching about 100 trees. Cameras on nearby facilities caught perpetrators, and it turned out that they are two Israeli settlers wearing Civilian clothes.
Reportedly, 40 trees were completely burnt up by the flames , and 60 trees were partially damages , they are planted on 40 dunums plot , and belong to Mohammad Nassar  (66) and his brothers from Ein Siniya village .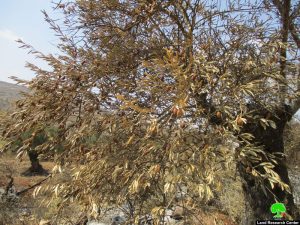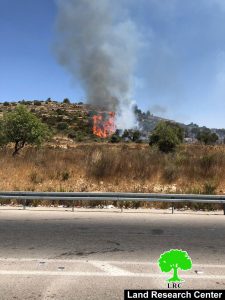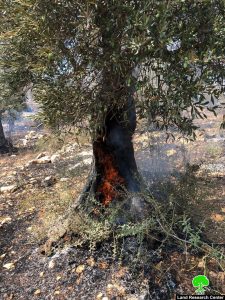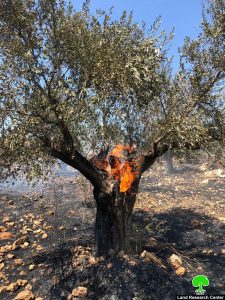 Views from the fire
Farmer Nassar told LRC reporter:
" The targeted plot provides olive oil for my family , my brothers and I make about 2 tons of olive oil yearly, since the moment I returned home, I've been spending plenty of my time in cultivating the plot."
Nassar asserted, about 2:00 of Monday noon of 26th August , I received a call from one of my neighbor farmers telling me that my plot is on fire .
I rushed to the location to see that flames had eaten most of the trees . We called the Palestinian civil administration, but the fire fighters were hindered by the occupation forces who prohibited them from reaching the location in area C without coordination with the Israeli government, after passing through, fire fighters were hindered another time , as the roads are not suitable for machineries due to the fact that the occupation troops prohibit any rehabilitation projects at the area. Eventually, fire fighters used basic tools to stop the fire.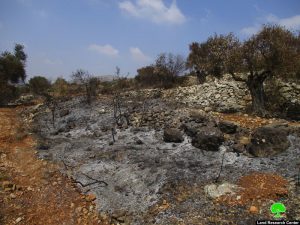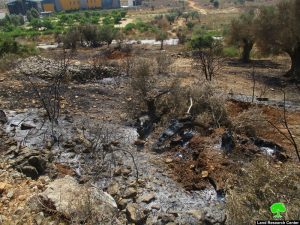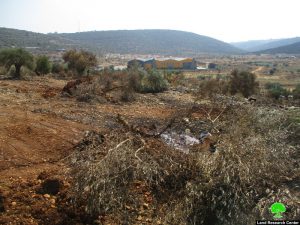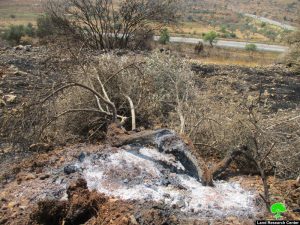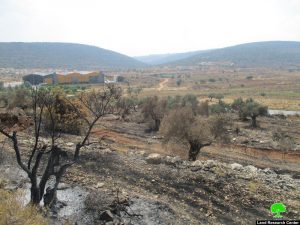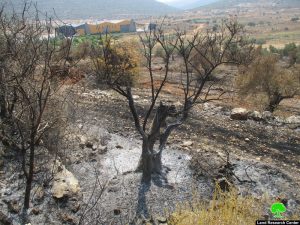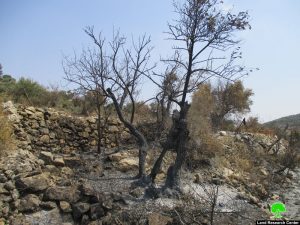 Scenes after the fire was stopped
This scenario repeats itself as olive harvesting season becomes closure each year. Israeli settlers target olive trees because olives is a symbol of Palestinian resistance , and a symbol of generosity. Thus, Palestinians consider olive trees a reflection of their identity.
 About Ein Siniya village:
7 km north Ramallah, Ein Siniya is surrounded by 'Atara (north), Beir Zait and Jifna (west) , Yabrud (east) and Dura Al-Qare'a (South).
Ein Siniya has a population of (952) people  in 2017 census.
Families of Ein Siniya : Khater , Dar Ali, Abu Al-Haj, Abu Al-Shaikh , Musa and Al-Halaq.
It has a total area of (3,196) dunums , of which (200) dunums are a built area.
Bypasss roads 466 and 465 ate up about 416 dunums.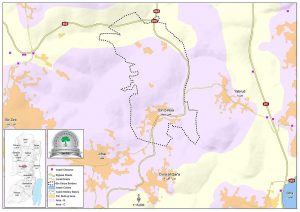 Oslo accords divided the land as the following:
B area: 2,511 dunums.
C area : 685 dunums.
Prepared by