New Outpost Appears in the Northern Jordan Valley Area/ Tubas Governorate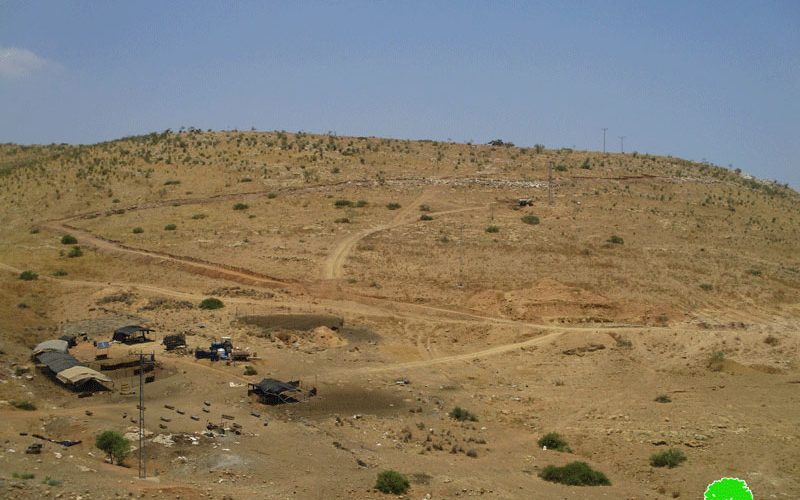 Violation: appearance of a new outpost.
Location: Wadi Al-Faw and Ein Al-Hilweh / Tubas.
Date: 07/07/2019.
Perpetrator: The Israeli occupation settlements' council.
Victims : Bedouin communities in the Jordan valley area.
Description:
In the early morning hours of Sunday , 7th of July 2019, people of Wadi Al-Faw and Ein Al-Hileh woke up to the noise of Israeli bulldozers. It turned out that the occupation authorities  started opening an agricultural road in Al-Mirmala location , in an attempt to take over the mountain area (70 dunums) .
Reportedly, the new road will start from bypass (578)  reaching the mountain top to the north of Wadi Al-Faw community.
About the new update, Activist Aref Daraghma told LRC reporter:
"Al-Mirmala area is an important herding location for the surrounding Bedouin communities,  While the occupation considers them a state properties.
Recently, settlers' activities were noticed in the area, they put a tent , and started harassing people of the area , and part of them posted on their social media profiles that they will inhabit Al-Mirmala location".
The responsible on colonization file Mutaz Bsharat told LRC reporter:
"Al-Mirmala location is a link point between Khirbet Samra, Khirbet Al-Faw, Khirbet Ein Al-Hilweh and Khirbet Umm Jamal, it is located over a hill that overlooks the whole area . However, it is crystal clear that once the occupation takes over the area, they will close postures and erase any Palestinian existence at the location."
Legal Feedback:
The constringing policy  by the Israeli occupation authorities   of confiscating Palestinian lands in order to  build illegal random outposts and settlements can only be regarded as a violation of all  international conventions  and agreements like:
The Geneva Fourth convention relative to the protection of civilian persons in the times of war:
Security council resolution 242 year 1967:   Withdrawal of Israel armed forces from territories occupied in the recent conflict; and  Termination of all claims or states of belligerency and respect for and acknowledgement of the sovereignty, territoial integrity and political independence of every State in the area and their right to live in peace within secure and recognized boundaries free from threats or acts of force.
Security council resolution 446 year 1979:   Determines that the policy and practices of Israel in establishing settlements in the Palestinian and other Arab territories occupied since 1967 have no legal validity and constitute a serious obstruction to achieving a comprehensive, just and lasting peace in the Middle East;
Security council resolution   452 year 1979: the resolution once again denounced Israel's settlement activities  in territories occupied in 1976 including (East) Jerusalem, this activity constituting a violation of the Fourth Geneva convention, and called on Israel to cease planning and construction of settlements
Security council resolution 465 year 1980: calls to dismantle the existing settlements and in particular to cease, on an urgent basis, the establishment, construction and planning of settlements in the Arab territories occupied since 1967, including Jerusalem; Calls upon all States not to provide Israel with any assistance to be used specifically in connexion with settlements in the occupied territories; 
Security council resolution 478 year 1980:  Censures in the strongest terms the enactment by Israel of the "basic law" on Jerusalem and the refusal to comply with relevant Security Council resolutions,Those States that have established diplomatic missions at Jerusalem to withdraw such missions from the Holy City.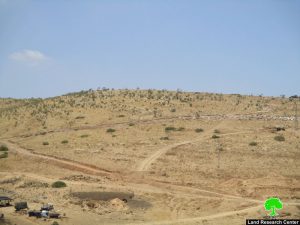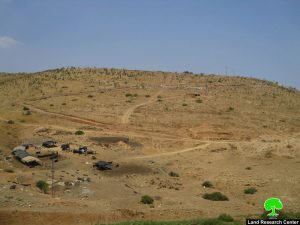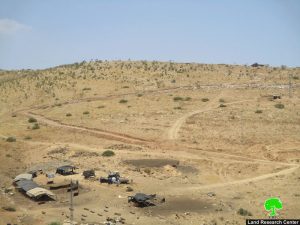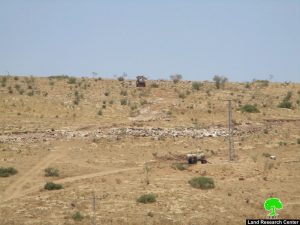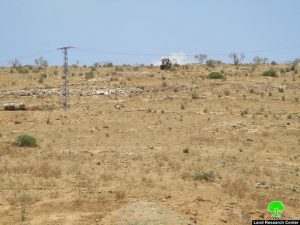 Photos 1-5: Israeli settlers roads at Al-Marmala location
Prepared by