IOF demolish residential and agricultural Barracks in Khirbet Ar-Ras Al-Ahmar/ Tubas governorate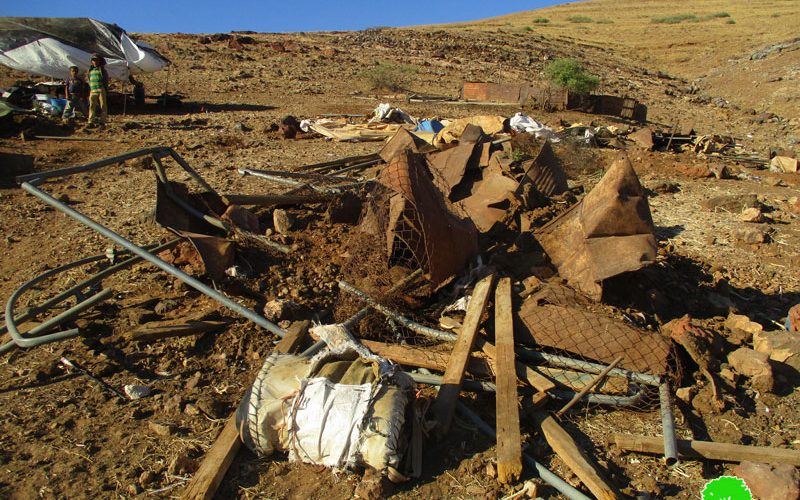 Violation: demolition of residential and agricultural Barracks.
Location: Ar-Ras Al-Ahmar area/ Tubas governorate.
Date: 30/07/2019.
Perpetrator: The Israeli occupation forces.
Victims: three families from the Khirbet.
Description:
Tuesday , 6:30 am , 30 July 2019 , the Israeli occupation forces accompanied by two military bulldozer and a truck raided Khirbet Ar-Ras Al-Ahmar east Tammoun , and demolished three tents of families living in the area , on the pretext of residing an area classified as a "Closed military zone".
This is the second attack in a period of a month against the same families , in early June , the occupation forces forced the families to leave their tents and barns under the same claim of residing in a closed military zone , they also destroyed and confiscated tents based on a previous notice in 12 March 2019.
The following table shows the details of the damages according to field monitoring at the location:
Affected citizen

Family members

Cattle heads

Details

notes

Residential tent

Barn tent

others

'Alam Bani Oudeh

9

75

 

Residential tents (2)

(60 m2)

Barn tent (60 m2)

 

Barn 60 m2

Confiscating parts of tents

 

Destroying solar cells (2 cells)

The residential tents and barns are a donation from ACTED

 

Solar cells are a donation from local governance

Baker Bani Oudeh

2

40

Residential tent (40 m2)

 

 

Granted by Red crescent society

Suliman Beni Oudeh

5

150

Residential tent (45 m2)

Barn tent (2 * 100 m2)

 

 

total

16

265

3

4

 

 
The Israeli occupation claims that Khirbet Ar-Ras Al-Ahmar is a closed military zone, thus the occupation carried out several demolition operations in the Khirbet without any preceding military orders. Khirbet Ar-Ras Al-Ahmar is one of several Khirbets in the Jordan Valley that are now subjected by Israeli schemes and measurements. Noteworthy, the Khirbet is inhabited by 18 families that originally came from Tammoun village , specifically from Bsharat and Bani Oudeh families.
Noteworthy , people of the village are living a basic life , but always targeted by the occupation , the community was demolished 18 times in the last ten years, but people of the khirbet are determined to stay in their area.
Photos 1-8: the targeted structures after the occupation's attack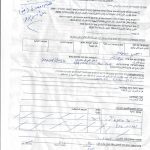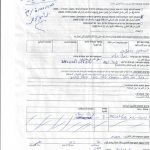 Khirbet Ras Al-Ahmar:[1]
23 km southeast Tubas city,  Ras Al-Ahmar has a population of 74 people in 2017 census.
The Khirbet has a built up area of 36 dunums , Ras Al-Ahmar is considered a part of Tubas and all of the Khirbet's lands are classified in C area according to Oslo accords.
The occupation confiscated about (10362) dunums from the Khirbet lands for the following purposes:
Israeli settlements devoured about 4324 dunums , as the following:
| | | | |
| --- | --- | --- | --- |
| settlement | Establishment year | Area of the settlement | Number of settlers in 2018 |
| Beka'ot | 1972 | 2,404 | 215 |
| Hemdat | 1980 | 316 | 275 |
| Ro'i | 1967 | 1,604 | 174 |
8 Israeli military camps surround the settlement with an area of (6,038) dunums.
Israeli Demolition policies and international law:
The Israeli occupation demolition policies are not and never have been leaded by security purposes or military necessities but came to achieve colonial goals, Specifically, constructing settlements.
The occupation authorities throughout their repressive policies that aim to displace Palestinian people or cram them in small areas seek to take over as much as possible of Palestinian lands. Such measurements are a violation of international conventions and agreements:
Article 147 of Geneva fourth convention: extensive destruction and appropriation of property, not justified by military necessity and carried out unlawfully and wantonly. ( it is considered a serious violation of the convention)
Article 53 of Geneva fourth conventionthat forbids destroying properties: Any destruction by the Occupying Power of real or personal property belonging individually or collectively to private persons, or to the State, or to other public authorities, or to social or co-operative organizations, is prohibited, except where such destruction is rendered absolutely necessary by military operations.
Article 33 of Geneva fourth convention:No protected person may be punished for an offence he or she has not personally committed.
Article 32 of Hague convention 1907 part g:To destroy or seize the enemy's property, unless such destruction or seizure be imperatively demanded by the necessities of war.
Article 17 of Universal declaration of human rights 10 –Dec- 1948:No one shall be arbitrarily deprived of his property.
[1] GIS-LRC
Prepared by