IOF Demolish and Confiscate Residential and Agricultural Tents in Khirbet Al-Hadidiya/ Tubas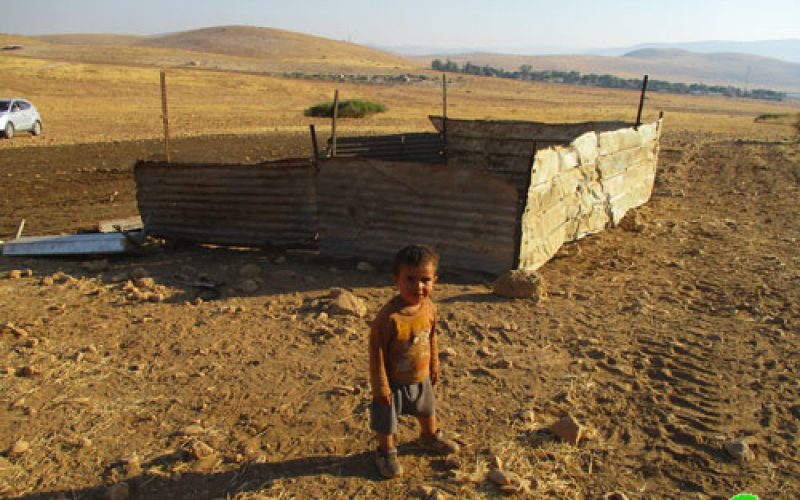 Violation : Demolition and confiscation of residential and agricultural tents.
Location: Khirbet Al-Hadidiya/ Tubas.
Date: 21/07/2019.
Perpetrator: The Israeli occupation forces.
Victims : Two families from Arab Al-Ka'abneh clan.
Description:
Within the Israeli scheme to erase Palestinian existence in the northern Jordan Valley and take over natural resources, the Israeli occupation forces accompanied by a machinery raided Khibet Al-Hadidiya , and carried on dismantling and confiscating agricultural and residential tents that belong to two families in the area, on the pretext of building within a closed military area.
The following table shows more information about the owners:
Affected citizen

Family members #

Children under 18

Cattle heads #

damages

notes

Najeh Al-Ka'abneh

8

5

56

Confiscation of two residential tents (60 m2 / each)

Confiscation of two tents used as barns (32 m2 / each)

Confiscation of a tent used as a kitchen

Co0nfication and dismantle of a barn (60 m2)

Residential tents were a donation from Colonization and Wall Resistance committee

 

The barn tents were a donation from ACTED

Odeh Al-Ka'abneh

4

2

18

total

12

8

74

 

 
Noteworthy, the owners were targeted four times in the recent 3 years, Oudeh Al-Ka'abneh (23 years) told LRC reporter:
"Early this year we moved to Aj-Jiftlik north Jericho in an area called Khallet Al-Foul after the occupation raided the area and demolished 3 barracks used in cattle breeding in May 2016. Also in October 2018 , demolished again the structures and barracks that we own.
It is important to mention, we tried through several legal aid institutions in coordination with Jericho and the Jordan Valley governor's office to obtain a license , but the occupation refused despite the fact that we have legal documents prove that we own the land.
Early 2019 , we moved to Khirbet Al-Hadidiya  , and in may the occupation forces stormed the area and confiscated the tents and barracks that we owned in the pretext of living in a closed military zone, so we moved to an area that is about 1 km away, but the occupation showed up again and left us homeless under the heat of the sun , I am the supporter of a family of 4 , 2 of them are children one of them is one and a half years old , and the other is only two months old, while my father supports a family of 8, 5 of them are children."
Residents of Khirbet Al-Hadidiya live with the least of life possibilities, and depend mainly on herding and agriculture for living , during the recent 5 years the community was targeted several times of demolition and destruction.
About Al-Hadidiya hamlet: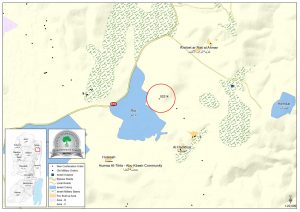 It is considered part of Dhaher Al Malih area and is  located 33 km to the east of Tubas governorate. Moreover, it populates about 100 people who depend on agriculture and livestock in their living. Most of the residents are nomads descending from Bisharat and Odeh families from Tammun town; they resided in the area for the sake of planting and growing cattle just like any other nomad assemblage in the area that used to belong to Palestinians.
Prepared by
 The Land Research Center
LRC