IOF demolish an under construction house in Beit Ummar /North Hebron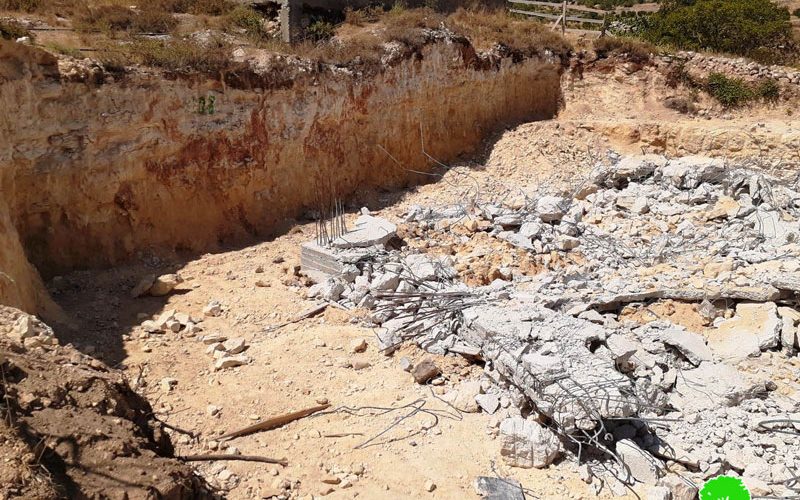 Violation: Demolishing an under construction house.
Date: 08/07/2019.
Location: Al-Qate'a – Beit Ummar village/ Hebron governorate.
Perpetrator: The Israeli occupation civil administration and army.
Victims: Family of Mohammad Sabarna.
Description:
Monday, 8th of July 2019, the Israeli occupation authorities demolished an under construction house that belongs to Mohammad Sabarna in Beit Ummar / North Hebron.
An Army force accompanied by a staff from the building and organization department in the civil administration raided Al-Qate'a area east Beit Ummar, the IOF encircled the location and prohibited Beit Ummar municipality head and neighboring citizens from approaching the house, then carried out the demolition, the operation was implemented using a Hyundai track excavator and a Caterpillar bulldozer.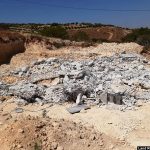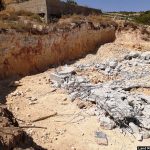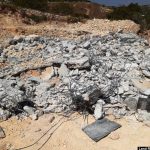 Photos 1-3: Sabarna house after it went through a demolition operation
The construction in the targeted house commenced in 2019, it was in the "base" phase, and had an area of 150 m2, in an attempt to move into it after marriage, the owner (25) was recently freed from the occupation's jails. 
Sabarna's financial lost reached about 12000 $.
In 7 /4/2019, the Israeli occupation authorities served stop work order on Sabarna's house , and assigned 1/5/2019 for the subcommittee session in Beit El court to decide the fate of the structure.
In 8/6/2019 , the Israeli occupation authorities issued a final halt of work order, Sabarna prepared a legal file , but the occupation authorities demolished the structure before he managed to file the legal file.
About Beit Ummar:[1]
It is located 12 km to Hebron city. The village's total area is 21,285 dunums, of which 1,375 dunums are considered the built-up area; around 16,977 people inhabit Beit Ummar (according to 2017 census).
The Israeli occupation authorities confiscated 560.5 dunums from Beit Ummar for the favor of the bypass road no.60.  The occupation also confiscated 1,216 dunums for the favor of the following colonies:
Colony

Year of establishment

Dunums confiscated from Beit Ummar

Built-up area\dunums

No. of colonists

Karmei Zur

1984

179

289

623

Migdal Oz

1977

682

1,076.4

298

Kfar Etzion

1976

18.6

923.5

404

Efrat

1979

98.6

2,063.6

7,037

Alon Shevut

1971

237.8

934

3,146

Total

1216

5,286.5

11,508
International Conventions and agreements pertaining demolition of Palestinian structures:
Article 147 of Geneva fourth convention  : extensive destruction and appropriation of property, not justified by military necessity and carried out unlawfully and wantonly. ( it is considered a serious violation of the convention)
Article 53 of Geneva fourth convention that forbids destroying properties : Any destruction by the Occupying Power of real or personal property belonging individually or collectively to private persons, or to the State, or to other public authorities, or to social or co-operative organizations, is prohibited, except where such destruction is rendered absolutely necessary by military operations.
Article 33 of Geneva fourth convention: No protected person may be punished for an offence he or she has not personally committed.
Article 32 of Hague convention 1907 part g: To destroy or seize the enemy's property, unless such destruction or seizure be imperatively demanded by the necessities of war.
Article 17 of Universal declaration of human rights 10 –Dec- 1948:  No one shall be arbitrarily deprived of his property.
[1] GIS-LRC
Prepared by