Demolition of Facilities in Haris Village / Salfit Governorate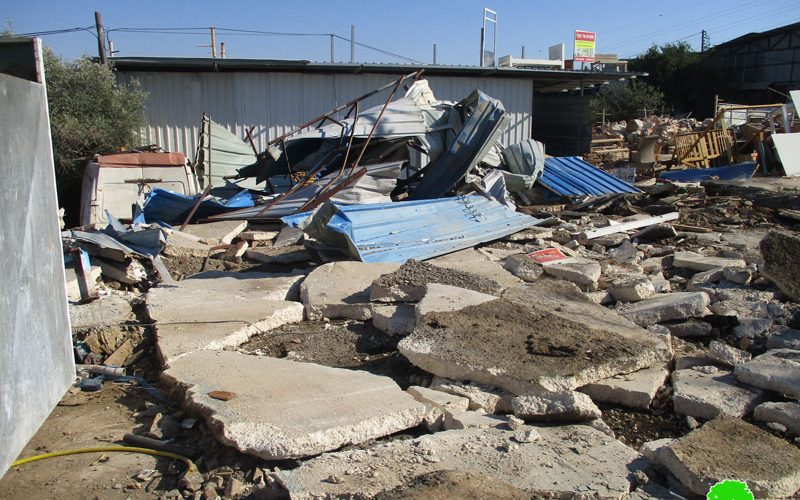 Violation: Demolishing a facility.
Location: Haris village/ West Salfit.
Date: 25/07/2019.
Perpetrator: The Israeli occupation army.
Victims: citizen Nadi Suliman.
Description:
In the early morning hours of Thursday , 25 of July 2019, IOF supported by a bulldozer raided Haris village west Salfit, headed to the eastern area close to bypass 505 and demolished two barracks belong to Nadi Suliman from Haris village, the following table shows more information about the targeted structures.
Affected citizen

Family members

children

damages

notes

Nadi Suliman

7

5

-Demolition of a zinc barracks used as a woodwork shop (60 m2).

-Demolition of a zinc barracks used as a car washer  (24 m2).

-Smashing and sabotaging a refrigerator (32 feet), and a water reservoir 2 m3.

-Smashing a water line 6m.

The owner's properties were demolished 3 times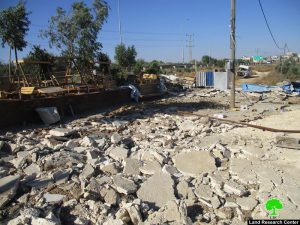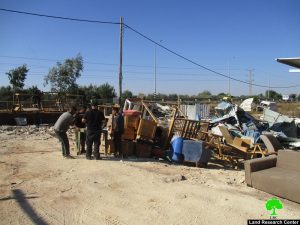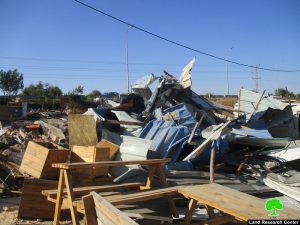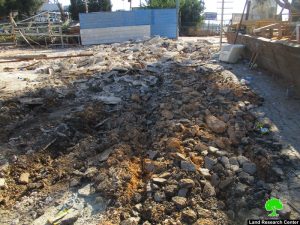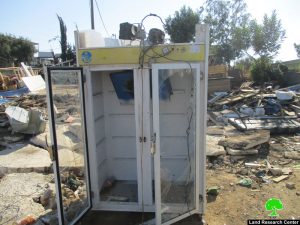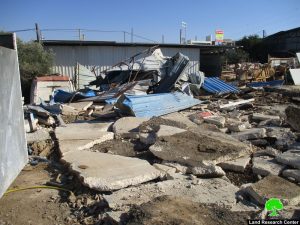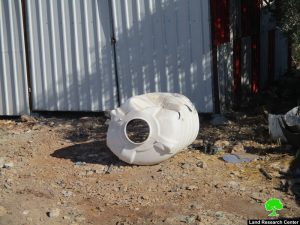 Source: Firsthand Field observation- Israeli violations monitoring section- LRC , July 2019
Noteworthy, In November 2017,  The Israeli organization committee served stop work orders to two facilities belong to Nadi and his brothers Salih and Fadi .
 In 28 November 2018, the occupation served a final halt of work and demolition orders , and gave the owners only 30 days to dismantle the structures, but the IOF did not commit to the deadline , and demolished the structures in 4th of December 2018.
4th of March 2019, The Israeli occupation demolished two structures and a car washer.
Referring to the military order issued in 2017 , the occupation demolished two barracks that are a blacksmithery and a car washer belong to Nadi Suliman.
Affected citizen told LRC reporter:
"Once we received the military orders, we carried on the licensing procedures , but the occupation refused the application, as the plot is close to bypass road 505."
 About Haris:[1]
6 km to the west of Salfit governorate, Haris is located with a total land area of 8450 dunum, of which 320 dunums are the village's built-up area. Haris is surrounded by the villages of Deir Istiya from the north, Kifl Haris from the east, Kfar ad-Deek and Bruqin from the southwest and Qarawat Bani Hassan from the west.
It has a total population of 4,137 people according to the census of Palestinian Central Bureau of Statistics for 2017. Those people hail from the following families: Abu Atta, Dawoud, Salamih, Sultan, Shihada, Souf, Faz', Awwad, Qasim, and Klaib.
Haris is a hotspot of Israeli assaults and violations ,one of them was opening  bypass 505 on its soil, which devoured 4 km of its fertile lands .
[1] GIS-LRC
Prepared by
 The Land Research Center
LRC