Demolition of an agricultural barracks in 'Izbet Salman / East Qalqilya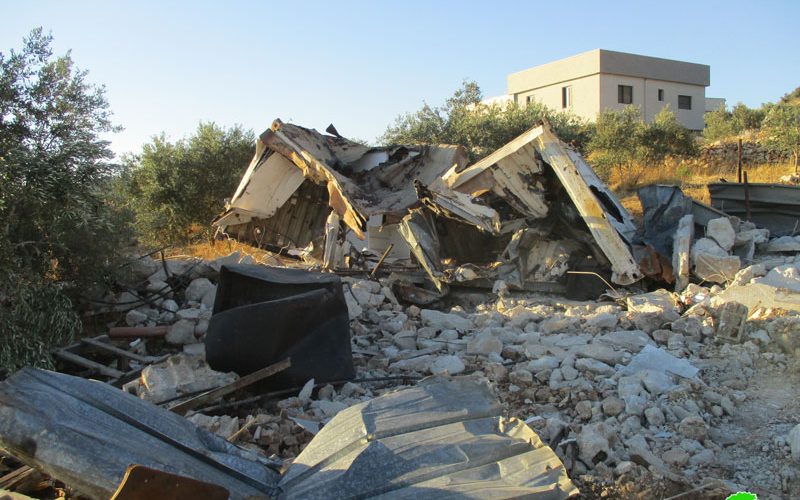 Violation: Demolishing an agricultural barracks.
Location: 'Izbet Salman / East Qalqilya city.
Date: 10/07/2019.
Perpetrator: The Israeli occupation civil administration.
Victims: Othman Al-'Atmawi.
Description:
The Israeli occupation forces accompanied by an officer from the building and organization department in the civil administration raided 'Izbet Salman east Qalqilya on Wednesday morning , July 10th 2019, the occupation forces carried on demolished a barracks with an area of 60 m2, in addition to other structures such as an outer bathroom built of bricks and zinc with an area of 6m2 , and a store built of bricks and zinc with an area of 16 m2, all of them belong to Othman Al-Atmawi.
Reportedly, the occupation forces intentionally caused great damages at the location before withdrawing at 9:00 am. The owner owns a farm planted with Guava, and rainfed trees, while the demolished structures were used in storing beans and agricultural tools, and a place for resting after a long working day.
Noteworthy, the owner received a previous notice, but did not have the knowledge to understand the threat or follow up the case in the occupation court , which gave a pretext for the occupation to demolish his structures , within their arbitrary policies on construction in C area.
'Izbet Salman village council head Abdul Kareem Salman told LRC reporter: There is an Israeli scheme to reduce physical expansion in the village; the occupation prohibits building on about 100 m around the apartheid wall , while there are number of facilities under demolition sword, consequently the village is under continuous threat.
Reportedly, during the recent 3 years, 'Izbet Salman witnessed a brutal attack by the occupation forces, the town contains almost 14 house and agricultural and commercial facilities that were notified of halting work. Noteworthy, the occupation is still refusing to expand the organizational plan for the village, which has an area of 146 dunums , which is an area that does not meet the town's natural demographic expansion.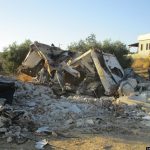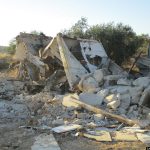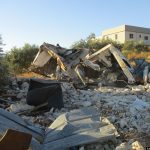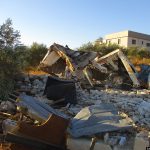 Photos: 1-4: Views from the demolition
About  Izbat Salman:
Six km to the southeast of Qalqiliya governorate, Izbat Salman is considered one of the residential communities of the area. It is edged by Jal'ud area from the north,  Azzun village from the south, Izbat Al-Ashqar from the east and Habla town from the west.
The area populates 727 inhabitants (2014), that belong to two main families namely ( Al-Salman and Oudeh).
Izbat Salman totals 2310 dunum, of which 640 dunums were confiscated by the Israeli occupation for the favor of Oranit and Zamarot colonies.
According to the village council of the area, there are eleven agricultural and residential structures that are notified of stop-work and demolition in the area.
Prepared by