Confiscation order on lands in 'Azzun / Qalqilya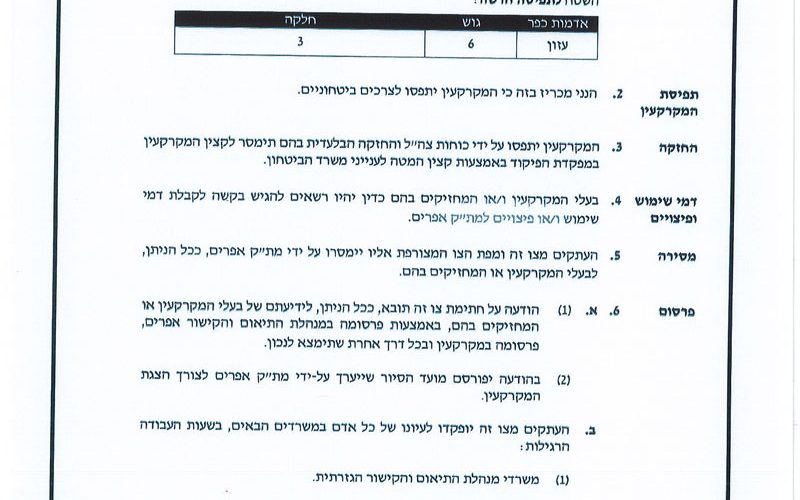 Violation : Laying hands on 250m2.
Location: the northern borders of 'Azzun/ Qalqilya.
Date: 16/07/2019.
Perpetrator: The Israeli occupation forces.
Victims: People of 'Azzun.
Description:
The Israeli occupation's army commander in West Bank "Nidav Alof" issued military order numbered (19/5/T) which lays hands on 250 m2 of 'Azzun lands , close to the occupations "security gate" on the northern entrance of 'Azzun (as shown in the attached map).
As illustrated in the military order the targeted lands are in natural block 6 piece 3 . The occupation's commander in west bank claims that the confiscation is for security necessities.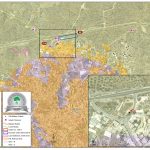 Activist Hassan Shbaita from 'Azzun told LRC reporter:
"In the recent five years , the occupation escalated attacks against people of 'Azzun , weekly the gate is closed several times , which isolates the village from its surrounding and tightens citizens' movement , the situation now repeats itself more often than ever , that was preceded by putting a siege on the northern entrance of the village , there is also a new military order that confiscates several meters close to the military gate, which reflects the occupation's intention to impose realities on the ground, and impose full control on the northern entrance , that creates a harsh reality that affects the lives of 11,000 people living in the town, it is also expected that they may install a permanent watch point in the area."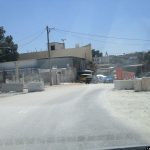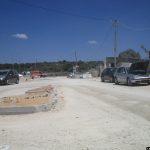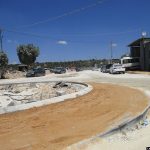 Photos 1-3: the town's northern borders – the targeted area
Noteworthy, the occupation frequently closes the town's northern entrance through their "Security gate",  and tightens the siege around the village.
About Azzun[1]:
Located 8km to Qalqiliya city with a total area of 9,472 dunums, of which 1,054 dunums are the village's built-up area. The occupation confiscated vast area from the village for the favor of colonization and the apartheid wall; the areas are detailed as follows:
276 dunums were confiscated for Maale Shamron colony that was established in 1980.
417 dunums were confiscated for the bypass road number 55
It should be marked that the vast majority of Azzun lands (6,927 dunums) is classified as area "C" according to Oslo accords; areas that are controlled by the Israeli occupation. The village has zero percentage of area "A" that is under the control of Palestinian Authority. As for other classifications, the village has 2,546 dunums classified as area "B". (Geographical Information System- Land Research Center)
3 colonies are built on 'Azzun lands and they are:
Maale Shomron: Built in 1980, the colony has a total area of 1903 and a built-up area of 216 dunums. 549 colonists live in it (according to a 2004 census).
Genot Shomron: Built in 1985, the colony's built-up area is 484 dunums.
Karni Shomron: Built in 1978, the colony's built-up area is 1351 dunums. 6270 colonists live in it (according to a 2005 census)
[1] GIS-LRC
Prepared by