Israeli Troops Demolish a Barracks in Qaffin Village/ Tulkarim Governorate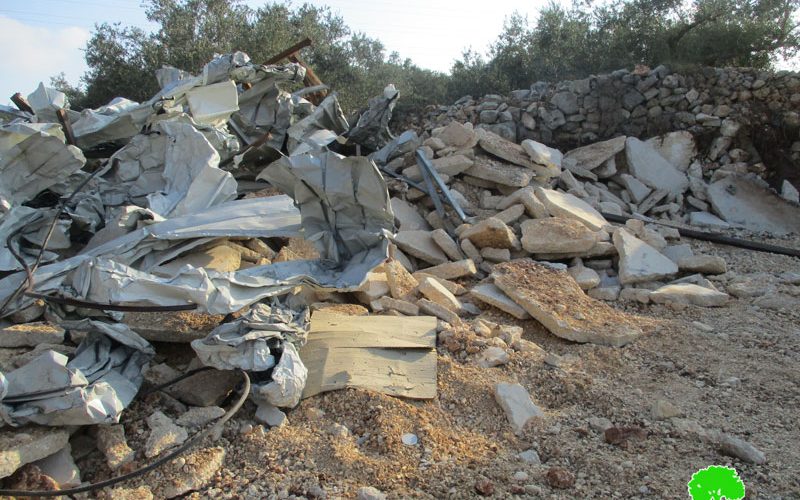 Violation: Demolishing a barracks on the claims that it lacks licenses.
Date: 23/06/2019.
Location: Qaffin village / North Tulkarim.
Perpetrator: The Israeli occupation building and organizing commission and army.
Victims: Nidal Ajouli.
Description:
The Israeli occupation forces raided Qaffin village , and targeted a barracks located in "Al-Batisha" northwest the town, on the pretext of building without licenses. Reportedly, the targeted barracks has an area of 24 m2 , and was meant to be a woodwork shop , which was going to provide a job opportunity for Nidal Al-Ajlouli , who is the supporter of a family of 5 , 3 of them are children.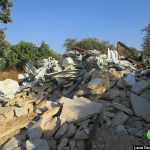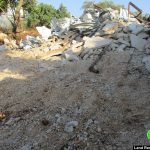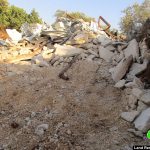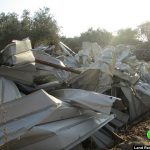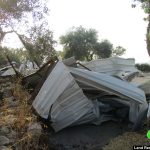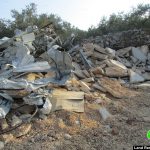 Photos 1-6: The targeted barracks
Al-Ajouli told LRC reporter:
"At the beginning of March I commenced the construction of a barracks, but at 10th of April I received a halt of wok order, a few time have passed, and In 1st of May , I received a final demolition order, the last military order gave me only 7 days to object on the demolition. But unfortunately, I failed to complete the legal measurements before the deadline, so they demolished my structure , my financial lost is at least 24,000 NIS."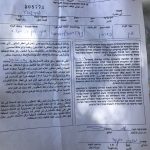 The attachment of the military order
In the recent years , The occupation demolished number of barracks in Qaffin, on the pretext that they are close to the segregation wall , in addition to the unlicensed structures. But In reality , the Issue is not about unlicensed structure, it is about keeping area C as a reserve for colonial expansion.
About Qaffin[1]:
20 km north Tulkarim, Qaffin is surrounded by Aqaba and Dhaher Al-Abed (north), the green line (the occupied territories of 1948) – (West), Ya'abad (east), Nazlet Issa and Baqa Ash-Sharqiya (south).
Qaffin is populated 10,690 people in 2017.
Qaffin has an area of 8,834 dunums , 1,352 dunums are the town's built up area.
The occupation devoured 400 dunums , of which 30 dunums were exploited for bypass 585. The occupation also constructed a segregation wall which is 3,760 m long, which ate up 370 dunums and blocked 1,533 dunums.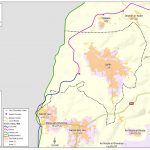 Oslo conventions divided the town's lands as the following:
B area : 1,888 dunums.
C area: (6,946) dunums.
Most of Qaffin people depend mainly on agriculture for living , 90 % of the town's lands are olive groves.
The town contains several clans : Ta'ama, Ammar, Sabah, Khatib, Kattana , Amarna , Ajouli and Zain.
International Conventions and agreements pertaining to demolition of properties:
Article 147 of Geneva fourth convention : extensive destruction and appropriation of property, not justified by military necessity and carried out unlawfully and wantonly. ( it is considered a serious violation of the convention)
Article 53 of Geneva fourth convention that forbids destroying properties : Any destruction by the Occupying Power of real or personal property belonging individually or collectively to private persons, or to the State, or to other public authorities, or to social or co-operative organizations, is prohibited, except where such destruction is rendered absolutely necessary by military operations.
Article 33 of Geneva fourth convention: No protected person may be punished for an offence he or she has not personally committed.
Article 32 of Hague convention 1907 part g: To destroy or seize the enemy's property, unless such destruction or seizure be imperatively demanded by the necessities of war.
Article 17 of Universal declaration of human rights 10 –Dec- 1948: No one shall be arbitrarily deprived of his property.
[1] GIS-LRC
Prepared by
The Land Research Center
LRC