Israeli settlers torch 75 dunums of agricultural and pastoral lands in al-Mughayyir / Ramallah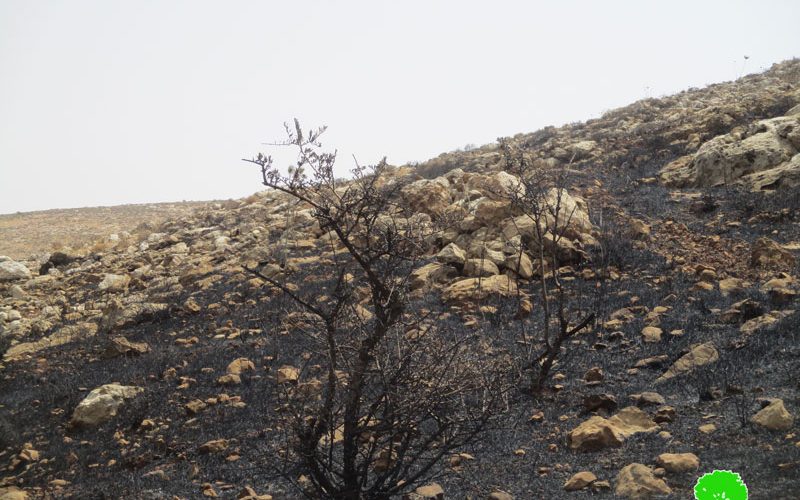 Violation: Torching agricultural and pastoral lands.
Location : Al-Mughayyir north Ramallah city.
Date: 07/06/2019.
Perpetrators: "Adei Ad" Settlers.
Victims: Number of farmers from Al-Mughayyir.
Description:
In the evening if Friday 7th June 2019, a group of fanatic settlers sneaked into the eastern area of Al-Mughayyir, also known as "Al-Hajar" , they took advantage of the fact that the area seems calm , and set fire on the dry grass, the fire ate up more than 75 dunums, before the firefighters managed to kill it.
The targeted area is near bypass 458, and about 1 kilometer away from the town's houses.
Photos 1-4: the targeted plot
A member from the local council, and one of the land owners told LRC reporter: "Recently we noticed a number of "Adei Ad" settlers hanging around in the area, at the same day I received a phone call from one of the farmers telling me that there is a massive fire in Al-Hajar, we rushed to calling the Palestinian civil defense, but the hot weather and dry grass made killing the fire seems like an impossible mission."
Noteworthy, The Israeli government consider about 60 % of the targeted location as a state's property, and the rest of the lands belong to farmers from the village. Reportedly, the fire ate up about 92 olive trees, 17 of them are completely damaged.
The damaged trees belong to farmers as the following: Family of Faraj Na'asan (35 trees), Fawzi An-Na'asan (17 trees), Rezeq Abu Sa'adeh (40 trees) , most of them were planted about 20 -28 years ago.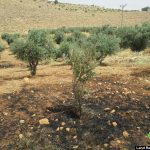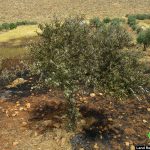 Photos 5-12: some of the targeted trees
Al Mughayyir is targeted by radical colonists under the protection and support of the Israeli army. The olive trees are under constant attack. Recently, a number of olive trees were torched, the harvest was stolen several times. 
Also , during the recent years , LRC team documented several attacks against Palestinian land and human in Al-Mughayyir, one of them was torching 2 mosques in the village , in addition to several assaults that features writing hatred inciting slogans and slashing car tires.
Al Mughayyir:[1]
Al Mughayyir is located 30 km to the north east of Ramallah; it is inhabited by around 3,249 people according to the PCBS statistics conducted in 2017.
Most of the village agricultural fields are located in its eastern parts; its total area is 33055 dunums, 501 of which are built-up area.
The Israeli occupation confiscated 37 dunums of Al Mughayyir lands for bypass #458. 
According to Oslo Accords, about 95% of the village is under Area C while only 5% is under Area B.
Area B: 1,695 dunums
Area C: 31,360 dunums
[1] GIS-LRC
Prepared by
 The Land Research Center
LRC