IOF Dismantle and Confiscate a Tent – Al-Mafqara Village East Yatta / Hebron Governorate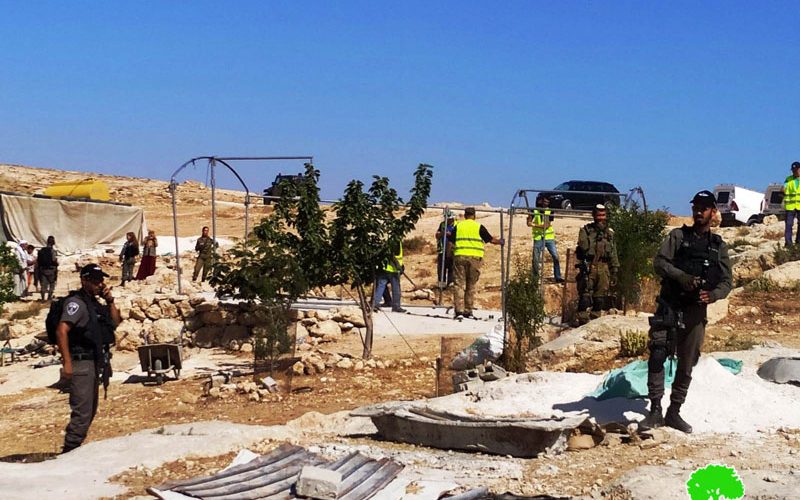 Violation: Demolition and confiscation of a tent.
Date: 24/06/2019.
Location: Al-Mafqar-Yatta / Hebron governorate.
Perpetrator: The Israeli occupation civil administration and army.
Victims: Citizen Qasim Hamamda.
Description:
Monday 24 June 2019, The Israeli occupation authorities demolished and confiscated a tent that belongs to Qassim Hamamda at Al-Mafqara- south east Yatta.
About 9:00 in the morning , an army force raided the eastern area of the village, and headed towards Hamamda's residence, encircled his tent, then dismantled it and confiscated its parts.
Reportedly, Hamamda's residence is a tent that consists of metal columns , metal bows and covered with a curtain and placed over a cement floor , it has an area of 50 m2 , Hamamda is the caretaker of a family of 14 , 7 of them are children.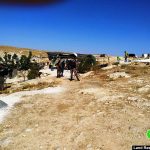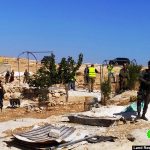 Photos 1 +2: a scene from the attack
Hamamda told LRC , the occupation authorities dismantled and confiscated the tent without any preceding military orders. Thus, I did not get the chance to obtain legal aid or save my property.
After the operation, the fanatic troops handed a "confiscation notice" , which said that the tent will be in "Kfar Etzion" settlement, in case the owner wanted it back , he will have to pay a high fine and vow to not place it in the same location . The owner was given only 30 days to regain the tent, in case he breached the deadline , they will sell it.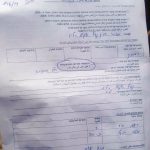 Photo 3: the confiscation notice
Noteworthy, Hamamda and his family live in tents and caravans that are threatened of demolition , such as most residents of Al-Mafqara and the surrounding villages.
For more information about Israeli violations in Al-Mufqara, read the following LRC reports:
Khirbet al-Mafqara :[1]
It is a primitive community that is located 17 km to the far east of Yatta town. The Khirbet populates around 73 people according to 2017 census, who are divided on 22 family from the al-Hamamdeh clan. Noteworthy, the khirbet is administered by a joint village council for the khirbets of al-Mafqra and al-Tawani , which is ran by Mr. Saber al-Herini .
Al-Mafqara borders :
Khafat Maaon settlement , built on confiscated lands to the north.
Afai Gal and bypass road no. 60 , on confiscated lands to the west.
Yaqub Dalia colony, on confiscated lands to the south.
Maaon colony on confiscated lands to the east.
Land Research Center LRC sees that demolitions contradict with all the International conventions and Humanitarian laws including:
Article 17 of the (1948) Universal Declaration of Human Rights stating: "Everyone has the right to own property alone as well as in association with others. No one shall be arbitrarily deprived of his property."
Section ‹G› of article 23 of the (1907) The Hague Conventions asserting: "In addition to the prohibitions provided by special Conventions, it is especially forbidden to destroy or seize the enemy's property, unless such destruction or seizure be imperatively demanded by the necessities of war."
Article 53 of the Geneva Fourth Convention (1948) declaring: "Any destruction by the Occupying Power of real or personal property belonging individually or collectively to private persons, or to the State, or to other public authorities, or to social or cooperative organizations, is prohibited, except where such destruction is rendered absolutely necessary by military operations."
Section 1, Article 11 of the International Covenant on Economic, Social and Cultural Rights (1966): "The States Parties to the present Covenant recognize the right of everyone to an adequate standard of living for himself and his family, including adequate food, clothing and housing, and to the continuous improvement of living conditions. The States Parties will take appropriate steps to ensure the realization of this right, recognizing to this effect the essential importance of international co-operation based on free consent."
[1] GIS-LRC
Prepared by
The Land Research Center
LRC