Halt of work notices on four facilities in Aj-Jalama / Jenin governorate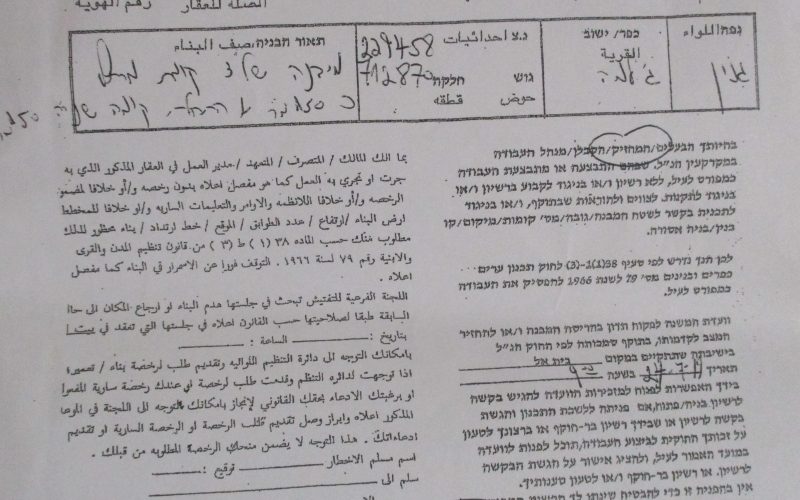 Violation: Halt of work notices.
Location: Aj-Jalama / North Jenin.
Date: 30/06/2019.
Perpetrators: The building and organization committee – The Israeli occupation civil administration.
Victims: 4 Families from the village.
Description:
Sunday, 30 June 2019, the Israeli occupation forces raided Aj-Jalama north Jenin, and served 4 halt of work military notices on three houses and a facility on the pretext of building without licenses.
According to the military orders , the occupation sets 19 July for the building and organization session to discuss the legality of the structures.
Noteworthy, the targeted structures are only 75m south the segregation wall , which blocks Aj-Jalama from the occupied territories of 1948.
The following table shows more information about the targeted facilities:
| | | | | | |
| --- | --- | --- | --- | --- | --- |
| Affected citizen | Family members | Children under 18 | Military order number | Nature of the targeted structure | Photo number |
| Ahmad Abu Farha | 3 | 1 | | Under construction house 180 m2 | |
| Mohammad Abu Farha | 5 | 3 | | Under construction house 210 m2 | |
| Naser Abu Farha | 11 | 4 | N/A | A farm contains a house 160 m2, a sto0re 60 m2 and a garden 2 dunums with a s8iege | |
| Mahmoud Sbeihat | 8 | 2 | | Barracks with an area of 900 m2, used as a store for woods and plastic | |
| total | 27 | 10 |   |   |   |
Source: Firsthand field observation – Israeli violations monitoring section- LRC , June 2019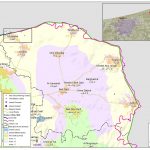 LRC village council head Mohammad Abu Farha told LRC reporter:
"In the recent years , Aj-Jalama was heavily targeted by the Israeli occupation. Noteworthy, the Israeli occupation took over wide areas of Aj-Jalama lands for  Aj-Jalama crossing and the segregation wall , they also prohibited construction on the areas around the segregation wall , which will affect natural demographical growth in the village , especially that the village is set upon from all sides."
Aj-Jalama:[1]
Al Jalama is located 7 km to the north of Jenin; It is bordered by the green line – occupied territories of 1948 (north) ,  Al-Yamoun village (west) , 'Arbona village (east) , 'Arana village (south) .
Aj-Jalama has a population of 2268 people , until 2017 census.
Aj-jalama village is within the borders of Marj Bani Amer village council . Marj Bani Amer has an area of 65,656 dunums, of which 265 dunums are a built up area for Aj-Jalama. The village council of Marj Bani 'Amer contains the following community : (( Aj-Jalama , Al-Jmailat , Um Qaboub ,  Barghasha , Beit Qad, Jalboun, Khirbet Abu 'Anqar , Deir Abu Da'ef , Deir Ghazala, 'Arana , 'Arbouna , Faqou'a, Mashro'a Beit Qad , Wadi Al-Dabe'a)).
Aj-Jalama village consists of 4 artesian wells that provided water for the village , the artesian wells were managed by : Salim Abu Farha , Jamal Abdul –Hadi ,l Yasin Soboh , and Abu Issa company. According to the village council each one of the wells produced about 100 cup/ per hour, but the occupation did not only confiscate them but also dried them, now citizens have to buy water even with their high poverty rates.
Most of Aj-Jalama lands are invested in rainfed agriculture , while 400 dunums are invested in protected agriculture , 300 dunums are olive groves , 350 dunums are invested in irrigated agriculture (source: Aj-Jalama village council).
The village of Al Jalama and the two towns of Sandala and Al Muqbeila (occupied in 1948) used to have social and economic ties as well as family ties as they were considered to be one unit. The clans present in these three towns include Al Omari, Abu Farha, Sahori, Sha'aban, Abu Issa in addition to the clan of Radi. These communities used to have one school and one mosque until the Nakba took place in 1948 when these communities were forcefully separated.
The occupation confiscated 400 dunums, bypass 60 ate up 100 dunums, the segregation wall ate up 300 dunums, and isolated 100 dunums, the segregation wall is 3500 m long.
Oslo accords divided the land as the following:
B area : 250 dunums.
C area : 65,406 dunums.
[1] GIS-LRC
Prepared by