Destroying water pipes in Forush Beit Dajan and Aj-Jiftlik / Jericho governorate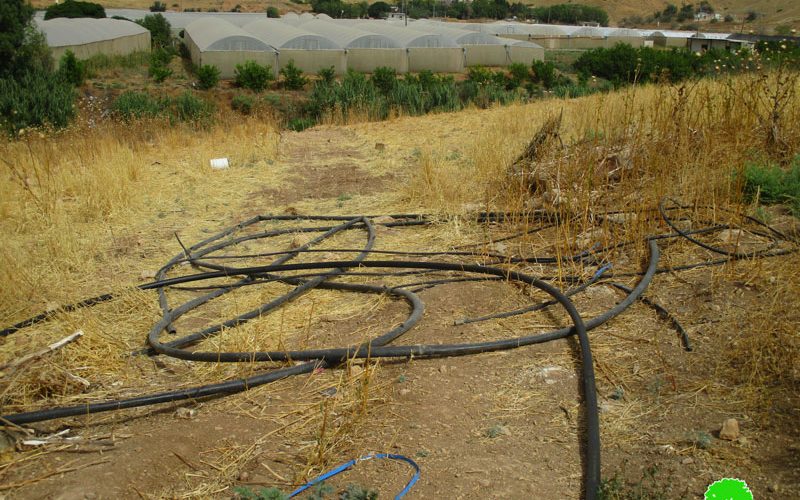 Violation: Destroying water pipes that provide water for 250 dunums.
Location: Forush Beit Dajan and Aj-Jiftlik / Jericho governorate.
Date: 05/06/2019.
Perpetrators: The Israeli occupation army.
Victims: number of famers in the two villages.
Description:
In the afternoon of Wednesday 5 June 2019, Which happens to be the first day of Eid Al-Fitr (The festival of breaking fast) , Israeli occupation forces invaded Furush Beit Dajan and Aj-Jiftlik villages in the Jordan valley, searching for water pipes, that they claim are "illegal" in an attempt to shut them down and cut off water from the field. The operation included the sabotage of hundreds of meters of water pipes and irrigation networks that transmitted water to wide areas of agricultural lands.
Azem Al-Haj Mohammad, Local council head in Furush Beit Dajan told LRC reporter, the troops shut down 3 water source pipes (connected directly to the source) , in addition to cutting and sabotaging the pipes that transmitted water to the fields. Reportedly, the invasion left 280m*3 inches of water pipes destroyed , in addition to sabotaging an irrigation network of 310 m.
One of the affected farmers, Lafi Abu Sa'adeh (59) told LRC reporter:
"The biggest threat to the agricultural sector in the Jordan valley is water shortage, Even though the area is rich of ground water,   the "Israeli National Water Company Mekorot" has been stealing water and selling it to Palestinian farmers in high prices, each 60 m3= 130 NIS. In addition, to the Israeli government policies in imposing sharp restriction on excavation of water or even creating water harvesting holes."
The following table shows more information about the victims/farmers:
#

Affected farmer

Number of dunums were cut of water

1

Lafi Abu Sa'adeh

24

2

Ala'a Salameh

13

3

Ziad Darwish

16

4

Ibrahim Hanani

9

5

Hazim Abu Jaish

12

6

Maher Kan'an

17

7

Rasem Abu Jaish

6

8

Khalosi  Abu Jaish

34

9

Tawfiq Haj Mohammad

42

10

Abdul Rahman Hanani

7

11

Fathi Hanani

12

Total

129
Not very far, from the east to Furosh Beit Dajan, lies Aj-Jifitlik, where farmers' fate was not any better , the occupation forces raided the village , and closed 3 water source pipes that provided water for 58 dunums of planted fields, in addition to sabotaging 150 m of pipes.
The water was cut from reaching fields, as the following table shows:
#

Affected farmer

Number of dunums cut from water

1

Salim Al-Malihat

12

2

Yusri Jubara

8

3

Khairi Al-Anuz

16

4

Jaber Edais

22

total

58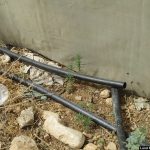 Photos 1-7: shows the targeted water pipes
Since early 1980s, the occupation have been busy as a bee in drying water springs and artesian wells in Aj-Jiftlik , leaving only saline water, unsuitable for irrigation.
Water Shortage in Aj-jiftlic  resulted from low rain rates and Israeli measurements , forcing villagers and farmers to buy water from surrounding villages , which is expensive and had a negative effect on the agricultural sector.
Prepared by
 The Land Research Center
LRC