Demolition of a house in Umm Al-Khair- East Yatta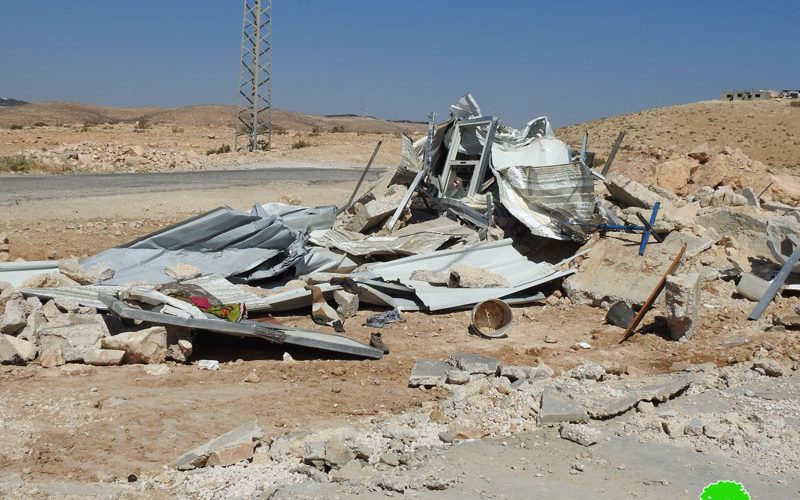 Violation: Demolition of a house.
Date: 13/06/2019.
Location : Umm Al-Khair – Yatta town/ Hebron Governorate.
Perpetrator: The Israeli occupation civil administration.
Victims: Family of Ali Al-Tabneh.
Description:
In 13 June 2019, the Israeli occupation authorities demolished a house that belongs to Ali At-Tabneh in Umm Al-Khair east Yatta, on the pretext of building without licenses in C area.
Wife of Ali Al-Tabneh told LRC reporter:
"A Massive army force and an officer from the organization department in the civil administration stormed the village about 9:00 am, and encircled the targeted house, took out some of the luggage , before they completely demolished the structure."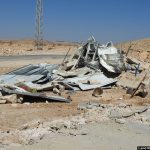 Photo 1: the remains of the house after the demolition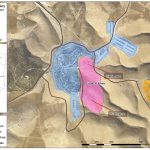 Reportedly, the targeted house is built of steel sheets and baton, and was built in 2018 , and has an area of 45 m2.
The occupation forces also demolished a retaining wall that surrounded the house.
Noteworthy, At-Tabaneh received a halt of work order in November 2018, and hired a lawyer to object on the military order, but the occupation forces came back in June 2019 and demolished the structure.
Khirbet Umm Al-Khair in lines[1]:
The khirbet is inhabited by people from Al-Hathaleen clan , who settled there several decades ago after Israel expelled them from the Arad desert in 1948 , it is reported that Umm Al-Khair population reached 686 people in 2017. the nearby settlement, Carmel which was established in 1981  , lies on lands confiscated from the Bedouin of that village. Carmel settlers frequently attack Bedouins of Umm al-Khair. Noteworthy, Regavim pro-settlement Israeli NGO targets the Khirbet , and provokes to demolish any new structures.
Regavim is active in Jerusalem and south Hebron , and follow up with colonial expansion, and demands the Israeli government to demolish Palestinian communities, such as Susiya, Zanota and Umm Al-Khair and expand Israeli colonies on the area instead.
International Conventions and agreements pertaining to house and residents demolition:
Article 147 of Geneva fourth convention  : extensive destruction and appropriation of property, not justified by military necessity and carried out unlawfully and wantonly. ( it is considered a serious violation of the convention)
Article 53 of Geneva fourth convention that forbids destroying properties : Any destruction by the Occupying Power of real or personal property belonging individually or collectively to private persons, or to the State, or to other public authorities, or to social or co-operative organizations, is prohibited, except where such destruction is rendered absolutely necessary by military operations.
Article 33 of Geneva fourth convention: No protected person may be punished for an offence he or she has not personally committed.
Article 32 of Hague convention 1907 part g: To destroy or seize the enemy's property, unless such destruction or seizure be imperatively demanded by the necessities of war.
Article 17 of Universal declaration of human rights 10 –Dec- 1948:  No one shall be arbitrarily deprived of his property.
[1] LRC.
Prepared by
 The Land Research Center
LRC