Demolition of 3 Facilities in Deir Ballut/ Salfit Governorate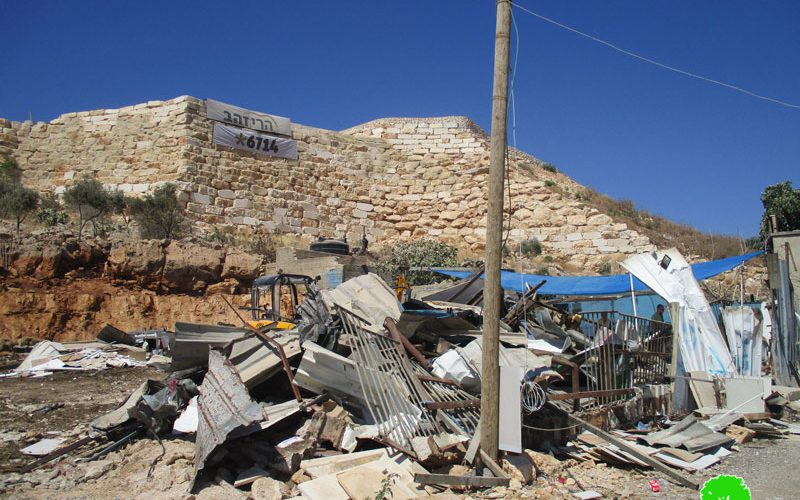 Violation: Demolishing workshops and agricultural structures.
Location: Deir Ballut / West Salfit.
Date: 26/06/2019.
Perpetrator: The Israeli occupation army.
Victims: 2 families from the town.
Description:
The Israeli occupation army accompanied by an officer from the civil administration invaded Deir Ballut village and carried on demolishing structures.
The demolition operation targeted a car washer close to bypass 446 . Noteworthy, the bypass connects "Alei Zahav", "Peduel" and "Leshem" settlement cluster to the green line and occupied territories of 1948.
They also headed to a barracks used as a barn for cattle breeding and leveled it to the ground. That was not the end, as they also destroyed another barracks used as a woodwork shop.
The following table shows more information about the damages:
Affected citizen

Family members

children

Nature of the damages

photos

Amer Abdullah

4

2

-Demolition of a barracks used as a car washer (45 m2)

-Ravaging a cement floor 120 m2

-destroying a generator.

-destroying a water reservoir 1 m3.

1-5

Tayseer Abdullah

8

3

-Demolishing an agricultural Barracks (1200 m2), used as a barn for 120 sheep head and 11 cows.

-demolition of a barracks used as a woodwork shop (300 m2)

6-15

total

12

5

 

 
Source: Firsthand field observation- Israeli violations monitoring section- LRC, June 2019
Photos 1-5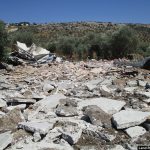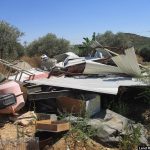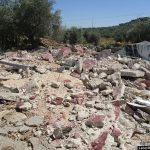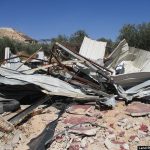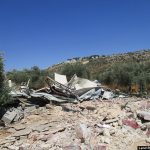 Photos 6-15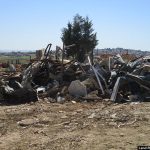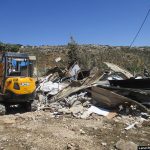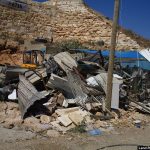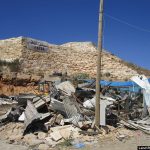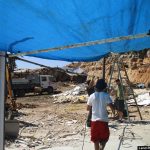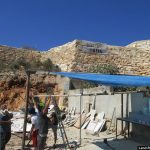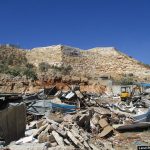 Tayseer Abdullah told LRC reporter:
"In 2001, I installed an agricultural barracks on my plot east Deir Ballut, in 2008 I installed another one in the same location, in order to open a woodwork shop that might help me to support my family. Unfortunately, in 2009 I received a halt of work order on both of the structures, I hired a lawyer hoping to save my properties. But "Leshem" settlement quickly grew at the location, which reduced the possibilities of rescuing the facilities. However, in August 2018, the Israeli occupation forced me to dismantle parts of the barn, under claims that it is built on a state property. And in may the Occupation's court refused my application for licenses, and destroyed both the barn and the woodwork shop, leaving me with a loss that reached 44,568 $ (160,000 NIS)."
On the other hand Amer Abdullah told LRC reporter:
"I established a car washer close to bypass 446, but in 2017 I received a halt of work order targeting my facility. I called for JLAC to give me legal aid and follow up with the licenses procedures.  Recently, Without giving any military orders or warnings, the occupation troops showed up and completely demolished parts of the car washer, leaving me with a loss that reached 15,042 $ (54,000 NIS)."
It is important to mention that Deir Ballut has a very small built up area, which pushed tens of families to build in C area and made them exposed to Israeli military orders and demolition operations. Since 2000 , and until this day about 50 structures in Deir Ballut were targeted by military orders.
About Deir Ballut:[1]
24 km west Salfit, Deir Ballut is surrounded by Rafat village (north), The green line – occupied territories of 1948 (west), Kafr Ad-Deek village (east), Al-Lubban Al-Gharbi village (south).
 Deir Ballut is populated 3,870 people in 2017 census. The town's people are from several families, namely: Tufaha, Khair, Abdullah, Qassim, Qaroush, Mesha'l, Mustafa, Musa and Hadrous.
Deir Ballut has a total area of 11,339 dunums , of which 503 dunums are a built up area.
Deir Ballut is popular with rain-fed agriculture such as (Armenian cucumber, Ladies fingers, garlic and others), in addition to olives and wheat.
Deir Ballut contains a water spring in Wadi Al-Ein area, and the town's people depend on the National Israeli water company,  in addition to rain water harvest cisterns for daily use water.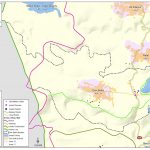 The Israeli occupation devoured 436 dunums for the following purposes:
"Har Alei Zahav" illegal settlement was established in 1983 on 190 dunums of confiscated lands, it is populated 3119 settlers (The Israeli ministry of interior – 3 January 2019).
Bypass 446 devoured 127 dunums.
The segregation wall is 1,189 m long, it ate up 119 dunums and blocked 895 dunums. In case the plan of the segregation wall was completed , it will become 6,695 m lone, and eat up another 670 dunums , in addition to blocking 2,613 dunums.
Oslo accords divided Deir Ballut as the following:
B area: 689 dunums.
C area: 10,710 dunums.
[1] GIS-LRC
Prepared by
 The Land Research Center
LRC