Under security claims , IOF close postures in An-Nuwa'ima / Jericho governorate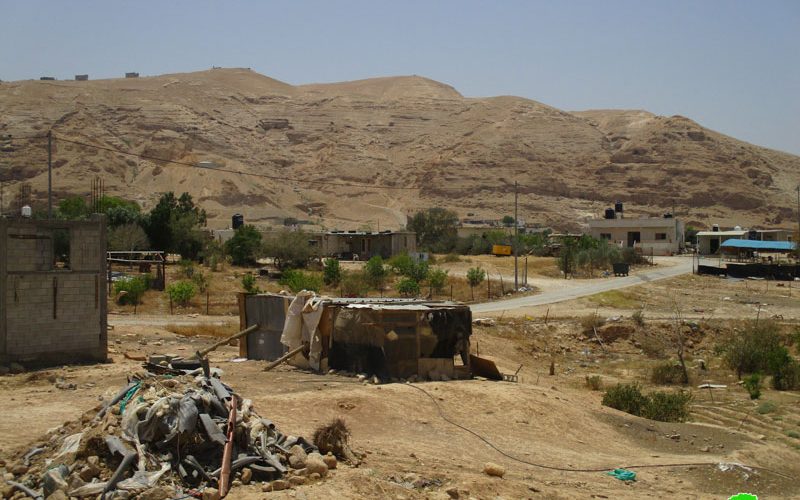 Violation: closing postures for security claims.
Location : Arab Az-Zayed community / An-Nuwa'ima west Jericho.
Date: 06/05/2019.
Perpetrator: The Israeli occupation forces.
Victims: Arab Az-Zayed Bedouin community.
Description:
Sunday, 6th of May 2019, The Israeli occupation forces raided Arab Az-Zayed Bedouin community in An-Nuwai'ma village, and orally informed people of the community that they can no longer  access postures close to "Mevo'ot Yeriho".
Arab Az-Zayed Bedouin community head , Abdulrahim Az-Zayed told LRC reporter:
"The closed postures west Arab Az-Zayed are among the main postures that the community's 350 people depend on for herding . Noteworthy, people of such communities depend mainly on herding for living,  in the recent two years, IOF have been imposing restrictions on their living source through closing postures , most recently was closing a posture close to Mevo'ot Yariho settlement for the "security" of its illegal settlers."
Arab Az-Zayed suffer from postures shortage after the occupation turned most of the surrounding area into closed military zones , the western postures (close to Mevo'ot Yeriho) were their only hope, and closing them seriously threatens their existence as a Bedouin community in the area.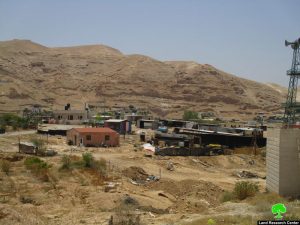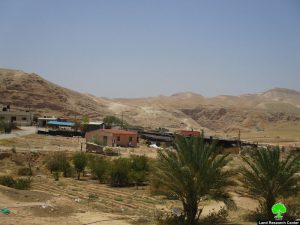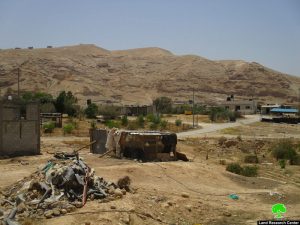 About Arab Az-Zayed Community :[1]
Arab Abu Zayed community (An Nuwei'meh Bedouins) is located around 1 kilometer to the northwestern side of An Nuwei'meh village north of Jericho city.
The community is considered part of An Nuwei'meh village boundary and has a total population of 350 (Head of Arab Abu Zayed community 2013). According to the Oslo II Interim agreement of 1995, the community of Arab Abu Zayed is located in 'C' area which falls under the full Israeli control. Palestinians living in Area 'C' must acquire building permits from the Israeli Civil Administration in order to be able to build and expand.
To the northwest of Arab Abu Zayed community and around 1 kilometer away from it, lies an Israeli military base  which confiscated 670 dunums of An-Nuwa'ima lands, and contributed much to the obstruction of the community growth and development. The military base has also caused the displacement of many Bedouins families living in the area due to the activities that take place during military training which include fire shooting.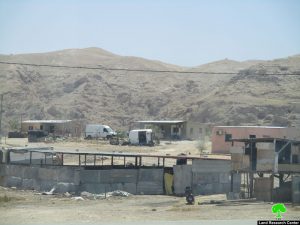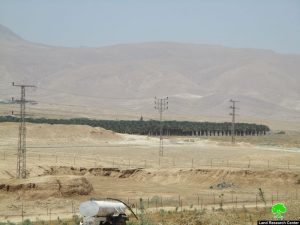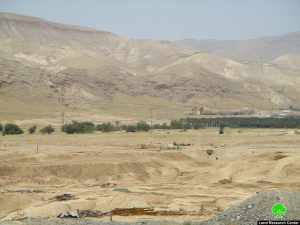 It should be marked that Bedouins of Arab Al-Mleihat community hail from the area of Beer AL-Saba', from which they were expelled in the aftermath of 1948 war. Bedouins moved to several Bedouin communities in west bank.
[1] GIS-LRC
Prepared by