The Israeli occupation forces demolish a facility in Haris village / Salfit governorate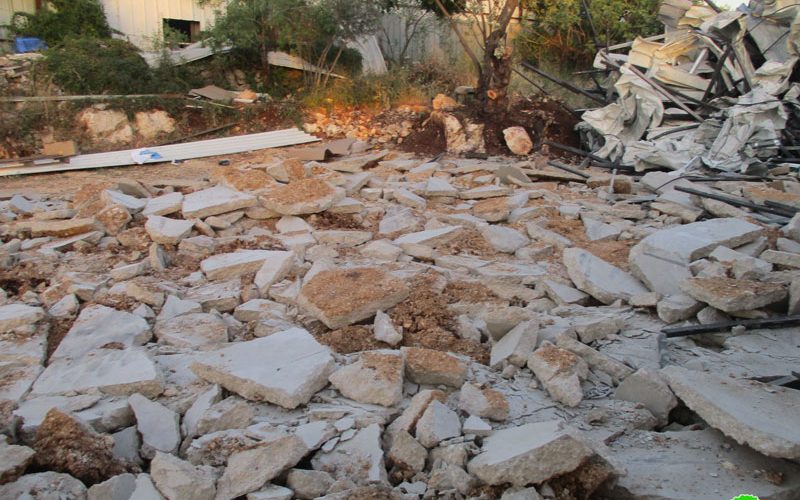 Violation: Demolishing an industrial facility.
Location: Haris village / North West Salfit.
Date: 13/05/2019.
Perpetrator: The Building and organizing commission in the Israeli occupation civil administration.
Victims: Citizen Ibrahim Al-Khatib.
Description:
Monday evening, an army force with an officer from the building and organizing commission raided Haris village, and carried on demolishing a structure built of steel sheets (110 m2 ), in addition to the surrounding baton floor  (160 m2).
Reportedly, the targeted facility belongs to Ibrahim Al-Khatib (41). Al-Khatib started constructing the structure in March on 400 m2 plot; the occupation claims that they served a stop-work military order on April, while the owner denied receiving one.
Al-khatib told LRC reporter:
"The structure was supposed to be a woodwork place; the construction caused me about 80,000 NIS, it was supposed to provide a source of income for my family of 5 (3 are children)."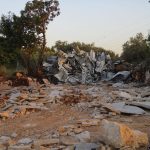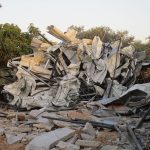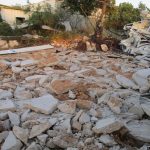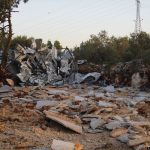 Scenes from the demolition operation / Haris
During this year, 6 workshops were demolished in the location. Noteworthy, owners of the demolished structures prepared legal files and tried to save their properties in the Israeli courts, but they failed.
The targeted area is close to bypass 505 at the town's entrance.
Non-stop military orders:
It should be noted Haris village received more than 49 stop-work orders on different structures including houses, workshops and other facility .
The occupation justifies the issuance of stop-work orders under the pretext of building without licenses in area classified as area "C" according to Oslo Accords.
 About Haris:
6 km to the west of Salfit governorate, Haris is located with a total land area of 8450 dunum, of which 320 dunums are the village's built-up area. Haris is surrounded by the villages of Deir Istiya from the north, Kifl Haris from the east, Kfar ad-Deek and Bruqin from the southwest and Qarawat Bani Hassan from the west.
It has a total population of 4,137 people according to the census of Palestinian Central Bureau of Statistics for 2017. Those people hail from the following families: Abu Atta, Dawoud, Salamih, Sultan, Shihada, Souf, Faz', Awwad, Qasim, and Klaib.
Haris is a hotspot of Israeli assaults and violations ,one of them was opening  bypass 505 on its soil, which devoured 4 km of its fertile lands .
Prepared by
 The Land Research Center
LRC