Setting up a metal gate on an agricultural road west Deir Istiya / Salfit governorate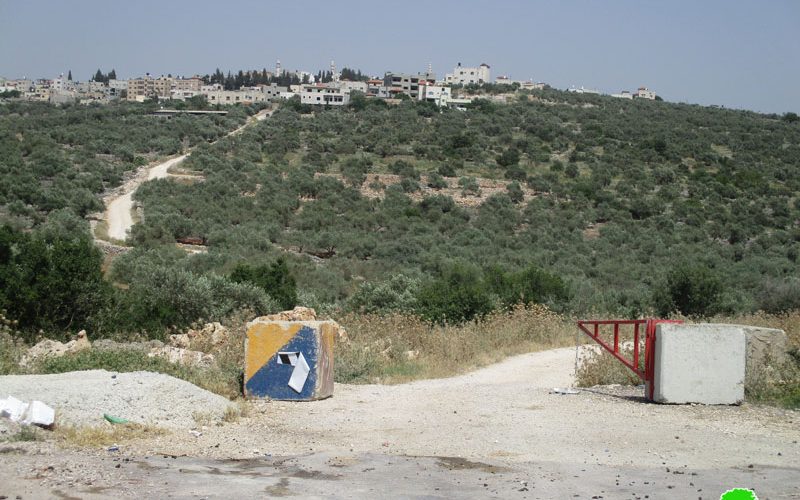 Violation: closing an agricultural road.
Location: Deir Istiya village / Northwest Salfit.
Date: 12/05/2019.
Perpetrator: The Israeli occupation army.
Victims : people of Deir Istiya.
Description:
Sunday 12 May, The Israeli occupation forces set up a metal gate on an agricultural road west Deir Istiya.
The targeted road , also known as "Ash-She'ab" was closed twice in the recent two months, In 20 March the occupation closed the road via cement blocks as a collective punishment.
At first, the road was closed in 2000 at the eve of the second intifada, the closure lasted until 2017 , and was opened with the locals' efforts.
Said Zidan Head of Deir Istiya municipality told LRC reporter: " The targeted road is vital and serves Deir Istiya's residents , it also leads to 80 dunums of olive groves that surround the town."
Zidan asserted: The occupation forces raid the town every night at the northern western area , and throw gas and tear bombs which disturbs residents of the area.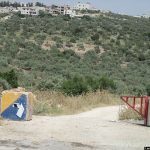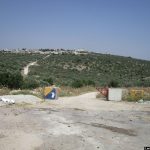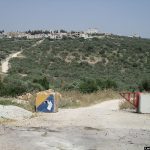 Photos 1-3: a view of the closed road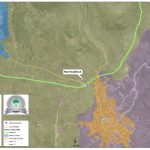 The attachment of the military order
Deir Istiya: [1]
It is located 6 km to the north west of Salfit on Mountain Ath-Theeb (the wolf). Deir Istiya is surrounded by many Palestinian towns and they are Kafel, Haris , Qarawa Bani Husan, Qira, Zita Jama'aen, Jeensafut, Azun Ash-Shamaliya, Tel , Saneria, Bidya and Amateen. The town is inhabited by around 3696 people in 2017 census, who depend largely on herding and agriculture in their living knowing that fertile soil and plenty of water are available.
Deir Istiya has a total area 34,129, of which 10,000 dunums belong to Wadi Qana, and 13 dunums are a built up area.
It is considered one of the most concerned towns with education, compared to other surrounding towns and villages.
According to Oslo convention the area is classified to two parts , 18 % of the towns land are classified as B areas (6132 dunums), the rest of the town are C areas with a percentage of 82 %  (27997 dunums), 40 % of the towns land   is subject to colonial activities and colonies that are sporadic all over it, trying to seize every dunums and invades every place like cancer.
[1] GIS-LRC
Prepared by
 The Land Research Center
LRC