IOF demolish number of structures in the Jordan Valley area / Tubas governorate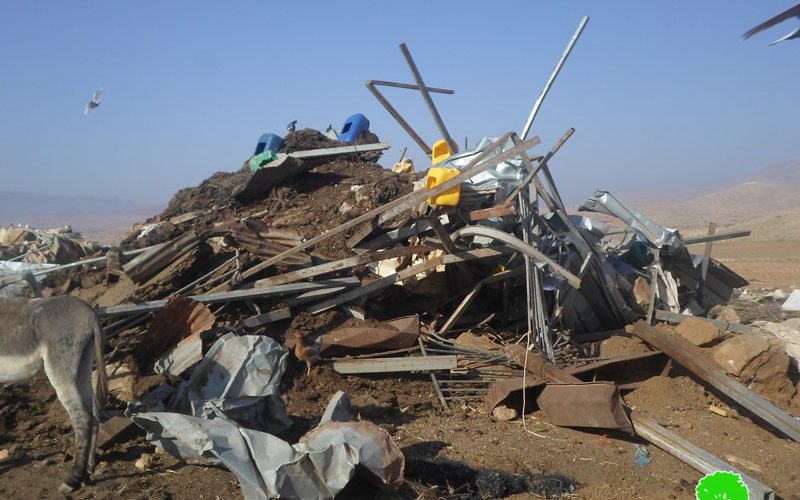 Violation: demolishing and confiscation of number of barracks.
Location: Ar-Ras Al-Ahmar and Al-Hadidiya hamlets/Tubas governorate.
Date: 30/05/2019.
Perpetrator: the Israeli occupation civil administration.
Victims: 3 Palestinian families.
Description:
The Israeli occupation forces invaded Ar-Ras Al-Ahmar and Al-Hadidiya hamlets , and implemented a demolition operation that reached number of residential and agricultural barracks.
At Ar-Ras Al-Ahmar hamlet, in the northern area, the occupation demolished a tent that was donated by "ACTED" to family of Khader Bane Odeh , the family that consists of 7 members (5 of them are children) , also lost the barracks that they used in their main source of income as herders , which left the family and 88 heads of sheep under the heat of the sun, at a time the Jordan Valley is witnessing heat waves.
Bane Odeh told LRC reporter:
"We have been living in the Jordan Valley for more than 35 years, and we depend mainly on agriculture and herding for living, few years ago the occupation announced "Umm Al-Qaba", "Yarza"  and "Ar-Ras Al-Ahmar" as closed military zones.
Since that day, until today, the occupation forces have been pushing us to leave the area , through demolishing our residences and properties."
At Al-Hadidiya hamlet , the occupation forces invaded the area at 10:00 in the morning and demolished two residential tents that belong to family of Najeh Ka'abneh (69 old) , and family of his son Odeh Al-Ka'abneh (23 years), in addition to confiscating 3 barracks , the result was leaving 12 members homeless 7 of them are children.
Odeh Al-Ka'abneh told LRC reporter:
"In May 2017, the occupation demolished my tents and barracks in Aj-Jiftlik. Later on, I have tried to get a license , but I was shocked of the long complicated measurements. I installed tents and barracks in another location at Aj-Jiftlik, but in July 2018, the occupation troops invaded the area and demolished my properties, and left me homeless another time. In 2019, I installed my tents and barracks in Al-Hadidiya, but as usually the occupation troops demolished them, and left us homeless."
Noteworthy, In synchronization with the occupation's demolition campaigns that target Bedouin communities at the Jordan Valley, the Israeli illegal settlements are expanding and devouring more Palestinian lands.
owner

location

No. of family members

No. of sheep heads

Targeted structures

Residential

tents

Agricultural barracks

Khader Bane Odeh

Ar-Ras Al-Ahmar

7

88

2 residential tents (each one has an area of 45 m2)

-agricultural barracks (90 m2)

-barn of steel and woods sheets (120 m2)

Najeh Al-Ka'abneh

Al-Hadidiya

3

90

Demolition and confiscation of a tent (45 m2)

3 agricultural barracks (45 m2)

Odeh Al-Ka'abneh

Al-Hadidiya

7

23

Demolition and confiscation of a tent (45 m2)

Demolition of a tent (60 m2)

total

 

17

201

4

6
Source: first hand field observation Monitoring Israeli violations section – LRC , May 2019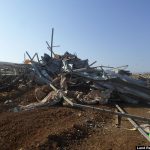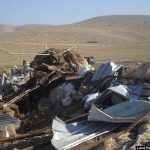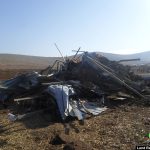 Photos 1-3: demolition in Ar-Ras Al-Ahmar hamlet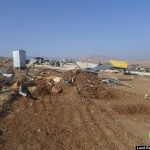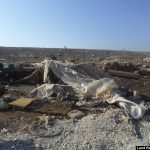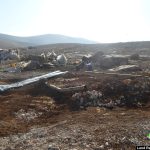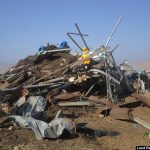 Photos 4-7: Demolition in Al-Hadidiya hamlet
Prepared by
 The Land Research Center
LRC