The occupation demolished Omar Abu Layla family home – Az-Zawiya / Salfit governorate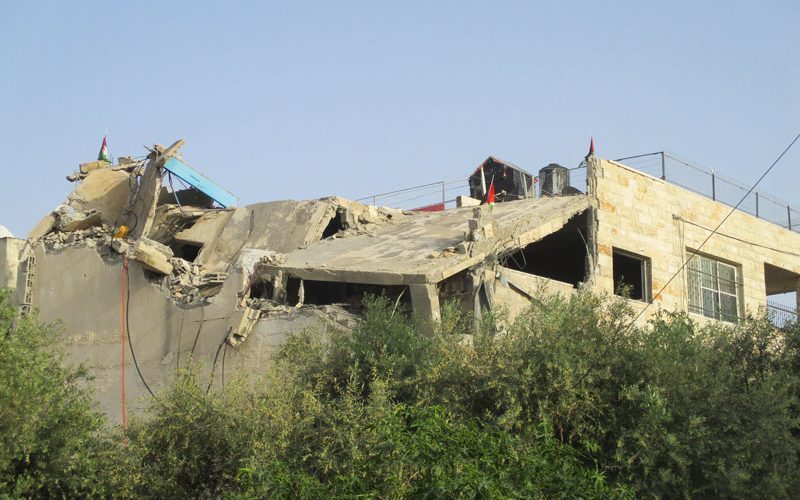 Violation: demolishing a house for security claims.
Location: Az-Zawiya village / Salfit governorate.
Date: Wednesday, April 24th /2019.
Perpetrator: The Israeli occupation army.
Victims: Family of martyr Omar Abu Layla.
Description:
In the early morning hours of Wednesday, A massive army force accompanied by explosions experts and bulldozers raided Az-Zawiya , West Salfit. The fanatic troops encircled Omar Abu Laila family home, before they leveled it to the ground.
It is worth indicating, before the demolition, the occupation forces forced residents of the neighborhood to go to Az-Zawiya girls high school, they stayed there for 4 hours until 9:00 am.
Omar Abu Layla (18), a student at Al-Quds University accused of killing an extremist Rabbi who belongs to "Price tag " gang, Omar Abo Layla was later chased and killed by the Israeli occupation troops.
Reportedly, Omar Abo Laya family home consists of 3 floors, the first one is an apartment for Abul Layla's grandmother, the second floor is an apartment for Abu Layla's family , the third floor is an apartment for Abu Layla's uncle family (each floor = 120 m2).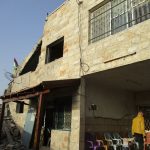 Despite the fact that home demolition is illegal, Israel Supreme Court always rules in favor of such demolition. This reflects that the occupation prosecution is an implementation tool in the hands of the occupation.
It should be marked that the order was issued in reference to the British Emergency Law for the year 1945, taking into consideration that this law was abolished. "Confiscation and demolition" according to article 119 of the law indicates that it is not allowed to re-construct in the demolition location.
The Israeli occupation authorities made sure to extend the validity of the British law to use it against Palestinians.
Land Research Center sees Israeli practices and measures as a collective punishment against the families of martyrs and prisoners.  The occupation seeks to traumatize and humiliate Palestinian families through such practices.
The Israeli government claims such orders to be deterrent for Palestinians who carry out stabbing attacks. Such attacks come in response for colonists' attacks on Palestinians, the latest of which was represented in torching a family alive, not mentioning running over kids and women,  attacks on trees (torching , cutting down, robbing) and lands confiscation
About Az Zawiya: [1]
 Located 17 kilometer west of Salfit and adjacent to the Green Line, Az Zawiya has a population of 4754 people according to statistics conducted in 2007. 81% of the population depend on agriculture and sheep grazing while the rest work in governmental jobs or private sector projects. Az Zawiya has a total area of 12,000 dunums, 693 of which are a built-up area of the town. Most agricultural lands in Az Zawiya are planted with olive, figs, and cactus.The Israeli occupation confiscated 1747 dunums of Az Zawiya lands for colonies and the Apartheid Wall as the following:
Two colonies are built on Az Zawiya lands. The first is Mazor Atiqa which was built in 1986 and confiscated 573 dunums. The other is Elkana which was built in 1977 and confiscated 57 dunums. Elkana is inhabited by 3050 colonists.
Bypass road number 5 and it devoured 520 dunums of Az Zawiya lands
The Apartheid Wall which destroyed 579 and isolated 4228 dunums
[1] GIS-LRC