Confiscation of lands for a new colonial road / Hebron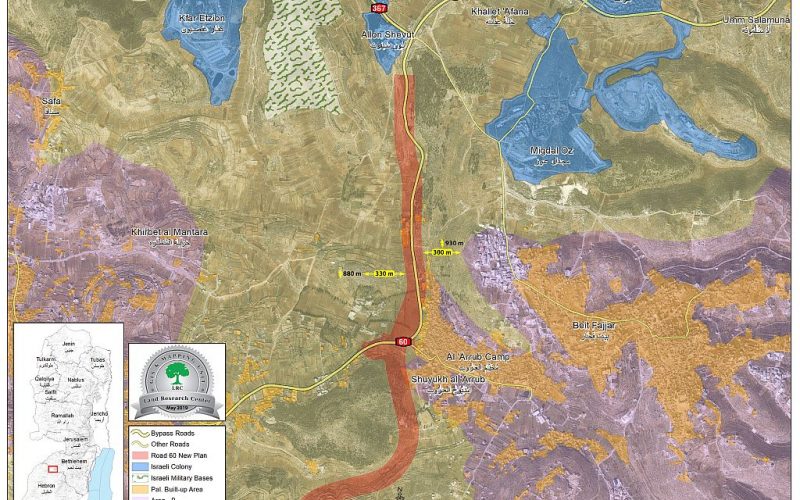 Violation: confiscation of lands for a new colonial road / order of acquisition and disposal No (19 / 1 / H).
Location : Al-Aroub refugees' camp , Beit Ummar and Halhul villages / Hebron governorate.
Date: 03/04/2019.
Perpetrators: Head of the civil administration.
Victims: land owners in the aforementioned locations.
Description:
The Israeli occupation army issued military order (19/1/H) , signed by the civil administration head "Ahavat Amid" on the confiscation and disposal of about 401 dunums , in order to open a bypass road named (Al-Aroub bypass road) as the military order mentions. The new bypass road will devour hundreds of agricultural dunums in the following locations:
Beit Ummar: Natural block 2 in "Fraidis , Beit Za'ata, Jabal Abu Soda, Jabal Al-Qarn, Wed Ash-Shaikh and natural block 4 " Wed Al-Aroub".
Halhul: Natural block 34928 , plots "10,7,23-23,26,37-44,60,71,87-91,39-118,124-126,157,141".
Natural block 8 in the following locations: Khirbet Beit Kharaf, Ra'as Al-Qadi, Khirnet Al-Durji.
Natural block 10 in Dahr Al-Baw.
Natural block  11 in Wardan location.
As it is read by the Geographical Information Unit in LRC, the attached map shows that the road will start from  "Kfar Etzion" junction and travel to bypass 60, about 720 meters north An-Nabi Yunis junction.
The new road will be about 7.685 km long and 160 m wide, in the following locations:
790 km in Al-Aroub, parts of them are in Palestine technical University – Al-Aroub branch.
652 km in Halhul (625 including a turning road that leads to Karmi Tzur) in these locations: Ras Al-Qadi, Beit Al-Khairan, Wadi Al-Shinar, Ar-Ramuz, Al-Hawawir.
The occupation army posted the military order on a website related to the Israeli government and on Jerusalem newspaper in 10 August 2006.
The military order mentioned the confiscation of 401 dunums, while the attached map shows that the road will devour 1309 dunums of lands from Aroub , Beit Ummar and Halhul. Thus, the towns will be blocked between two bypass roads.
Commentary and appeal:
Israeli measurements for the implementation of this road are in the final phase, and the implementation will commence officially  in the 3rd
of April 2019.
We call for land owners in Halhul, Beit Ummar, Al-Aroub refugee's camp  and Shuyukh Al-Aroub to head to the Colonization and Wall Resistance commission for legal aid and object on the military order.
Prepared by
 The Land Research Center
LRC