The occupation demolishes structures in Masafer Yatta / South Hebron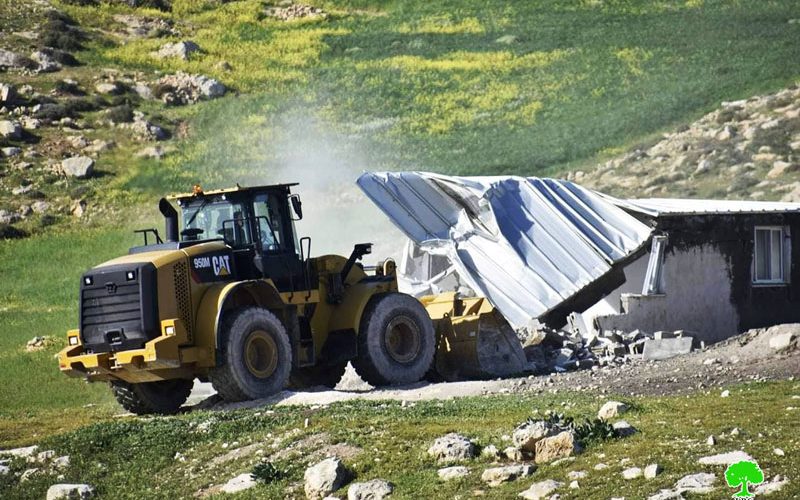 Violation: Demolition of structures in Masafer Yatta.
Date: 20/3/2019.
Location: At-Tuba, Al-Halawa , Maghayir Al 'Abeed – Yatta village / Hebron Governorate.
Perpetrator: The Israeli occupation civil administration.
Victims: People of Masafer Yatta.
The Israeli occupation forces and their bulldozers raided Masafer Yatta and implemented demolition operations in (At-Tuba, Al-Halawa , Maghayir Al 'Abeed) , and imposed closure in the area.
At-Tuba:
The occupation troops and their machineries encircle Huda Awad's family home, Huda was allowed to take only few belongings out before the occupation completely demolished her house.
Reportedly, the house consists of two rooms and a kitchen with an area of (50 m2) built in 2017 with the help of a humanitarian-aid institution, and inhabited by Huda and her 3 children.
The Israeli troops also confiscated a solar cell that supplied electricity for the family, and destroyed a water reservoir.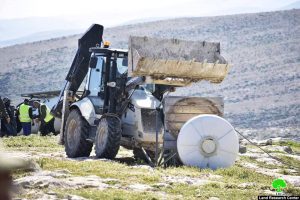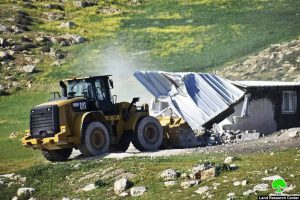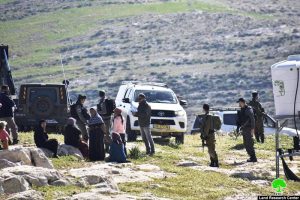 Photos 1-3: Demolition in Tuba
Al-Halawa:
The occupation troops headed to Al-Halawa and demolished the following structures:
A residential tent: a tent owned by Mohammad Abu Aram and built of plastic sheets since 2018, the tent has an area of (30 m2) inhabited by a family of (8) , of which (6) are children. Noteworthy, the occupation had demolished the families' residence in 2018.
A residential room: The room owned by Hassan Abu Aram built of bricks and woods, and has an area of (25 m2), the room is an asylum for a family of 3 (1 child).
Small mosque: the occupation demolished a mosque built with basic means since 2018 (20 m2) .
Maghayir Al 'Abeed:
The occupation troops headed to Maghayir Al 'Abeed and demolished a barn that belongs to Nazoh Shahadeh  (60 m2).
International Conventions and agreements pertaining demolition of houses and properties: 
Article 147 of Geneva fourth convention  : extensive destruction and appropriation of property, not justified by military necessity and carried out unlawfully and wantonly. ( it is considered a serious violation of the convention)
Article 53 of Geneva fourth convention that forbids destroying properties : Any destruction by the Occupying Power of real or personal property belonging individually or collectively to private persons, or to the State, or to other public authorities, or to social or co-operative organizations, is prohibited, except where such destruction is rendered absolutely necessary by military operations.
Article 33 of Geneva fourth convention: No protected person may be punished for an offence he or she has not personally committed.
Article 32 of Hague convention 1907 part g: To destroy or seize the enemy's property, unless such destruction or seizure be imperatively demanded by the necessities of war.
Article 17 of Universal declaration of human rights 10 –Dec- 1948:  No one shall be arbitrarily deprived of his property.