The Israeli occupation close a road in Az-Zawiya/ Salfit governorate
Violation: Road closure.
Location : North Az-Zawiya village/ Salfit governorate.
Date: 25/03/2019.
Perpetrator: The Israeli occupation army.
Victims: people of the village.
Description:
Salfit governorate is a hot spot for Israeli closures and measures that aim to harass Palestinians and obstruct their lives. In this context, The Israeli occupation troops close a road that leads to bypass 55 via a wire fence.
However, bypass 55 is vital as it connects the area to the occupied territories of 1948; it is used by hundreds of laborers who work behind the green line.
Citizen Said Moqady (32 years) is one of laborers who take that bath daily, said:
"We used to take this bathdaily, but after the closure,  we have to take a 32 km longer road in order to get to our homes, which requires more time and money"
Photos 1-4: a segment of the wire fence
About Az Zawiya:
Located 17 kilometer west of Salfit and adjacent to the Green Line, Az Zawiya has a population of 5230 people according to statistics conducted in 2017. 81% of the population depend on agriculture and sheep grazing while the rest work in governmental jobs or private sector projects. Az Zawiya has a total area of 12,000 dunums, 693 of which are a built-up area of the town. Most agricultural lands in Az Zawiya are planted with olive, figs, and cactus.The Israeli occupation confiscated 1747 dunums of Az Zawiya lands for colonies and the Apartheid Wall as the following:
Two colonies are built on Az Zawiya lands. The first is Mazor Atiqa which was built in 1986 and confiscated 573 dunums. The other is Elkana which was built in 1977 and confiscated 57 dunums. Elkana is inhabited by 3050 colonists.
Bypass road number 5 and it devoured 520 dunums of Az Zawiya lands
The Apartheid Wall which destroyed 579 and isolated 4228 dunums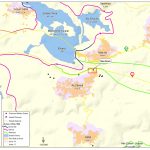 Prepared by