The Israeli occupation army lay hands on 15 dunums of Azzun lands / Qalqilya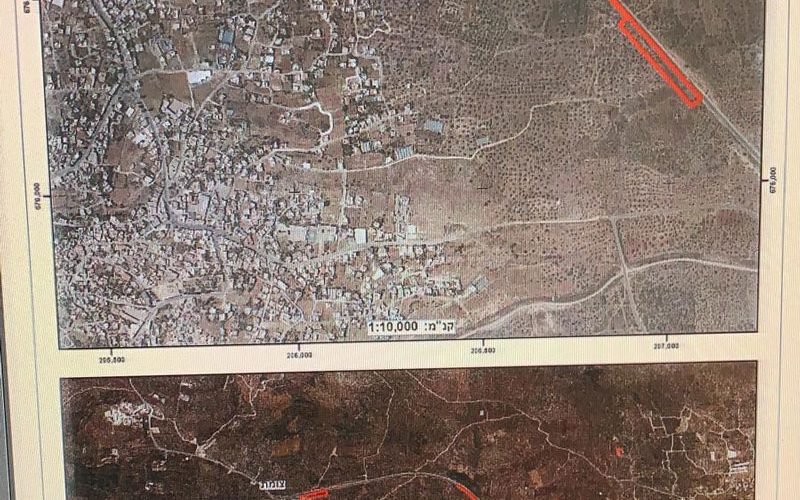 Violation: grabbing Palestinian lands.
Location: Azzun town / East Qalqilya.
Date: 03/03/2019.
Perpetrators: The Israeli occupation civil administration.
Victims/ affected: number of farmer in Azzun.
Description:
The so called Infrastructure officer in the Israeli occupation civil administration Mali Maero issued military order (19/2/confiscation for military purposes) which announces the confiscation of 15 dunums from natural blocks (2, 8,11) of Azun town close to bypass 55.
Copies of the military order that targeted lands in Azzun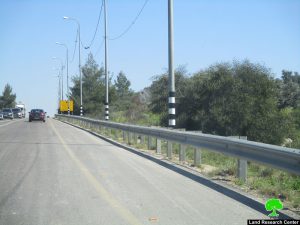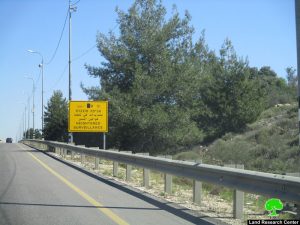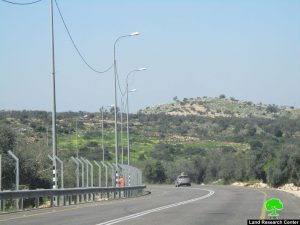 Photos 1-3: a view of the targeted lands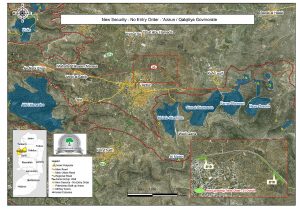 Hasan Shubaita from Azzun town told LRC reporter:
"We received a note saying that the land will be confiscated for military purposes, then it turned out that the occupation's scheme is to establish an isolating military zone by bypass 55 in 2 locations, the first is at the entrance of Azzun, and the second is at the entrance of Kafr Laqef, and still there is no details on the nature of the closed area that the occupation is intending to create. But on the ground, The scheme will harm several farmers , especially that the area consists of number of olive groves, that farmers will not gain access to any more."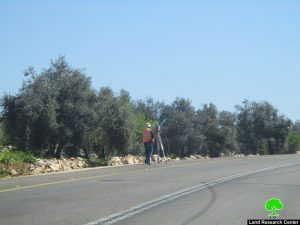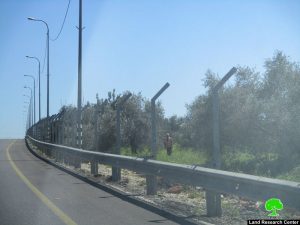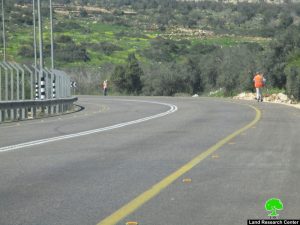 Photos 4-6: experts from an Israeli company taking dimensions of the lands that will be ravaged
The targeted lands will belong to the following citizens from Azun:
Heirs of Shafiq Shatara.
Heirs of Ahmad and Khairi Haneyeh.
Heirs of Mahmous Suwaidan.
Heirs of Hamid Suliman.
Heirs of Al-Thablan.
Heirs of Othman and his brothers.
Heirs of Hamdallah Huwaim.
Heirs of Asa'ad Saleem.
Heirs of Rashida Naser.
About Azzun:[1]
Located 8km to Qalqiliya city with a total area of 9,472 dunums, of which 1,054 dunums are the village's built-up area. The occupation confiscated vast area from the village for the favor of colonization and the apartheid wall; the areas are detailed as follows:
276 dunums were confiscated for Maale Shamron colony that was established in 1980.
417 dunums were confiscated for the bypass road number 55
It should be marked that the vast majority of Azzun lands (6,927 dunums) is classified as area "C" according to Oslo accords; areas that are controlled by the Israeli occupation. The village has zero percentage of area "A" that is under the control of Palestinian Authority. As for other classifications, the village has 2,546 dunums classified as area "B". (Geographical Information System- Land Research Center)
3 colonies are built on 'Azzun lands and they are:
Maale Shomron: Built in 1980, the colony has a total area of 1903 and a built-up area of 216 dunums. 549 colonists live in it (according to a 2004 census).
Genot Shomron: Built in 1985, the colony's built-up area is 484 dunums.
Karni Shomron: Built in 1978, the colony's built-up area is 1351 dunums. 6270 colonists live in it (according to a 2005 census)
[1] GIS-LRC