Setting up a Metal Gate on Bruqin Western Entrance / Salfit Governorate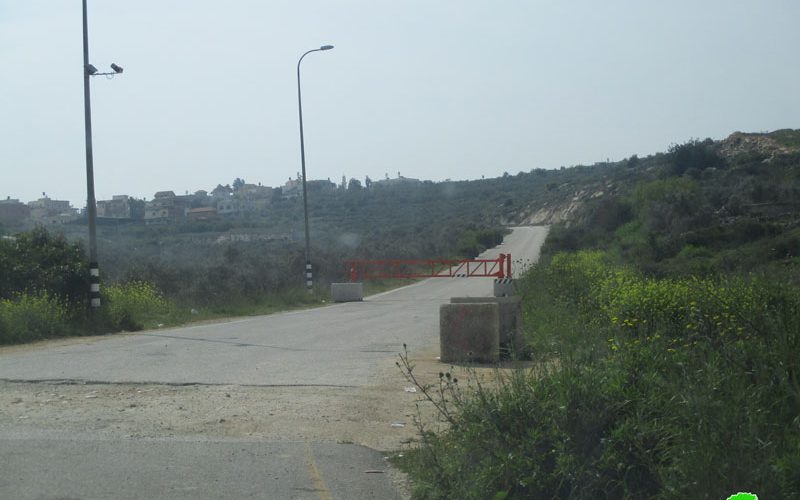 Violation: setting up a metal gate.
Location: The western entrance of Bruqin village.
Date: 18 march 2019.
Perpetrator: The Israeli occupation army.
Victims: people of Bruqin.
Description:
Massive army forces raided number of villages and towns in Salfit governorate , in addition to imposing restrictions on main roads.
Reportedly, The occupation closed the western entry road of Bruqin village, which links the town to bypass 446.
In the afternoon of Monday, 18th of march, the occupation set up a metal gate in addition to cameras on close electric towers.
Akrama Samara, a citizen and a member in the municipal council told LRC reporter:
"Bruqin have been heavily targeted by the Israeli occupation, after they grabbed about 8000 dunums of the town's lands for the expansion of "Burqan" illegal settlement, and "Ariel" industrial zone and "Brukhin" settlement north the town, in addition to the opening several bypasses that divide the town, which makes Bruqin villagers much like hostages"
Samara asserted: "Recently, the occupation troops closed up the town's western entrance, which made the town's people's lives even harder, especially to laborers and employees that take the road to reach their working places."
Bruqin:
It is located 10 km to the west of Salfit city; Bruqin is one of the Palestinian villages that depend mostly on agriculture in its income. And bordered by Haris (north), Kafr Ad-Dik (west), Farkha and Salfit (East), Kafr Ein, Bani Zayed, Qarawat Bani Zaid (south).
The town has a population of (4,174) people in 2014 census.
The town has a total population of 285,12 dunums , of which 706 dunums are the town's built up area.
The occupation devoured (3,385) dunums , for the following purposes:
Table 1: land confiscations in Bruqin:
| | | | | | |
| --- | --- | --- | --- | --- | --- |
| No. | Colony | Establishment date | Built-up area | Type | Built over |
| 1 | Barkan | 1981 | 622.5 | Industrial | Sarta, Bruqin, haris |
| 2 | Bruchin | 1999 | 265.5 | Residential, industrial | Bruqin, Haris |
| 3 | Ariel Gardens | 1978 | 5226 | Industrial | Bruqin |
Bypass roads devoured about 503 dunums.
Oslo accords divided the land into the following :
A area: (1,005) dunums.
B area : (4,376) dunums.
C area: (6,906) dunums.
International conventions and agreements that penetrate closing roads:
Such as, Universal Declaration of human rights 1948 ,
Article 3: Everyone has the right to life, liberty and security of person.
Article 5: No one shall be subjected to torture or to cruel, inhuman or degrading treatment or punishment..
Article 9: No one shall be subjected to arbitrary arrest, detention or exile.
Article13.

(1) Everyone has the right to freedom of movement and residence within the borders of each state.
(2) Everyone has the right to leave any country, including his own, and to return to his country.
International convent on civil and political rights:
Article 7
No one shall be subjected to torture or to cruel, inhuman or degrading treatment or punishment. In particular, no one shall be subjected without his free consent to medical or scientific experimentation
Prepared by
The Land Research Center
LRC