Israeli settlers sabotage trees in Deir Jarir / Ramallah governorate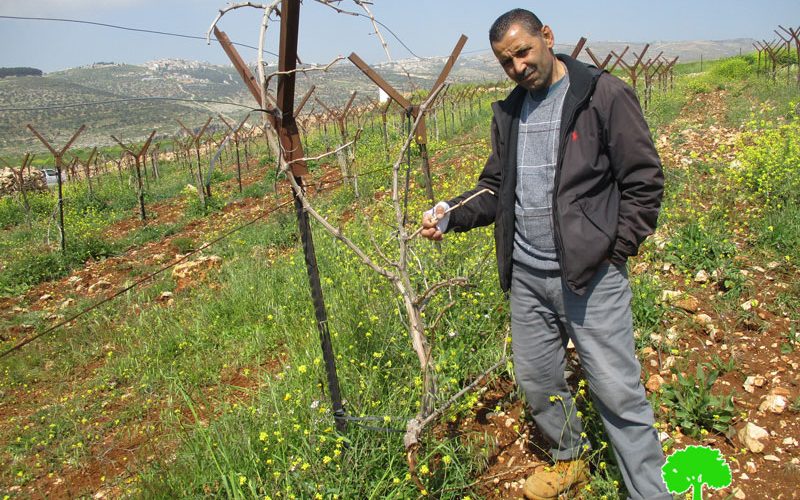 Violation: Sabotaging 645 trees.
Location: Deir Jarir village / North East Ramallah.
Date: 31/03/2019.
Perpetrators: Settlers of "Kokhav Hashaher".
Victims: Farmer Abdul Dayim Ajaj.
Description:
Farmer Abdul Dayim Ajaj (69 years) visits his land daily, to take care and irrigate the plants, the plot is located in East Deir Jarir, and Ajaj consider it a symbol of Palestinian resistance.
In the morning of Sunday, Ajaj headed to his land as usual , and was shocked to see that the plants were completely sabotaged.
The fanatic settlers left the following damages:
Sabotaging 480 grapevines (7 years old).
Sabotaging 150 almond trees.
Sabotaging 15 olive trees.
Writing racist slogans on the door of a well, on retaining walls and on a water tank , such as "death for Arabs", and signed by "price tag" gang.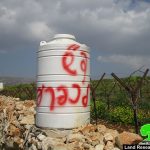 Photos 1-5: hatred slogans written by settlers on Palestinian Properties in Deir Jarir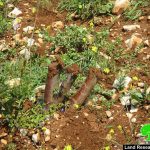 Photos 6-12: Some of the Almond trees that were sabotaged by Israeli settlers
LRC reporter met the owner at the location of the attack:
"I own an agricultural field (18.5) dunums, in an area known as "Wad Al-Habis", about 5 km from Deir Jarir village, close to the bypass road that leads to Asour military camp, in 2012 I returned to my home town from the USA, and started rehabilitating my land, and received aid from Ma'an development center in order to establish a well (90 m3). in 2014, I cultivated my land with a variety of trees , and since that day until this day , I have been spending a great d
eal of my time in taking care of my land, which provides a sub side source of income for my family, Recently. I have been attacked by settlers several times."
Noteworthy, "Kokhav Hashaher" settlers have been carrying out several attacks against farmers of Deir Jarir, such as torching fields and stealing tools and harvest.
About Deir Jarir:[1]
Located 12 km to the northeast of Ramallah city, Deir Jarir is surrounded by Al Mazra'a Ash Sharqiya and Kafr Malik (north), Silwad (west), Kokhav Hashahar colony (east), and At Tayba village (south).
It has a population of 5140 people (according to 2014 population projections). Its total area is 33,332 dunums, 793 of which are built-up area.
The Israeli occupation confiscated 2482 dunums of the village for the benefit of:
Kokhav Hashahar colony that devoured 1358 dunums of the village lands. It was built in 1977 and is inhabited by 1367 colonists.
Bypass roads number 449 and 458 that devoured 1124 dunums
According to Oslo Accords, about 4906 dunums of Deir Jarir land are under Area B (PA is in charge of civil matters with Israel responsible for security) and 28426 dunums are under Area C (Israel maintains full security and administrative control). 
[1] GIS-LRC
Prepared by
 The Land Research Center
LRC