Writing hatred inciting slogans and ruining car tires in Ras Karkar and Beitillu villages in Ramallah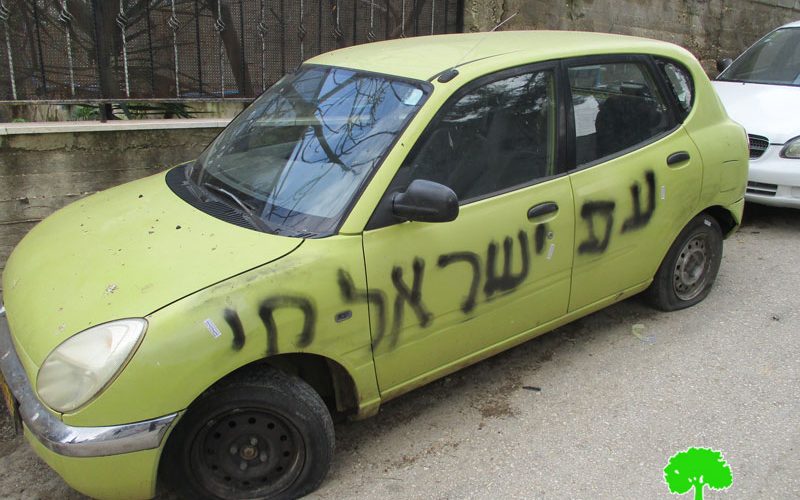 Violation: settlers vandalize Palestinian properties.
Location: Ras Karkar and Beitillu villages north Ramallah.
Date: 21 February 2019.
Perpetrator: "Price tag" gangsters.
Victims: number of citizens from the town.
Description:
 In the early morning hours of 21 February 2019 , a group of fanatic settlers raided Ras Karkar village north Ramallah, and settlers carried on writing hatred inciting slogans on 7 cars and ruined most of their tires before they withdrew. The following table provides more information about the attack:
| | | |
| --- | --- | --- |
| affected | Car type | damages |
| Samir Nofal | Subaru 2012 | Writing hatred inciting slogans and ruining three tires |
| Saed Nofal | Isuzu 2011 | Writing hatred inciting slogans and ruining four tires |
| Abdullah Samhan | Mercedes 2007 | Writing hatred inciting slogans |
| Adli Samhan | Daihatsu 2000 | Writing hatred inciting slogans and ruining four tires |
| Nasr Fakhida | Isuzu 2003 | Ruining three tires |
| Nidal Samhan | Hyundai 2008 | Ruining four tires |
| Ma'en Fakhida | Opel corsa 2006 | Ruining two tires |
Photos 1-6: some of the cars that went through an Israeli assault / Ras Karkar
In the same context, settlers sneaked to Beitillu and wrote hatred inciting slogans on the walls of Ghalib Al-Bazzar house such as "Death for Arabs" and similar slogans.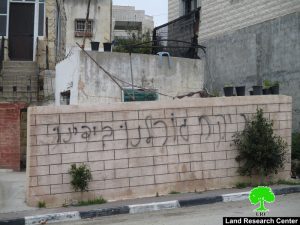 Photo 7 : Ghalib Al-Bazzar house after the attack/ Beitillu
Colonists' break-ins and arson attacks on Palestinians in the suburb areas are meant to terror and harass Palestinian citizens to push them out of their areas. The most vicious attack was the torching of Dawabsheh family while sleeping on August 2015, the same group of gangsters carried out many attacks in Salfit governorate varying from cutting down aging trees to shutting down agricultural roads and confiscating vast area of lands to serve the colonial expansion in the area.
It should also be mentioned that colonists worked on forming a gang named" Revenge" and " Price tag", the attacks of which are to be represented in torching and damaging vehicles, houses and worshiping places. This hatred and revenge  ideology is derived from the extremists Rabbis  in the Israeli government who believe in the necessity to terminate all Arabs and Muslims
Beitillu – an overview:
Beitillu is located 19 km to the north west of Ramallah and is considered the largest village in the region, area wise. It is edged by several Palestinian villages besides the armistice line to the west; the village also incubates a number of water springs. The village total area is 13419 dunums, including 5825 dunums used for irrigated farming and 2500 dunums of olive fields.
It is inhabited by around 4500 people; the youth rates are very high in the village. The village, with more than 2000 dunums of open fields suitable for cultivation, is reputable for its olive, prunes, fig, and citrus production
Ras Karkar:[1]
15 kilometer north  west of Ramallah, Ras Karkar is surrounded by Deir 'Ammar (north),  Kafr Ni'ma and Deir Ibziq  (south), Al Jania (east), Bani Harth (west).
Ras Karkar has a population of 1956 people according to statistics conducted by the Palestinian Central Bureau of Statistics in 2017. It has a total area of 5050, 330 of which are a built-up area of the village.
The Israeli occupation devoured more than 32  dunums of the lands of the village for Talmon C colony which was built in 1989. Moreover, bypass number '463 took over 295 dunums of the village lands.
According to Oslo Accords, 19% of Ras Karkar is under Area B (PA has full civil and security control) while most of the village lands (81%) is under Area C (Israel maintains full security and administrative control). Here are the area in dunums:
Area B (940) dunums
Area C (4110) dunums
[1] GIS-LRC