The Israeli occupation cut down 200 olive trees in Khirbet Safa – Beit Ummar/ Hebron governorate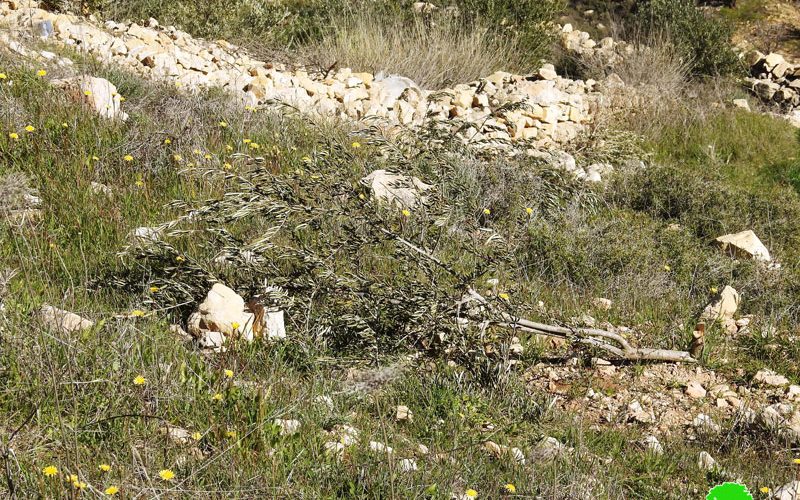 Violation: cutting down olive trees.
Date: 22/1/2019.
Location: Khirbet Safa – Beit Ummar / Hebron governorate.
Perpetrator: The occupation's authorities.
Victims: People from Al-Thalji family.
Description:
The Israeli occupation forces cut down and sabotaged 200 olive trees aging 5 years from "Al-Thalji" family plot in Khirbet Safa, North Beit Ummar. An eyewitness said that the occupation's troops cut the trees using electronic tools.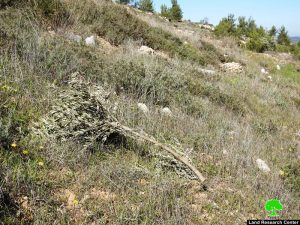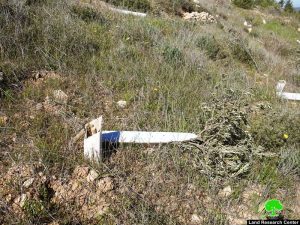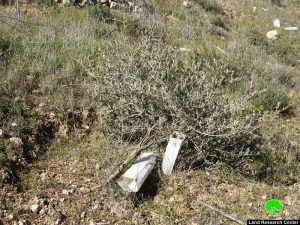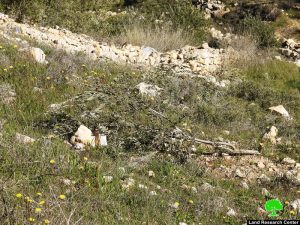 Photos 1-4: the plot after the attack
The targeted land is reported to have an area of 15 dunums, and belongs to (Mohammad Thalji, Ibrahim Thalji, Ali Thalji and Salah Thalji).
Activists from Colonization Resistance in Beit Ummar said that the owners did not receive any preceding military orders, and the occupation troops said that there is a court degree to remove the trees when they were asked why they are doing this.
Noteworthy, The Israeli illegal settlement Beit Ayin is very close to the Khirbet, several assaults on olive trees were documented by Beit Ayin settlers.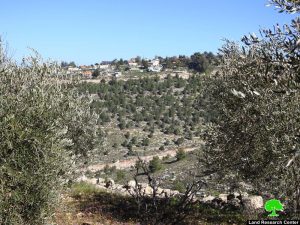 Photo 5: Beit Ayin Colony
About Khirbet Safa:
Khirbet Safa is located on the northern of Beit Ummar, and has a population of 3600 people, the Khirbet consists of a school for males and females, and receives services from Beit Ummar's municipality. The Khirbet is surrounded by "Etzion" illegal settlement (east) , Surif town (west), "Beit Ayin" settlement (north) and Beit Ummar town (south).