"Revava" colonists sabotage olive trees in Deir Istiya town / Salfit governorate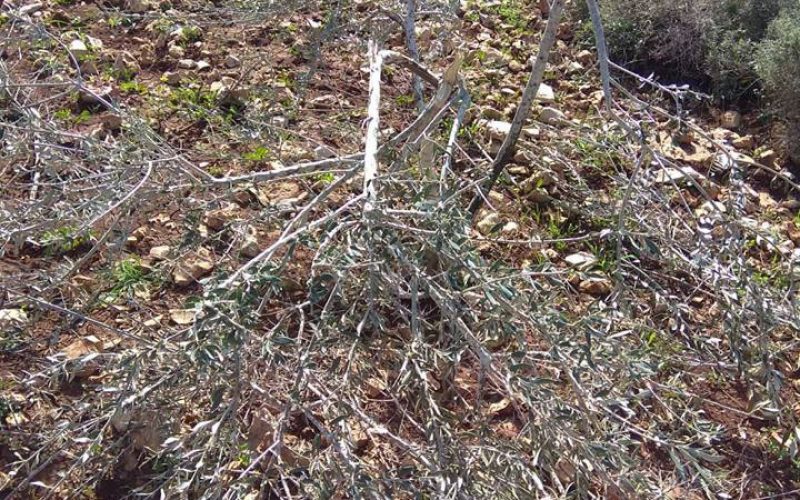 Violation: Sabotaging 18 olive trees.
Location: Deir Istiya north Salfit governorate.
Date: 13/01/2019.
Perpetrators: Settlers of "Revava".
Victims: Zuhair Salman's family.
Description:
In the evening of Sunday , January 13 , a group of fanatic settlers from "Revava" colony sneaked into the western side from Deir Istiya in Salfit, and used sharp tools to sabotage 18 olive trees aging 10 years old from an olive grove belongs to Farmer Zuhair Salman. 
Settlers attacking an olive grove in Deir Istiya
Agriculture is the pillar of livelihood and the main source of income for households in the Palestinian suburbs. Olive trees are considered an icon of giving, generosity and resilience. It should be marked that "Revava" settlers never stopped assaults against olive trees in the same area over and over.
Affected farmer Zuhair Salman (39 years) told LRC observer: " I cultivated the land hoping to protect it from colonial expansion , but that did not work. I have been a victim of several Israeli assaults. I filed a complaint to the Israeli police but nothing was actually done to stop such attacks from happening. In Reality, The Israeli government secretly supports settlers' attacks in an attempt to evict the area from Palestinian landowners and take over it for colonial schemes.
Deir Istiya:
It is located 6 km to the north west of Salfit. Its total area is 34, 765 dunums including 1527 dunums of built-up area. 40 % of the total area of Deir Istiya has been subjected to colonial activities. The town is inhabited by around 4000 people who depend largely on herding and agriculture in their living knowing that fertile soil and plenty of water are available.
It is considered one of the most concerned towns with education, compared to other surrounding towns and villages. 
 It is subject to colonial activities and colonies that are sporadic all over it, trying to seize every dunums and invades every place like cancer.
Prepared by
 The Land Research Center
LRC