New Israeli crime targeting a Palestinian land in Bruqin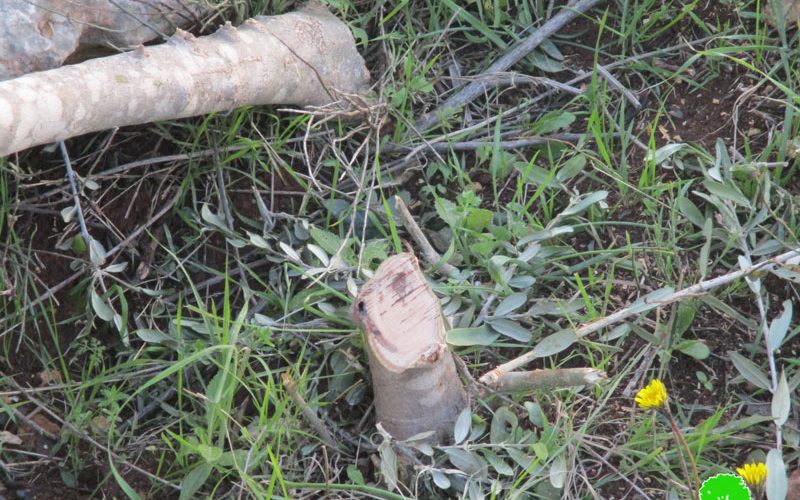 Violation: uprooting 50 olive seedlings.
Location: Bruqin town West Salfit city.
Date: January 03 -2019.
Perpetrator: The Israeli occupation army.
Victims: Farmer Ziad Barakat.
Description:
In the early morning hours of Thursday, The Israeli occupation forces raided Bruqin town heading to the ancient Khirbet Qarqash and uprooted 30 olive trees aging (1 year and a half) and 20 olive trees aging (5 years), in the same context, the fanatic troops also destroyed  a (150*1 meter) siege surrounding the land.
The targeted land belong to farmer Ziad  Barakat from Bruqin who is  the supporter of a family of 7:
"I received a land eviction order in April of 2016 under claims that the land is an Israeli state's property, back then we hired a lawyer hoping to protect the land we inherited father to son, since that day and until today I have been visiting and taking care of my land daily"
It is noteworthy that the Israeli occupation devoured vast areas of Bruqin town to expand Barkan Israeli illegal industrial settlement. Nevertheless, there is an Israeli resolution to confiscate tens of agricultural dunums belong to Palestinian farmers in Bruqin under claims that they are Israeli state's property.
 Bruqin:[1]
It is located 13 km to the west of Salfit city; it is one of the Palestinian villages that depend mostly on agriculture in its income. The village's total area is 13273 dunums including 1336 dunums of built-up area inhabited by around 3500 people. 1200 dunums are planted with olives while 3000 dunums are used for herding purposes; the rest (8000 dunums) are under the nearby colonies control. The village is facing vicious attack from the Israelis; more than 8000 dunums of the village lands were confiscated for colonial expansion purposes.
Table 1: land confiscations in Bruqin:
No.

Colony

Establishment date

Built-up area

Type

Built over

1

Barkan

1981

622.5

Industrial

Sarta, Bruqin, haris

2

Bruchin

1999

265.5

Residential, industrial

Bruqin, Haris

3

Ariel Gardens

1978

5226

Industrial

Bruqin

 
[1] GIS-LRC
Prepared by
 The Land Research Center
LRC