Israeli troops demolish Palestinian homes in Fasayil Al-Wousta / North Jericho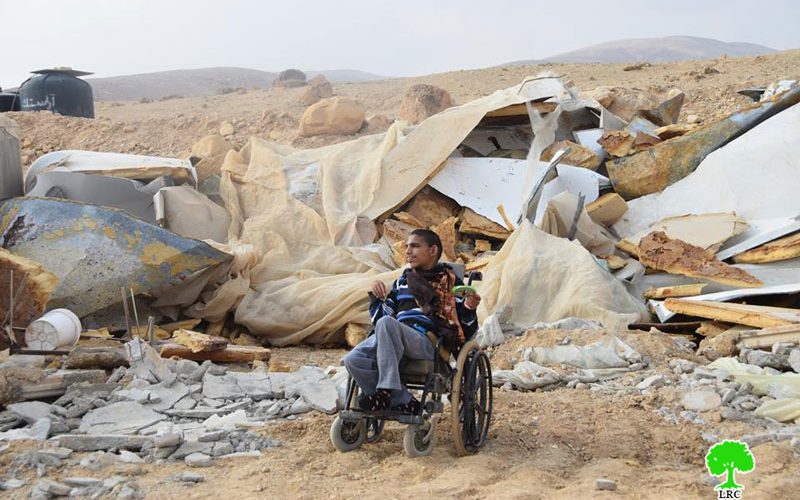 Violation: Demolition of 2 houses.
Location: Fasayil Al-Wousta / North Jericho.
Date: 03/12/2018.
Perpetrators: The Israeli occupation army.
Victims: Families from the Bedouin community in Fasayil Al-Wousta.
Description:
The Israeli occupation troops raided Fasayil Al Wousta North Jericho and demolished 2 residents the first one is built of bricks and steel sheets ceiling and the second one is built of woods , the occupation claimed that the houses are built before getting proper licenses in area C.
The targeted structures belong to Ayman Qrinat and Hassan Az-Zayed , they received a halt of construction order from the occupation in April.
Hassan Az-Zayed told LRC reporter:
"The targeted house belongs to my hindered son (19) , it is built of woods clothed with mineral wool to keep the  80 m2 warm, noteworthy the occupation did not serve any military orders targeting the demolished structure."
The following table provides information about the damages:
| | | | | | |
| --- | --- | --- | --- | --- | --- |
| Victim | Number of family members | Children under 180 | The targeted structure | Photos | remarks |
| Ayman Al-Qrinat | 6 | 4 | House of bricks and zinc with an area of 90m2 | | First time |
| Hassan Az-Zayed | 10 | 7 | House of woods with an area of 80 m2 | | Was demolished 4 times before |
|   | 16 | 11 |   |   |   |
Source: firsthand field observation – Israeli violations monitoring section- LRC , January 2018.
Fasayil is 23 km north of Jericho and its built-up area is 147 dunums only ( Fasayil village council). This area does not meet the natural increase of population. More than 30 residences and barracks were demolished as a result. It has a population of 1132 (according to Palestinian Central Bureau of Statistics in 2010). It is surrounded by a number of illegal Israeli colonies that limit the expansion of the village and deprive its inhabitants from having a normal life. 
From the north, Fasayil is surrounded by colonies of Yafit and Pezael (Fezael), Tomer and Gilgal and Netiv Hagedud from the south in addition to a bypass that links the northern colonies with the southern ones.
International Conventions and agreements pertaining to house and residents demolition:
Article 147 of Geneva fourth convention  : extensive destruction and appropriation of property, not justified by military necessity and carried out unlawfully and wantonly. ( it is considered a serious violation of the convention)
Article 53 of Geneva fourth convention that forbids destroying properties : Any destruction by the Occupying Power of real or personal property belonging individually or collectively to private persons, or to the State, or to other public authorities, or to social or co-operative organizations, is prohibited, except where such destruction is rendered absolutely necessary by military operations.
Article 33 of Geneva fourth convention: No protected person may be punished for an offence he or she has not personally committed.
Article 32 of Hague convention 1907 part g: To destroy or seize the enemy's property, unless such destruction or seizure be imperatively demanded by the necessities of war.
Article 17 of Universal declaration of human rights 10 –Dec- 1948:  No one shall be arbitrarily deprived of his property.
Prepared by
 The Land Research Center
LRC