The Israeli occupation demolishes a facility in Halhul city- Hebron governorate
Violation: Demolishing a car washing facility.
Date: November 18 -2018.
Location: An-Nabi Yunis area- Halhul town- Hebron governorate.
Perpetrator: The Israeli occupation civil administration.
Victim: Mohammad Moreb Family.
Description:
Mohammad Moreb said that vehicles from the Israeli occupation civil administration raided the area in November 14, confiscate properties from the facility, loaded them on a truck and took them away after handing the owner a "confiscation of goods military order".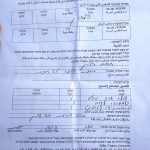 Photo 1: The military order.
In November 18 the occupation forces with a "JCB" dozer raided the area again and demolished the car washer.
Photos 2+3: The car washer after the demolition.
The demolished facility is reported to have an area of (60 m2) built of steel and plastic sheets, it was established in June 2018 to be a source of income for his family.
The demolition affected the following:
| | | | |
| --- | --- | --- | --- |
| Number | Name | Number of family members | More information |
| 1 | Mohammad Moreb and his sons | 6 | owner |
| 2 | Basel Jalaq | 1 | employee |
Affected villager asserted that confiscating goods caused (20,000) NIS, and now he is jobless without any source of income.
Legal Feedback:
International Conventions and agreements pertaining to house and residents demolition:
Article 147 of Geneva fourth convention  : extensive destruction and appropriation of property, not justified by military necessity and carried out unlawfully and wantonly. ( it is considered a serious violation of the convention)
Article 53 of Geneva fourth convention that forbids destroying properties : Any destruction by the Occupying Power of real or personal property belonging individually or collectively to private persons, or to the State, or to other public authorities, or to social or co-operative organizations, is prohibited, except where such destruction is rendered absolutely necessary by military operations.
Article 33 of Geneva fourth convention: No protected person may be punished for an offence he or she has not personally committed.
Article 32 of Hague convention 1907 part g: To destroy or seize the enemy's property, unless such destruction or seizure be imperatively demanded by the necessities of war.
Article 17 of Universal declaration of human rights 10 –Dec- 1948:  No one shall be arbitrarily deprived of his property.
About Halhul:
It is 7km north Hebron city and is around 36,849  dunums in area; 3,364 dunums of which are built up area where the rest is planted with grapes, peach and almond trees. The town is 1050 m above sea level and is considered the highest point in the West Bank. It has a total population of 27,031 people (Palestinian Central Bureau of Statistics 2017)
The occupation confiscated (847.5) dunums for the following purposes:
1: "Karmei Zur" settlement devoured 116 dunums when it was established in 1984.
2: Bypasses 60 and 35 devoures 698 dunums.
3: Military camps devoured (33.5) dunums.
Oslo convention divided Halhul lands to 3 areas:
Area A: (4,165) dunums.
Area B: (21,899) dunums.
Area C: (10,785) dunums.
Prepared by
 The Land Research Center
LRC