Martyr 'Aisha: A new victim of radical settlers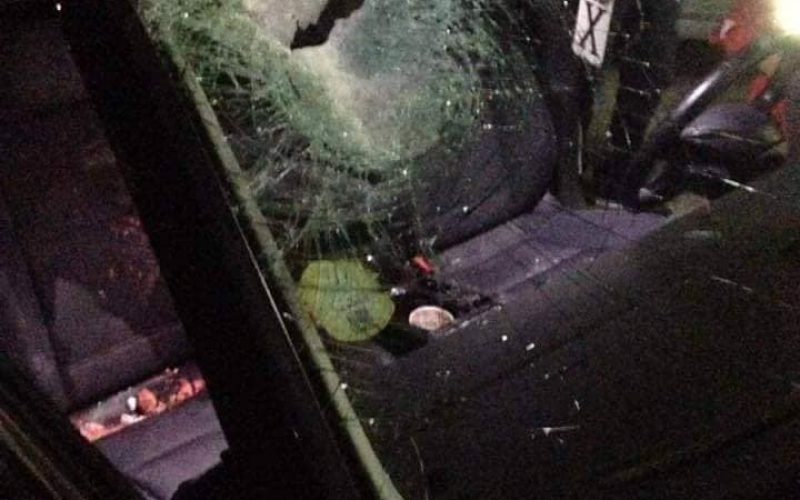 Salfit, people of Biddya are grieving over the death of 'Aisha Ar-Rabi (45 yrs), after illegal settlers attacked her husband's Yaqoub Ar-Rabi vehicle while they were passing through bypass road 60. On the road sides of bypass road 60 that connects between Ramallah and Nablus, mercenaries of illegal settlers of "Shvut Rahel" settlement attack and assault Palestinians who pass by under the protection of Israeli military forces, While Ar-Rabi was passing by with his wife, settlers attacked them with rocks and killed 'Aisha Ar-Rabi.
Yacoub Ar-Rabi (25 yrs) told LRC observer:
" My wife, 'Aisha was visiting our daughter in Hebron, While we were in our way home passing by "Shvut Rahel" settlement , I was surprised of a group of illegal settlers attacking Palestinian vehicles, I tried to drive away, but one of them threw a big rock that broke the front glass and hit my wife's head, I didn't know that it hit her at first because she didn't scream or say anything, I looked at her and her face was covered with blood, my daughter Rama in the back seat started crying, I drove quickly to Ebn Sina medical center in Huwwara where they informed me that she was already dead."
Rama (9 yrs) 'Aisha's daughter was with her mother and father in the back seat of the car, when illegal settlers attacked their vehicle, and is now going through a psychological trauma and temporarily lost her ability to speak. 'Aisha is a mother of 7, and was a mother and a friend for her daughters : Ansam, Wisam, Lamees, Ruba, and Salam whose wedding was decided two weeks after the incident, Mohammad who studies agriculture in Jordan , Ahmad in tenth grade, and child Rama who was with her mother in the car when she was assassinated by the illegal settlers.
19 years ago, Aisha's brother , The young Fozat Mohammad Bollad was killed by the Israeli illegal forces while he was passing by "Askar" check point west Ramallah, few hours before his wedding . And Now aisha's mother is lamenting her two children who were killed while they were preparing for wedding parties, Aisha for her daughter, and Fozat for himself.
Crimes of settlers in west bank in the country side , cities and connecting roads are backstage supported by the Israeli military forces and government, Even though affected Palestinian file charges against perpetrators, until now none of them was taken seriously, the occupation create scenarios to acquit the radical perpetrators.
We remember martyr Abu Khdeir who was burned alive by Israeli illegal settlers, The Israeli court claimed that the perpetrator suffers a mental illness and freed him, Same thing happened to Al-Dawabsha family who were burned while they were asleep, Father , mother and son died , and the case still in the Israeli court without any conclusion.
Israeli illegal settlers commit crimes against Palestinian lands, trees, houses and every Palestinian thing without a deterrent, and on the pretext of keeping security they kill Palestinian people or arrest them for many years, since the beginning of this year (2018) Israelis demolished 13 homes and constructions for martyrs' and detainees' families on the pretext of security[1].
---
[1] Firsthand field observation of Israeli violations – LRC
Prepared by
The Land Research Center
LRC