Israeli Occupation Forces ravage agricultural lands in Beit Ula town / West Hebron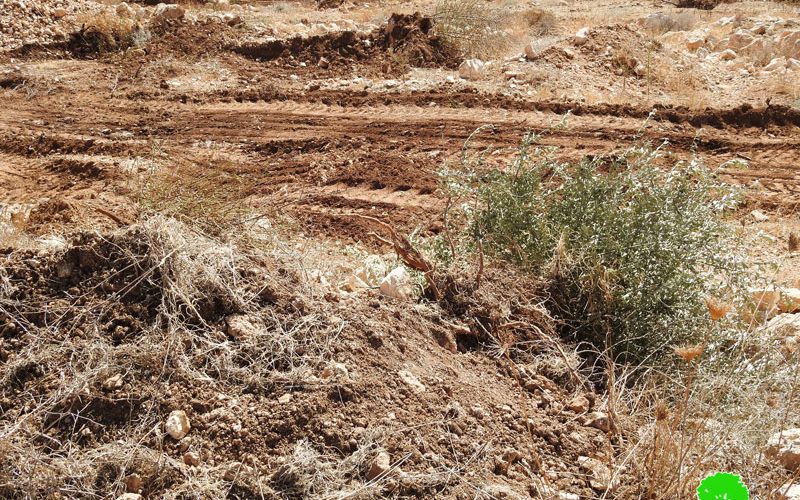 Violation:  ravaging lands and uprooting trees
Location:  Beit Ula town- Hebron governorate
Date:  October 29, 2018
Perpetrators: Israel Civil Administration and army
Victims:  two farmer's families.
Description:
On October 29, 2018, Israeli Occupation Forces ravaged lands, uprooted trees and demolished retaining walls in Beit Ula town, west Hebron governorate. It should be marked that Israeli Occupation Forces and Israel Civil Administration accompanied by heavy machineries raided the areas of Kharouf hamlet and Wad Qalmoun, west of the town and carried out a demolition operation. 
Affected Farmer Hijazi At-Turshan(47) said:
In the early morning hours of  October 29, I was working in my land when the Israeli Occupation Forces and Israel Civil Administration accompanied by heavy (JCB) machineries raided the area, carried out ravaging my land and uprooted olive trees. in the mean time , workers from the civil administration, collected the uprooted trees and threw them into an empty abandoned cistern, other workers were destroying the retaining wall that was surrounding my land.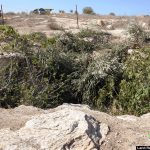 Photos 1-5: view of the plot after the attack.
Thus, the ravaged area totaled 13 dunums, from which 210 olive trees(12 years) were uprooted , It should be marked that the targeted lands underwent reclamation activities to be source of income for the farmer's family that consists of 17 members (13 of them are children), At-Turshan asserted that the harvest of the plot was (250 kilograms) of olives. At-Turshan asked the occupation army officer on the reason of the assault, He said that the land is a "state's property", Affected farmer negated receiving any military orders from the occupation that informs taking over the land.
Affected Farmer Soliman Al-Adam:
In the same date, machineries of Israeli Occupation Forces ravaged a land owned by farmer Soliman Al-Adam and uprooted 350 Almond stocks and 5 olive stocks.
Photos 9-6: sings of the attack on Al-Adam lands
An overview of Beit Ula Town[1]:
Beit Ula is located 14 km to the northwest of Hebron city; it has a total area of 24,000 dunums, most of which are classified as area "B" according to Oslo Accords. The town houses a total population of 13,000 Palestinians and is run by a municipal council that was elected in 2012. The town is famous for olive and vegetable plantation in addition to metal manufacturing and stones factories.
Around 2000 dunums from the lands of Beit Ula were confiscated for the favor of the apartheid wall establishment in 2004. Over the past couple of years, the Israeli occupation authorities ravaged tens of agricultural dunums, uprooted thousands of trees, demolished five water cisterns and confiscated many agricultural equipments and tractors in the town. The Israeli government took the aforementioned measures to push Palestinian farmers to abandon their lands (classified as area C) but farmers never abandoned their lands and always tried to object confiscation and demolition orders in Israeli court.
[1] GIS-LRC