Demolition of a home and a cistern in Khalet Al Mayeh Hebron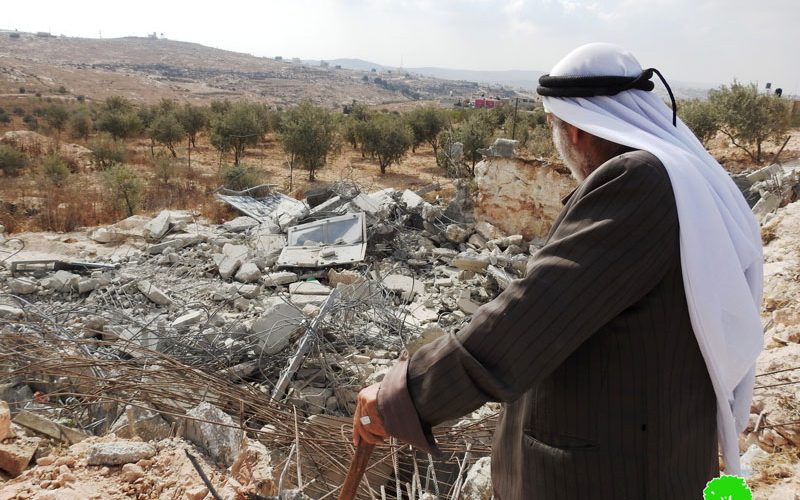 Violation: demolishing a house and a cistern.
Date: October 17 /2018.
Location: Khalet Al Mayeh – Yatta / Hebron governorate.
Perpetrators: The occupation's military forces and civil administration.
Victims: Family of Mahmoud Abu Tah.
Description:
Wednesday, 17 October, The occupation's bulldozers demolished a house and a water cistern owned by villager Mahmoud Abu Tah, from Khalet Al Mayeh North Yatta / Hebron.
Abu Tah told LRC observer: Number of military forces broke into the village at 5:00 am accompanied by A (Hyundai) digging Vehicle and a (Volvo) Bulldozer. They surrounded the house and prohibited me from reaching it, they took out some of the properties inside the house then they demolished the place.
The now demolished house used to have an area of (180 m2) and built of reinforced cement, Mahmoud Abu Tah started building it in 2015 and consists of two rooms, bathroom, kitchen and a store, it was habitable and the owner had already transfered some of his properties to the house, they also destroyed the water cistern that was behind the house with a capacity of (100 m3) and full of water.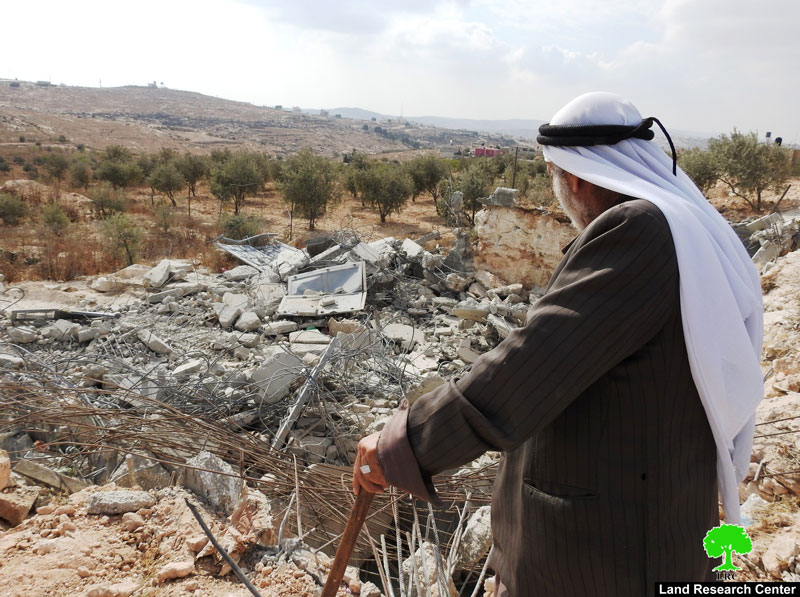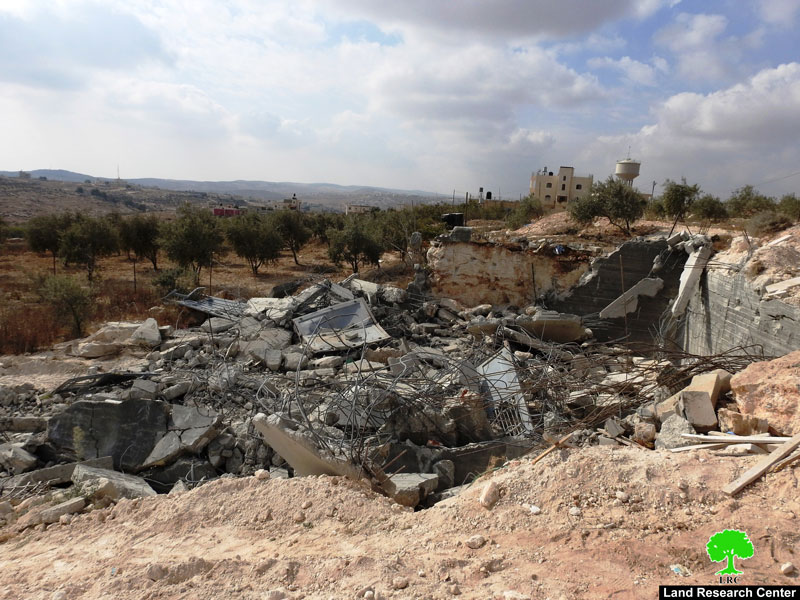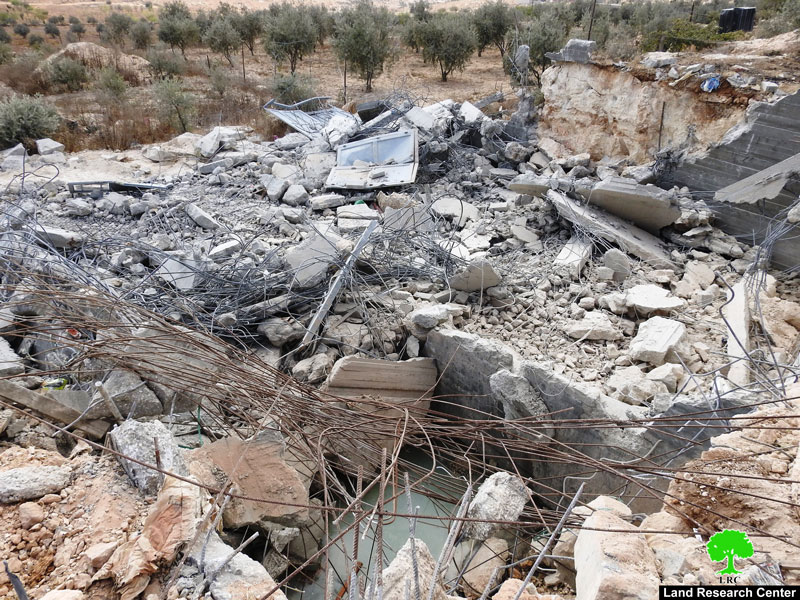 Pictures 1-3: remains of Abu Tah home after the demolition.
Affected villager told LRC observer:my family were waiting for the moment we move into the new home, noteworthy that Abu Tah supports a family of 24 members, 7 of them are children.
In July 17 , 2018, the occupation authorities had delivered a military notice to stop the construction process on the pretext of building without permission, Mahmoud prepared the necessary papers and filed them to the civil administration and hired a lawyer from a legal consultants association to object on the stop-work military order, but of course the Israeli occupation never grant permissions for Palestinians, after contacting with the lawyer it turned out that the civil administration did not issue a demolition order.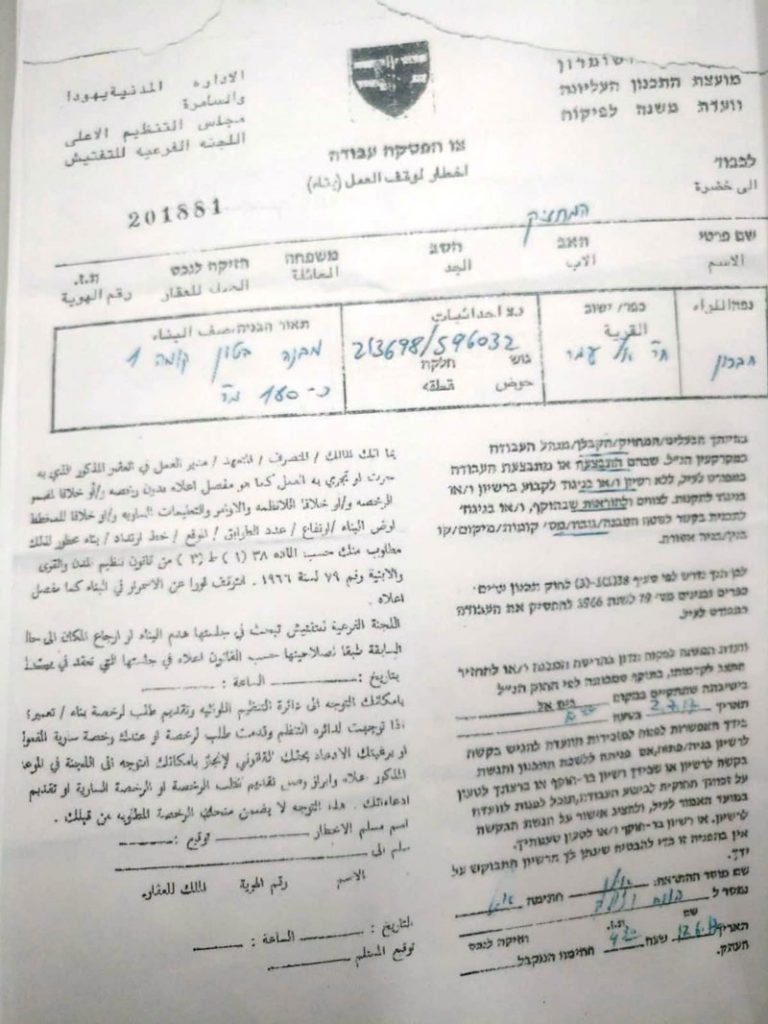 Picture 4: Stop-work order for citizen Mahmoud Abu Tah home.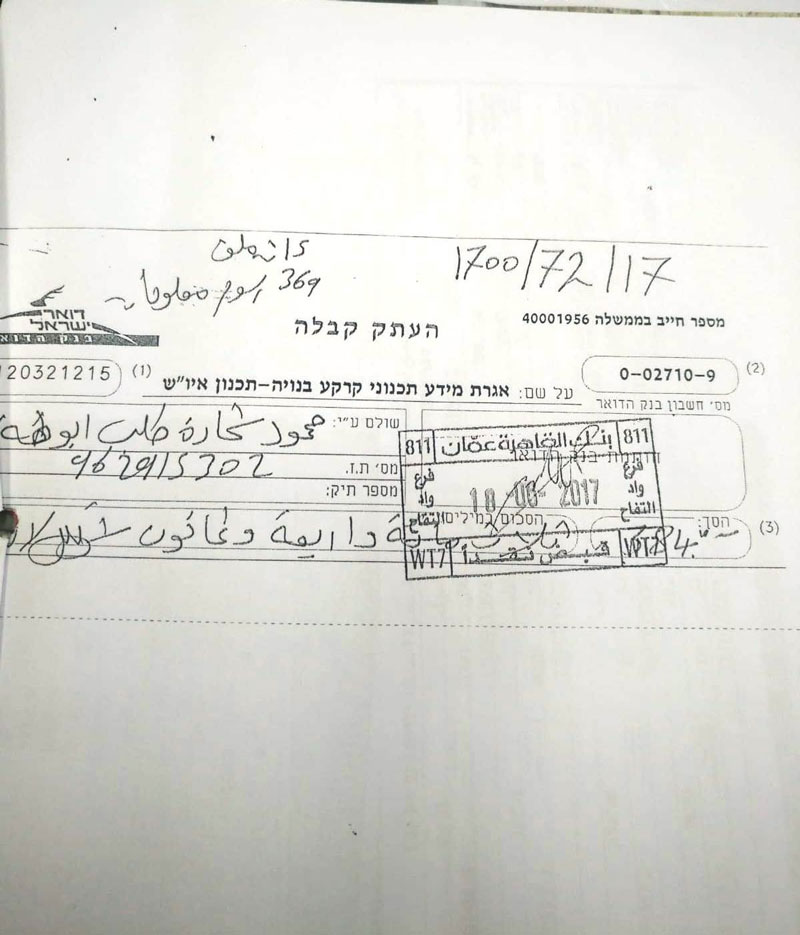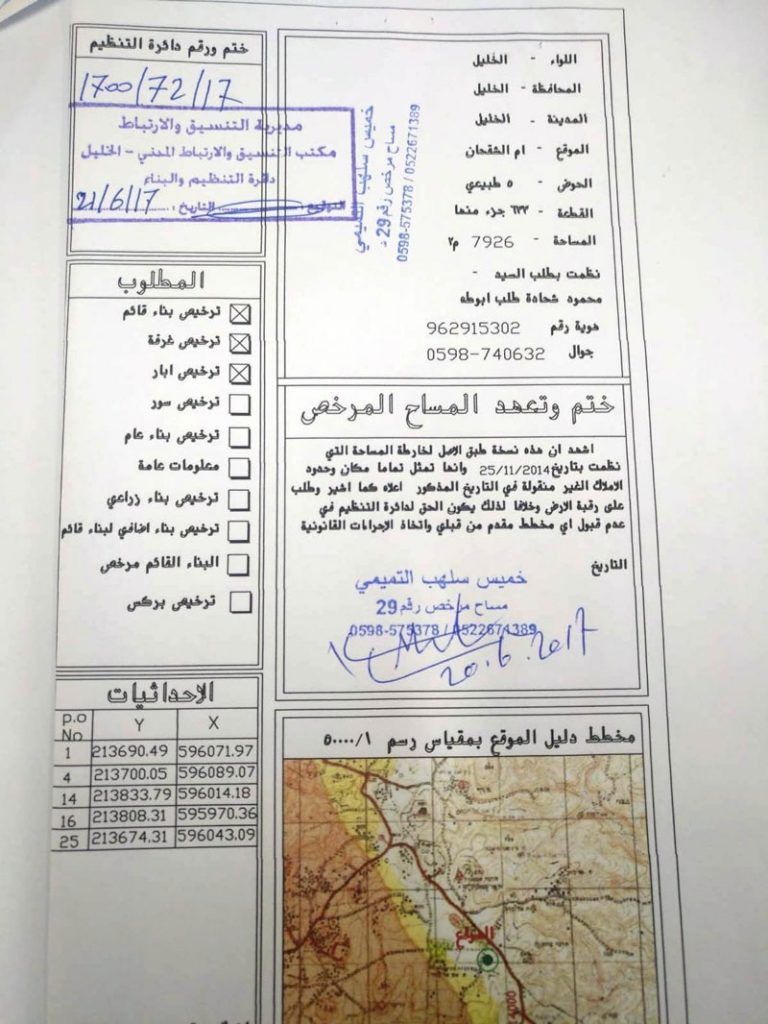 Pictures 5+6: Applying for a permission receipt (applied by affected citizen Mahmoud Abu Tah)
Israeli violations against residents and constructions has increased in south Hebron area recently, the Israeli occupation constantly carry out demolition and confiscate building materials in area C.
For more information about Israeli violations in Khalet Al mayeh read the following case studies prepared by LRC team:
Serving stop work orders in Khalit Al Mayeh village – Yatta
About Khalet al-Mahyeh:
Is located to the east of Yatta town and is considered part of it.  The Khalet is run by the village council, linked by a network of roads parts of which are unpaved, and not provided with a water network. The village populates around 4000 people. From the east, there is Um Lasfa village, from the west, there is Yatta town. The bypass road no.60 is to the north and al-Karmel town is to the south of the village.
Legal feedback :
The doings of the occupation's authorities of demolishing Palestinian homes and buildings is a serious violation of international and humanitarian law. And violate the rights of Palestinian citizens as ensured by international law and international conventions which is the right of an appropriate residence. According to the following articles:
Article 147 of Geneva fourth convention: extensive destruction and appropriation of property, not justified by military necessity and carried out unlawfully and wantonly. ( it is considered a serious violation of the convention)
Article 53 of Geneva fourth convention that forbids destroying properties : Any destruction by the Occupying Power of real or personal property belonging individually or collectively to private persons, or to the State, or to other public authorities, or to social or co-operative organizations, is prohibited, except where such destruction is rendered absolutely necessary by military operations.
Article 33 of Geneva fourth convention: No protected person may be punished for an offence he or she has not personally committed.
Article 32 of Hague convention 1907 part g: To destroy or seize the enemy's property, unless such destruction or seizure be imperatively demanded by the necessities of war.
Article 17 of Universal declaration of human rights 10 –Dec- 1948:  No one shall be arbitrarily deprived of his property.
Prepared by
 The Land Research Center
LRC