The occupation forces delivers 7 notices to stop construction in (Aqbat-Jaber) refugees camp / Jericho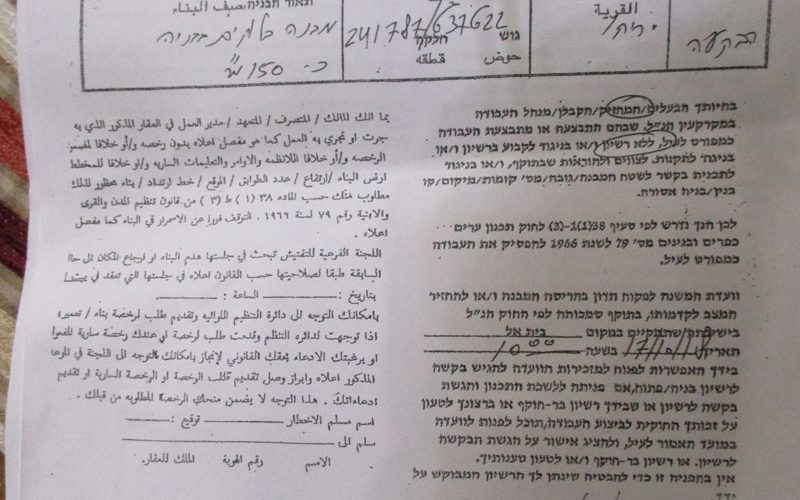 Violation: Notices to stop construction.
Location: "Aqbat-Jaber" camp , South Jericho city.
Date: 20 / September/ 2018.
Perpetrators: The so called " Building and organizing committee" belonging to the occupation.
Victims: 6 Palestinian families live south (Aqbat-Jaber) camp.
Details:
Thursday , 20 september, 2018 . The occupation forces with a "building inspecting officer" from what is so called the "Israeli civil administration" penetrated (Aqbat-Jaber) refugee camp, south Jericho. During that, 7 military notices were delivered to families from "Al-Crishan" family that request to stop their construction of 7 homes, under the allegation of building without permissions in area C. 4 of them are inhabited and 3 are under construction. According to the notices there will be a trial in "Beit El" court, 17 – December, for the session of" building and organizing" to study the legality of the noticed constructions. Names of the owners of the noticed constructions and other information:
Name of the victim

Family

members

Children/

Under18

Total space m2

Type of the construction

No of

Military

notice

Picture

No

Ali Hassan Musa Crishan

9

7

100

House under construction

206104

70

Old inhabited house with concrete walls and wood and zinc ceiling

206107

Met'ab Salem Musa Crishan

7

5

140

House under construction

Musa Salem Musa Crishan

4

2

110

Inhabited house- one floor built of bricks and concrete

Yusif Hassan Musa Crishan

4

2

1400

Inhabited house- one floor built of bricks and concrete

Mamdouh Hassan Musa Crishan

5

3

100

Inhabited house- one floor built of bricks and concrete

Nayef Hassan Musa Crishan

7

5

140

House under construction

total

36

24

760
Source : Firsthand field observation – Israeli violations observation department (LRC) September 2018.
It is worth mentioning that the lands where the noticed constructions are built, were given for Palestinian Refugees in 1954 according to an agreement between the Hashemite Kingdom and The UNRWA . The land was given to them in order to locate them until their issue is solved. Despite that , after Oslo agreement 1993 the southern part of Aqbat-Jaber camp close to " Vered yeriho " settlement fell in the hands of the occupation as C area, Al Crishan family were victims of this division which means more suffering for the inhabitants of the camp especially that their resources are very limited.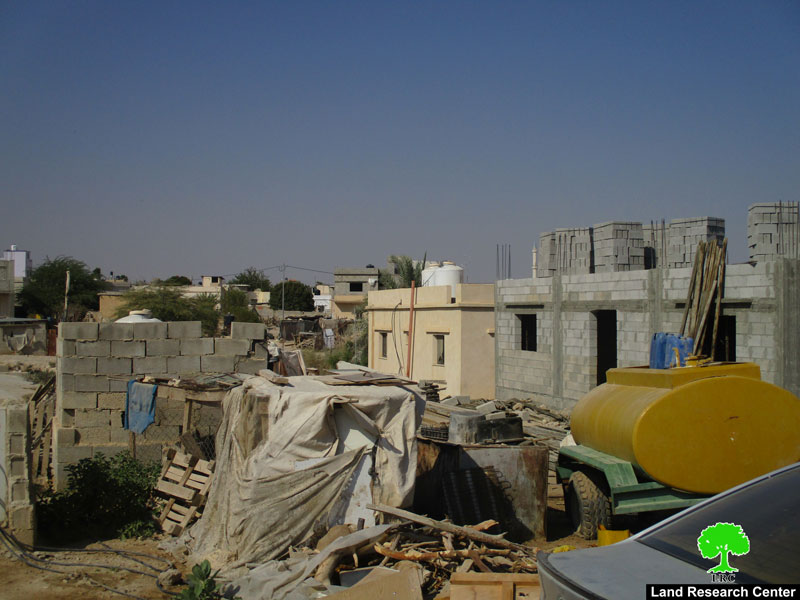 Picture 8: shows houses and life inside the camp.
It is worth mentioning that some of the noticed houses were built over 5 years ago: Met'ab Crishan told LRC observer:
"We have been living here for many years now, since 1984, we were dislocated from Beersheba south historical Palestine, Since that date until today , we have been suffering very difficult circumstances with the least of resources, but we still have hope that god may change our circumstances"
Al-Crishan added: " 5 years ago we started constructing houses in the southern neighborhood in Aqbat-Jaber camp instead of the tinplate homes we used to live in, but the occupation didn't like that, they sent us notices to stop the construction, but that didn't keep us from building and resist the occupation."
It is important to point out that the victims used all what they had in building the homes for their families. Nayef Crishan told LRC observer: "Even though we have limited financial resources, we have been working for many years to build a house for our family that consists of 7 members, and now they deliver us notices to stop construction in order to dislocate us as they did in the 1948, this is oppression , we don't know where to go now that the occupation keeps dislocating us from one place to the other"
Aqbat-Jaber camp:
Aqbat-Jaber camp is one of the biggest refugees camps in the West Bank, it was established in 1948. 3 Km south-east Jerico , Aqbat-Jaber camp is surrounded by Deir Quruntul (north) and Jericho city (south, east and west) . Aqbat Jaber has a population of 8960 according to statistics conducted in 2017, 83% are refugees, the camp is crowded and has weak infrastructure.
Aqbat-Jaber has a total area of 14805 of which 1813 are a built up area for the camp.
According to Oslo accords the camp's lands are divided to three parts:
Area (A) : 1,781 dunums.
Area (B) : 0 dunums
Area (C) : 78 dunums.
Prepared by
The Land Research Center
LRC