Closing postures in Al-Ka'abneh Bedouin community/ Jericho governorate
Violation: closing postures for security claims.
Location: Al-Ka'abneh Bedouin community.
Date: September 25 / 2018.
Perpetrator: The Israeli occupation army.
Victims: 13 Bedouin families from Rab Al-Ka'abneh.
Description:
Israeli troops raided Ras Al Auja area, Adjacent to "Mev'out Yerho" settlement and threatened Bedouin families to confiscate their cattle and arrest them in case they used postures surrounding the settlement.
Noteworthy, this will affect 13 Bedouin families, Fadel Al-Ka'abneh(34) described the situation of the disastrous and told LRC observer:
"The Israeli occupation has been harassing us frequently in the recent year, claiming that herders and their herds obstruct settlers' movement towards and from bypass 90, but in reality the Israeli occupation attempts to evict the area for colonialism.
Settlers raided Al-Ka'abneh Bedouin community and told some families from the community that there is a military resolution prohibit using postures within 500 m surrounding Mev'out Yeriho settlement, this area contains number of postures , Arab Al –Ka'abneh have been leaning on for several years . Noteworthy, such communities depend on animal husbandry and agriculture for living"
Photos 1-4: Arab Al-Ka'abneh Bedouin community.
Jalal Al-Ka'abneh told LRC observer:
"We have been living in Ras Al-Auja for over 40 years, in other words, before establishing Israeli settlements or even military camps, the land was green and fertile. However, the situation differed, Israeli occupation confiscated water resources along with wide areas of agricultural lands and postures now transformed into closed military zones. The only postures left for us surround "Mev'out Yeriho" settlement, after the new Israeli resolution of closing the area, we are left without postures for our Cattle. Consequently, many families will be forced to move to areas close to postures, which is the Israeli troops' plan"
It should be marked that Ras Al-Auja is about 3 kilometers from Al-Auja town, it is inhabited by number of families from Al-Mleihat and Arab Al-Ka'abneh Bedouins. During spring season, Ras Al-Auja is the home of 27 Bedouin families, the number decreases to 13 in summer time.
Ras Al-Auja is surrounded by many Israeli settlements like "Mev'out Yeriho" and "Amir" in addition to several military camps, the occupation aims to evict the area from its residents for their colonial schemes.
A view of Mev'out Yeriho settlement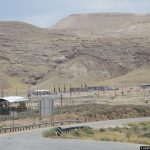 Prepared by
 The Land Research Center
LRC