Demolition orders on residences and agricultural facilities Al Hadidiya hamlet in Tubas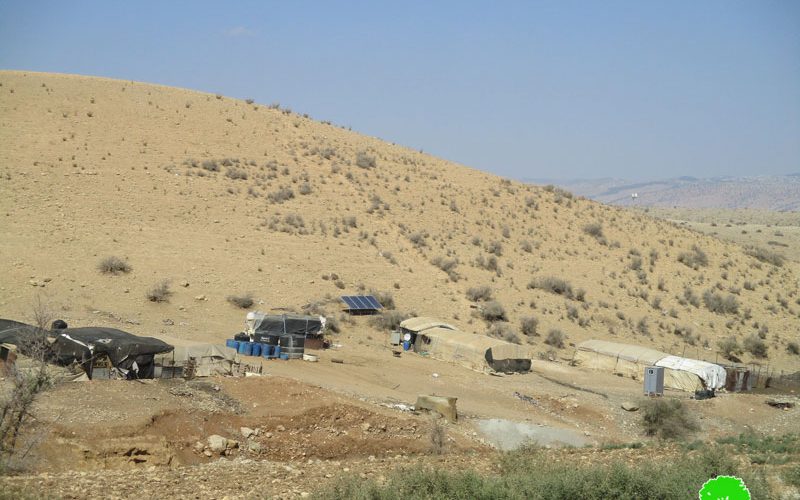 Violation: serving demolition orders
Location:  Al Hadidiya Hamlet –Northern Jordan valley.
Date:  July 29, 2018
Perpetrators: The Israeli occupation organizing and construction committee.
Victims:  Yusri Salameen family.
Details:
Israeli occupation authorities carry out their assaults against Palestinian residents of the Jordan valley area on the purpose of clearing out the area to achieve their colonial projects. Residents of the area asserted that a vehicle relative to organizing and construction committee  accompanied by an army patrol raided the Al –Hadidiya hamlet  handed the demolition order to the owner Yusri Salameen, and left. The order number (397798) said that the owner has the right to object on the demolition order within 3 days from the receiving.
Field observation shows that the threatened facilities are 2 residential tents (each one has an area of 40 m2) , 2 tents used for sheep husbandry each one has an area of 16 m2, 2 barns each one has an area of 40 m2 and a store with an area of 9 m2 , the mentioned constructions are owned by villager Yusri Salameen who was a victim of Israeli demolition in 2014.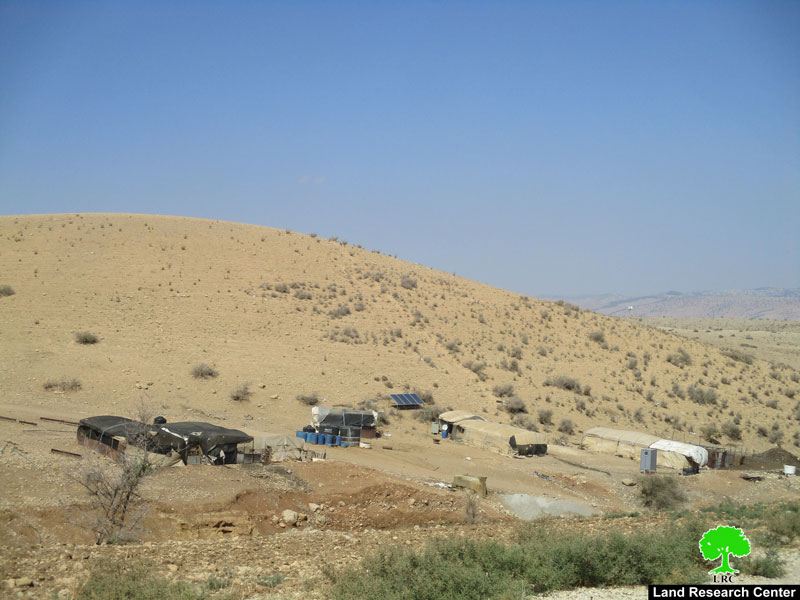 Photo 1 : The targeted tents and barns.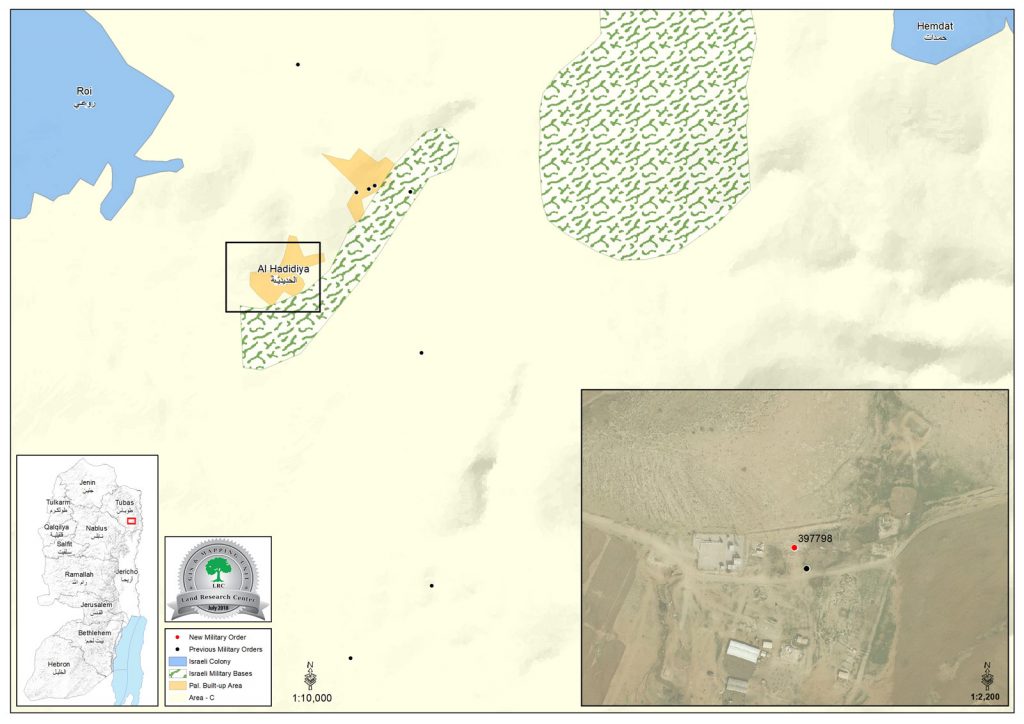 Mutaz Bsharat observer of assaults in the Jordan valley area from Tubas governorate confirmed that the Legal cycle in the governorate is following up the file with Jerusalem Legal Aid and Human Rights Center to get a precautionary order from the Israeli court  to inactive the demolition order.
Al-Hadidiya hamlet:
Al-Hadidiya hamlet is part of Al-Malih town and the Bedouin communities  . About  33 km from Tubas ,  Al-Hadidiya hamlet has a population of 100.  their main source of income is agriculture and cattle breeding. People of Al-Hadidiya hamlet are originally from Al-Bsharat and Bani Odeh Families from Tammun town in Tubas, these families live in the lands to work in agriculture and cattle breeding, The occupation forces carried out mass demolition in Al-Hadidiya many times in the last 5 years.
 Legal Commentary:
The constringing policy  by the Israel occupation authorities   towards the Palestinian civilians in all West Bank's governorate including closing roads and obstructing their movement  can only be regarded as a violation of their right in the liberty of movement pledged by all  international conventions  and agreements like:
The  Universal Declaration of Human Rights(1948) article(13) states:
Every person has the right of liberty of movement and to choose his place of residence inside the borders of each country.
Each person has the right to depart or to come back  to any country including his country.
Article 12 of the The International Covenant on Civil and Political Rights states: 
Everyone lawfully within the territory of a State shall, within that territory, have the right to liberty of movement and freedom to choose his residence.
Everyone shall be free to leave any country, including his own
Prepared by
 The Land Research Center
LRC