Amichai settlement imposes danger on Palestinian environment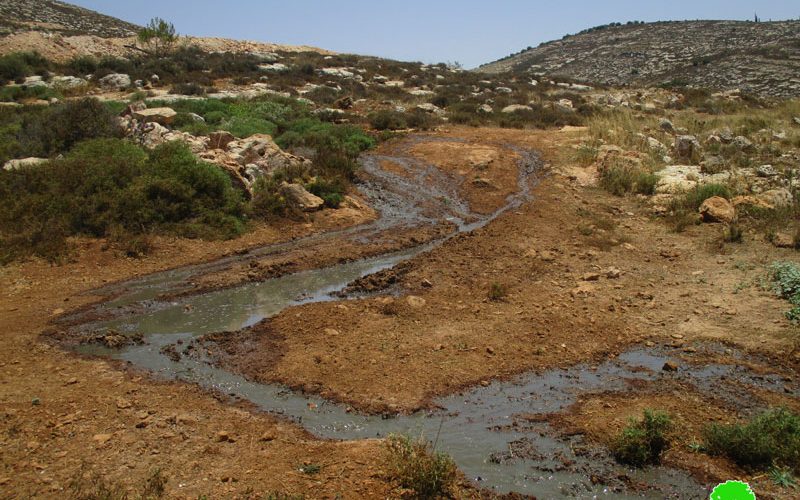 Violation: Amichai settlers pollute Palestinian environment.
Location: Turmus'ayya / North- East Ramallah.
Date: July 04- 2018.
Perpetrator: Amichai settlers.
Victims: Farmers from Turmus'ayya.
Description:
Amichai was established with a resolution from the Israeli radical Far-Right government in 2017 for Amona evacuees. Amichai is now a great threaten on the northern suburbs of Ramallah.
Amichai settlers were seen pumping sewage water intentionally towards farmlands in "As-Sedra" north Turmus'ayya belong to farmer Salim Hjaz.
The targeted farmland is reported to have an area of 7 dunums in natural block 4 from Turmus'aaya and about 800 meters from Amichai Settlement.
Affected farmer asserted that ever year he grows wheat in his land to provide a sub side source of income for his family of 9, but now the soil is severely affected as now it contains pollutants and can host agricultural diseases that spread among plants and trees"
Photos 1-6: Polluting environment
Rasmi Shahadeh head of Turmus'ayya rural council told LRC observer: " There is an Israeli scheme to devour vast areas of Turmus'ayya lands. Turmus'ayya became besieged by Amichai and Adei Ad settlements (north) and Shilo settlement (west). Pumping sewage water is only an attempt to destroy Palestinian farmers' agricultural lands leveling to take over them in the future.
Human-Rights activist in Ramallah Eyad Haddad asserted " Amichai created a geographical contact between Shevout Rahil and Adei Ad settlements, this is only a part of an Israeli master plan to create a colonial city in the heart of West Bank containing Adei Ad, Shevout Rahil, Eli , Shilo and Maale Alpona by devouring vast areas of Palestinian land fields.