"Adei Ad" settlers uproot and sabotage 270 olive seedlings in Turmus'ayya /Ramaallah governorate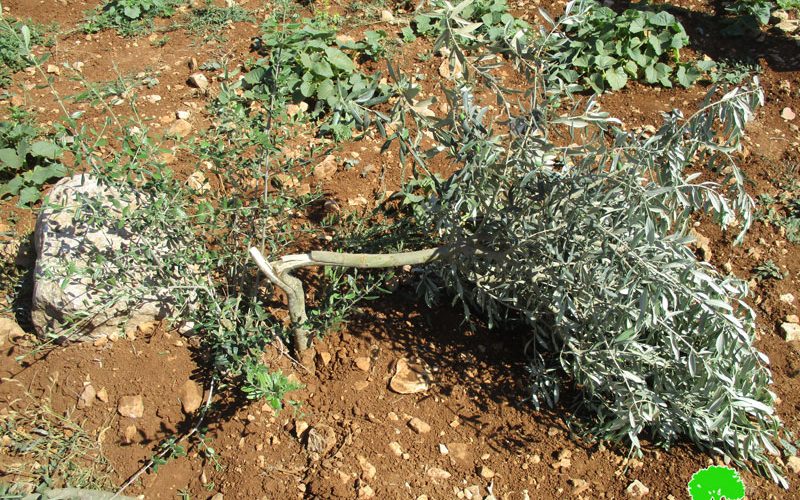 Violation: uproot and sabotage 270 olive seedlings.
Location: Turmus'ayya /Ramallah governorate.
Date: June 09 -2018.
Perpetrators: "Adei Ad" settlers.
Victims: Farmers Rabah Kharma and Abdulqader Hjaz.
Description:
Saturday evening about 5:00 pm, settlers of "Adei Ad" raided Al-Thahrat area under the protection of the Israeli occupation army.
Settlers wearing religious clothes used sharp tools to sabotage 270 olive seedlings cultivated in 14 dunums (aging 4 years).
180 seedlings of them belong to Farmer Rabah Kharma , and 90 belong to farmer Abdulqader Hjaz from Turmus'ayya town.
Affected farmer Rabah Kharma (35 years) told LRC observer:
"I headed to my land with 3 other farmers and found about 25 settlers wearing the Jewish religious clothes sabotaging my trees, they were accompanied by Israeli troops and police who protested them during the assault".
Rasmi Shahadeh head of Turmus'ayya municibality told LRC observer:
"Al-Thahrat agricultural area, 3 kilometers north Turmus'ayya is targeted by "Adei Ad" settlers who uprooted hundreds of olive seedlings and applied poison on olive trees causing great damages".
Noteworthy, Farmers said that they filed several complaints to the Israeli side, but nothing was done.

Photos 1-11: Damaged trees.
About Turmus'ayya:
It is located 25 km to the north east of Ramallah city. It has a population of 3736 people (according to a 2007 census). Its total area is 18139 dunums, 1350 of which are built-up area. About 11218 dunums of land are under Area B (PA is in charge of civil matters with Israel responsible for security) and 6921 dunums are under Area C (Israel maintains full security and administrative control).
The Israeli occupation confiscated vast areas of the village for the benefit of the following colonies:
Shilo and Mizpe Rahel devoured 1023 dunums
Mizpe Rahel devoured 706 dunums
The bypass road number 60 stole 12.5 dunums