The Israeli occupation Halt work on an agricultural road – Deir Ballut / Salfit governorate
Violation: The Israeli occupation authorities halt work on an agricultural road and confiscate machinery.
Location: Deir Ballut/ Salfit governorate.
Date: May 13 -2018.
Perpetrator: The Israeli occupation army.
Victim: farmers of the town.
Description: May 13, the Israeli occupation army raided Deir Ballut town, obstructed work on an agricultural road and confiscated a "Komatsu" machinery on the pretest of working before getting a license in C area according to Oslo convention.
Photo 1: The targeted road.
Mayor of Deir Ballut municibality "Ayub Abdullah" told LRC observer: "The targeted road (1.5 kilometers) lies in the western side in an area known as "Qarnet Adas" and serves 150 dunums of agricultural lands, we were shocked of the Israeli army raiding the location and confiscating a machinery."
Noteworthy, the Israeli occupation forces assaults in Deir Ballut are nonstop, broke into Deir Ballut municipality several times, notified 40 residential and agricultural structures and closed several agricultural roads in the town.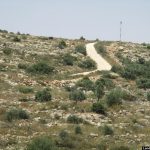 The Village of Deir Ballut:[1]
The village is located on the Green Line west of the Governorate of Salfit at a distance of 20 kilometers from the City of Salfit. The total area of the village is about 13,941 dunums of which 503 dunums are its built-up area. Its population is about 3873 in 2017 census, most of whom depend on agriculture as the main source of income.
The dependency of agriculture has risen sharply after the inception of the second Intifada due to the inability to access Israeli job market.
The main agricultural products of the village include garlic, okra, cucumbers, wheat and olives. The presence of a water spring in Wadi Al Ain in the southern parts of the village has helped the agricultural sector to prosper. A for the drinking water of the residents of the village, they rely on water cisterns as well as on the Israeli Water Company.
In terms of the main clans in the village, there are 9 of them including Tuffaha, Khair, Abdullah, Qasem, Qaroush, Mishel, Mustafa, Musa and Hadrous.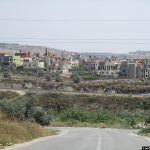 [1] GIS-LRC
Prepared by
 The Land Research Center
LRC