Israeli Occupation Forces demolish residential and agricultural structures in the Masafer Yatta village of Al-Halawah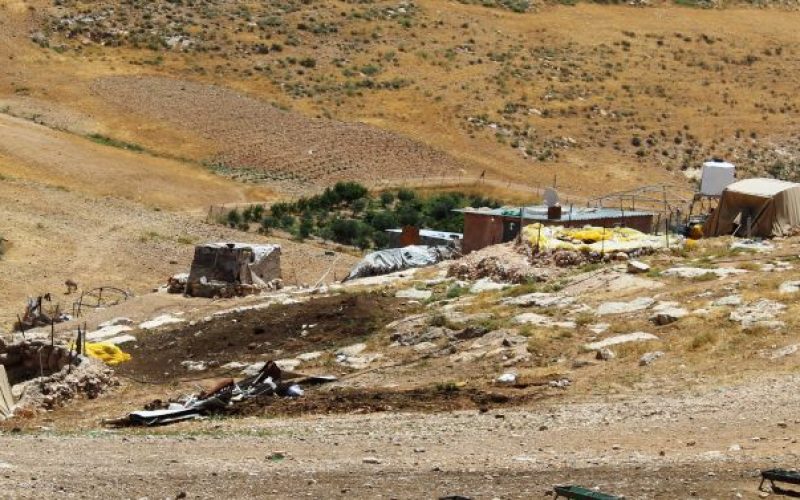 Violation: demolition of structures
Location: Al-Halawah village- Masafer Yatta area
Date: May 02, 2018
Perpetrators: Israel Civil Administration
Victims: citizens from the village
Details:
The Israeli occupation authorities demolished on May 02, 2018 some agricultural and residential structures, and confiscated solar systems in Al-Halawah village, south Hebron governorate on claim of "unlicensed construction".
According to eyewitnesses, a force of the occupation army and the so-called Civil Administration and Border Police accompanied by an army bulldozer and workers relative to an Israeli private company, raided the area in the morning, surrounded the targeted structures and the bulldozer carried out the demolition after the workers extracted some of the structures' interior.
The following table shows information about the demolished structures and their owners
| | | | | | | |
| --- | --- | --- | --- | --- | --- | --- |
| No. | Owner | Family | Area\m2 | Demolished structure | Remarks | Photo |
| 1 | Hani Abu Iram | 4 (two children) | 16 | A room (roofed with tin plates) | Had six batteries for the solar system confiscated | 1 |
| 2 | Khalil Abu Iram | — | 100 | Sheep barn | It houses 70 sheep | 2 |
| 3 | Jibreel Abu Iram | — | 80 | Sheep barn | It houses 70 sheep | — |
Source : Field observation- Department of Monitoring Israeli Violations- Land Research Center-2018
It is reported that Israeli Occupation Forces arrested two brothers, who are the sons of Jibreel Abu Iram ( 21 and 37 years) and assaulted their mother on claim of "resisting".
About Al-Halawah:
It is relative to Masafer Yatta area. The hamlet's structures are made of metals slabs and concrete bricks. Al-Halawah is edged by Al-Tawamin and Al-Mfuqara hamlets from the north, Al-Majaz, Al-Tabban and Al-Fakhit hamlets from the east, Al-Markiz , Jinba and Beir Al-Ghawanmeh hamlets from the west and the apartheid wall from the south.
The hamlet's built-up area is 12 dunums, on which nine families (120 members) reside. The area accommodates four tents and six barracks in addition to 22 residential caves.
Al-Halawah has 65 agricultural dunums that are cultivated with barley and wheat.
Kids of the area are obligated to travel 2km to reach their primary school located in the nearby Jinba hamlet where secondary school students have to take a 12km route to reach their school in Yatta town.
Land Research Center LRC sees that demolitions contradict with all the International conventions and Humanitarian laws including: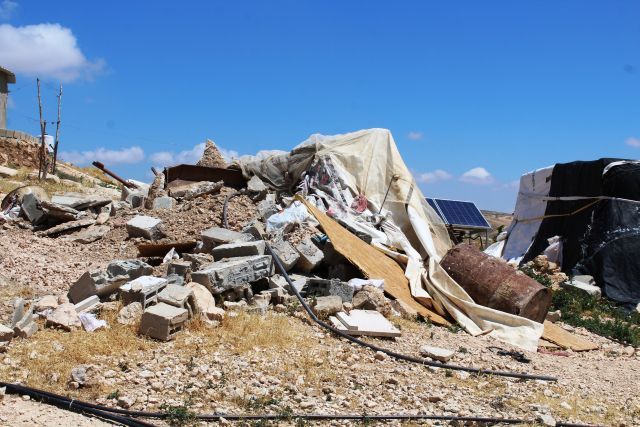 Article 17 of the (1948) Universal Declaration of Human Rights stating: "Everyone has the right to own property alone as well as in association with others. No one shall be arbitrarily deprived of his property."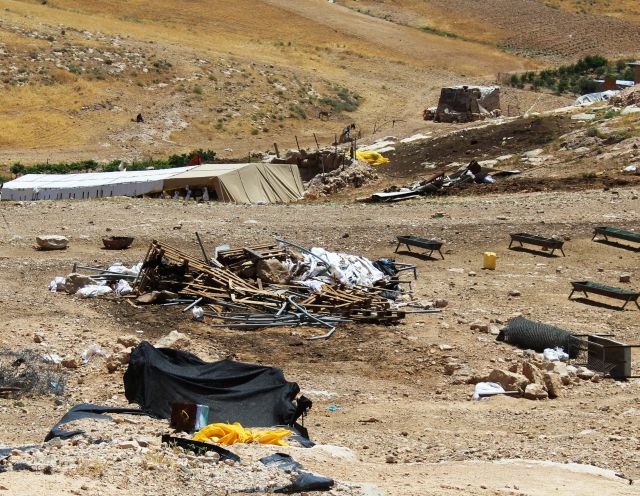 Section ‹G› of article 23 of the (1907) The Hague Conventions asserting: "In addition to the prohibitions provided by special Conventions, it is especially forbidden to destroy or seize the enemy's property, unless such destruction or seizure be imperatively demanded by the necessities of war."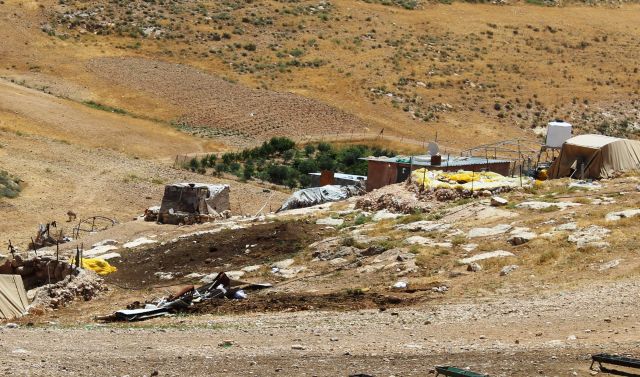 Article 53 of the Geneva Fourth Convention (1948) declaring: "Any destruction by the Occupying Power of real or personal property belonging individually or collectively to private persons, or to the State, or to other public authorities, or to social or cooperative organizations, is prohibited, except where such destruction is rendered absolutely necessary by military operations."
Section 1, Article 11 of the International Covenant on Economic, Social and Cultural Rights (1966): "The States Parties to the present Covenant recognize the right of everyone to an adequate standard of living for himself and his family, including adequate food, clothing and housing, and to the continuous improvement of living conditions.
Prepared by
The Land Research Center
LRC