Israeli Occupation Forces demolish structures on "security claim" in Jenin governorate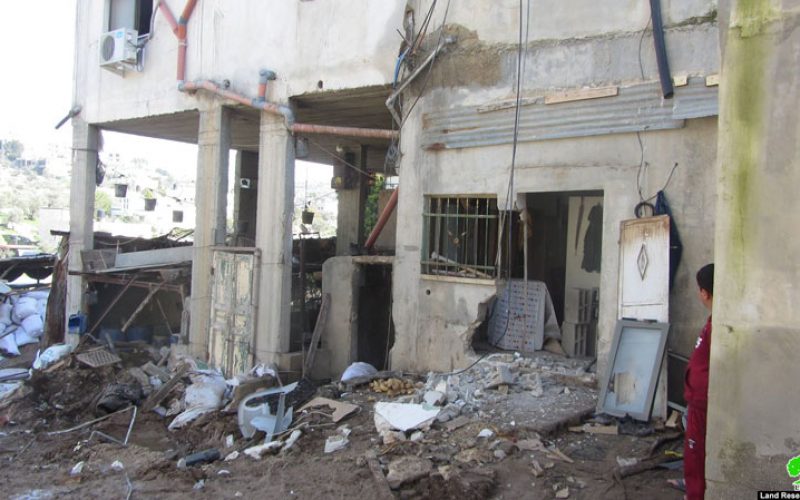 Violation: demolishing agricultural structures
Location: Burqin town- Jenin
Date: February 03, 2018
Perpetrators: Israeli Occupation Forces
Victims: farmer Khaled Al-Atiq
Details:
At early hours of Saturday, February 03, 2018, Israeli Occupation Forces raided Burqin town, south Jenin governorate in search for Ahmad Jarrar (22), who is allegedly accused of killing a colonist nearby Yitzhar colony late January.
The force was reported to break into the house of citizen Khaled Al-Atiq on claim that the attacker hid in there. Soldiers traumatized the house inhabitants, of whom three were kids.
During the operation, the occupation demolished two agricultural barracks with a total area of 90m2 and a 90m2 fodder storage. The demolished structures housed 38 sheep. Also, the force sabotaged two water cisterns with a total volume of 1.5m3 and the house power grid on the claim of searching for the suspect.
Citizen Al-Atiq told Land Research Center the following:
" Two Israeli dozers demolished the structures at 11:00 a.m., the demolition destroyed 4 tons of fodder and other related facilities. The demolition operation lasted for three hours before the occupation withdrew at 14:00".
Photos 1-4: the demolished structures of Al-Atiq
Land Research Center LRC sees that demolitions contradict with all the International conventions and Humanitarian laws including:
Article 17 of the (1948) Universal Declaration of Human Rights stating: "Everyone has the right to own property alone as well as in association with others. No one shall be arbitrarily deprived of his property."
Section ‹G› of article 23 of the (1907) The Hague Conventions asserting: "In addition to the prohibitions provided by special Conventions, it is especially forbidden to destroy or seize the enemy's property, unless such destruction or seizure be imperatively demanded by the necessities of war."
Article 53 of the Geneva Fourth Convention (1948) declaring: "Any destruction by the Occupying Power of real or personal property belonging individually or collectively to private persons, or to the State, or to other public authorities, or to social or cooperative organizations, is prohibited, except where such destruction is rendered absolutely necessary by military operations."
Section 1, Article 11 of the International Covenant on Economic, Social and Cultural Rights (1966): "The States Parties to the present Covenant recognize the right of everyone to an adequate standard of living for himself and his family, including adequate food, clothing and housing, and to the continuous improvement of living conditions.
Prepared by
The Land Research Center
LRC