Israeli colonists uproot 110 fruitful olive trees in Yasuf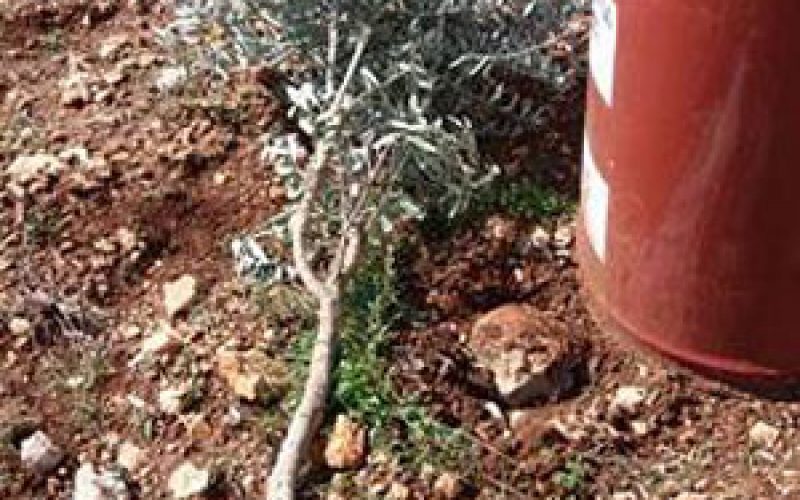 Violation: uprooting olive trees
Location: Yasuf / Salfit governorate
Date: February 01, 2018
Perpetrators: Rechelim colonists
Victims: Farmer Hamad Hijazi
Details:
In a new attack on Palestinian olive trees, fanatic colonists from Rechelim colony on February 01, 2018 cut down and uprooted 110 olive trees using sharp tool. Reportedly, some trees where cut down from the trunk and others were uprooted, making sure Palestinian farmers will not be able to use them again.
The attacked trees are located in the area of al-Dhahrat, which is only 200 meters away from Rechelim colony.
The trees belong to farmer Hamad Hijazi from Yasuf, who told Land Research Center the following:
" I cultivated the land a year ago to protect it from Israeli seizure plans, I used to daily move water on backs of animals to irrigate my 5.5 dunum land despite all hardships I might encounter. Today, colonists came and wiped out everything, they are true haters"
Frequent attacks:
It should be marked that the areas of al-Dhahrat and al-Sidir (350dunums) witnessed an unprecedented wave of attacks on olive trees. In 2014, colonists cut down and sabotaged 2100 olive in the aforementioned areas; farmers re-planted the targeted area with around 8000 olive seedlings for the sake of protecting it from future colonial expansionist plans
Views of the killed trees
About Rechelim:
Rechelim colony started on a confiscated parcel of land from Yatma village in 1999 for the sake of establishing a military base in the area. By the year 2002, the Israeli occupation authorities allowed 19 caravans in the area; it is when the colony started. Twelve years later, the colony confiscated more than 450 dunums from the villages of Iskaka, Yasuf and Yatma (Geographical Information System-Land Research Center). The Israeli occupation, now, plans to take over the whole area to spread its outposts over it, attempting at creating the Grater Rechelim plan.
Yasuf:
It is 16km south of Nablus. Yasuf is surrounded by Huwara and Jamma'in (north), Marda (west), Yatma (east), and Iskaka (south).
Yasuf is inhabited by 2090 people (according to 2013 projections). It has a total area of 6037 dunums, 330 of which are built-up area of the village.
The Israeli occupation confiscated 814 dunums for these two colonies: Kfar Tapuah colony which was built on Yasuf lands in 1978. The colony is inhabited by 523 colonists and Rachelim- Shvut that was built in 1991 and devoured 10 dunums.
Besides, the bypass road number 508 confiscated more than 155 dunums of the village lands.
According to Oslo Accords, only 1427 dunums of Yasuf lands are under Area B (PA is in charge of civil matters with Israel responsible for security) while most of Yasuf is under Area C (Israel maintains full security and administrative control). About of 4609 dunums of Yasuf is in area C.
Prepared by
The Land Research Center
LRC