A new settlement building plan threatens the land of Azzun village in Qaliqlyia Governorate
Data obtained from the Israeli Ministry of Interior website (MOIN) has revealed that Israel is in the move to advance a building scheme in Alfei Menashe settlement east of Qalqilyia city, north of the occupied Palestinian territory (oPt). The plan holds number 115/11 and states the confiscation of 52.565 dunums of lands of Azzun village for the purposes of building Public buildings and institutions in the northwestern side of the settlement. See Table 1 for more details.
Table 1: Details of Plan No. 115/11 in Alfei Menashe Settlement

No

Purpose

Area

%

Type of Building

Sq. M

%

1

Agricultural land

52464

99.81

Residence A

17162

32.65

Public buildings and facilities

1825

3.47

Public Park

19216

36.56

Path

888

1.69

Open Public Area

2157

4.10

2

Existing Road

101

0.19

Existing Road

101

0.19

Planned Road

11216

21.34

Source: Israeli Ministry of Interior, 2018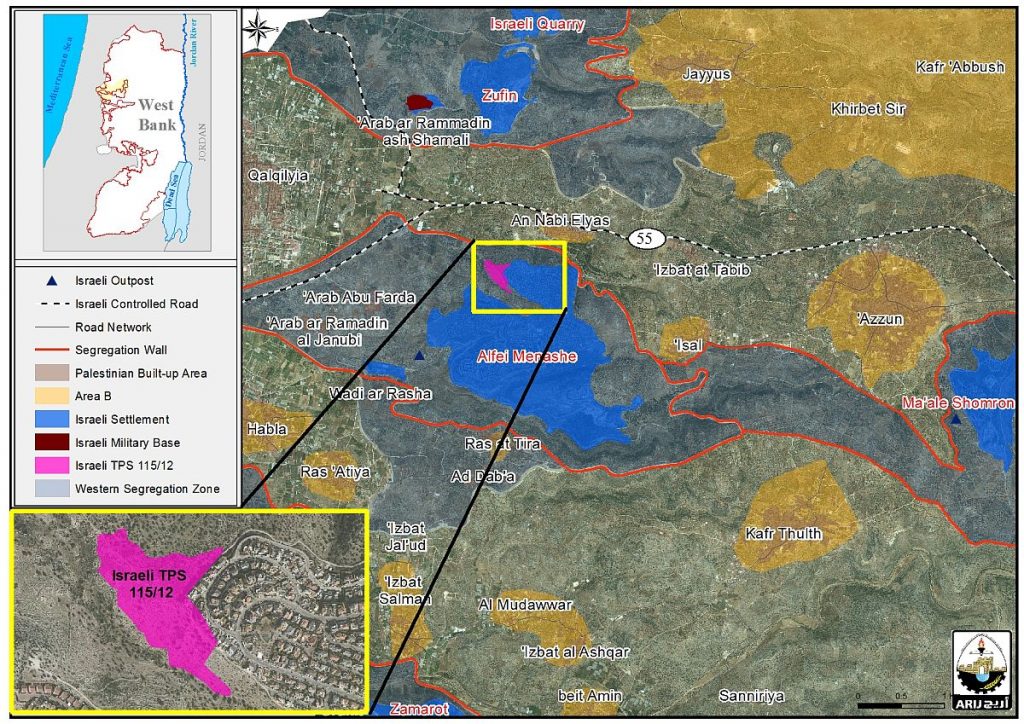 Map 1: The planned neighborhood in Alfei Menashe Settlement
Alfei Menashe settlement is located southeast of Qalqilyia city north of the Occupied West Bank. The settlement was established in 1981, on lands of Azzun village. Today the settlement occupies a total land area of 2830 dunums and is inhabited by almost 9300 Israeli settlers.
Israel is accelerating the pace of settlement activity in Israeli settlements in the occupied West Bank, and most specifically, in Israeli settlements that has already become or planned to become on the western side of the wall as in the case of Alfei Menashe, in what became known to the Palestinians as "the Western Segregation Zone (WSZ) – (in the area isolated between the 1949 Armistice Line and the route of the Israeli Segregation Wall).
At the time Israel is advancing expansion plans in Alfei Menashe settlement, a nearby Palestinian community, west of the settlements, named Arab Ar Ramadin Al Janubi, is under the threat of demolition and expulsion due to the Israeli practices being exercised on the community. For detailed infomation about the community and the Israeli plans that threaten its existence, click here: 'Arab ar Ramadin al Janubi in Qalqilyia Governorate is under a constant threat
Time and again, Israel have allowed the building and expansion in the settlement in the past years with the aim to seize more Palestinian land for the sake of settlement expansion and with no regard to Palestinians' rights. Table 2 below lists a number of building plans that were issued for the settlement of Alfei Menashe over the past years
Table 2: Expansion Plans in Alfei Menashe settlement

No.

Plan Number

Purpose

1

יוש/ 1/ 1/ 8/ 115

Givat Tal (additional floor designated for residential purposes)

2

יוש/ 1/ 12/ 115

28 Units

3

יוש/ 1/ 17/ 115

Business Park

4

יוש/ 1/ 6/ 8/ 115

Giv'at Tal Neighborhood

5

יוש/ 1/ 7/ 115

Industrial Area South

6

יוש/ 11/ 115

Alfe Menashe – West Yuvalim

7

יוש/ 11/ 8/ 115

Giv'at Tal Neighborhood

8

יוש/ 14/ 115

Nfim East

9

יוש/ 2/ 2/ 115

Alfei Menashe – Additional Use of Land

10

יוש/ 2/ 3/ 115

Alfei Menashe

11

יוש/ 20/ 115

Alfei Menashe West

12

יוש/ 21/ 115

Alfei Menashe – swimming pools in private homes

13

יוש/ 3/ 8/ 115

Giv'at Tal – Phase 2

14

יוש/ 5/ 115

Alfei Menashe

15

יוש/ 5/ 3/ 115

Alfei Menashe

16

יוש/ 5/ 8/ 115

אלפי מנשה-גבעת טל

17

יוש/ 8/ 8/ 115

Giv'at Tal Neighborhood

Source: Israeli Ministry of Interior, 2018
To sum up,
Israel's colonization program also violates the most important document of international humanitarian law- the Fourth Geneva Convention Relative to the Protection of Civilian Persons in a Time of War (hereinafter the Convention). Settlement construction is often preceded by military action, including the destruction of Palestinian property such as homes or olive groves. The destruction of civilian property is prohibited by Article 53 of the Convention which states that: "Any destruction by the Occupying Power of real or personal property belonging individually or collectively to private persons, or to the State, or to other public authorities, or to social or cooperative organizations, is prohibited, except where such destruction is rendered absolutely necessary by military operations.";
The existence of the Israeli settlements in the West Bank and their expansions are Illegal and contradicts with the international law rules, United Nations Security Council Resolutions such as 237 (1967), 271 (1969), 446 (1979), 452 (1979) ,465 (1980), 681 (1990), and 799 (1992).
Resolution 446 March 22, 1979 calls on Israel to rescind its previous measures and to desist from taking any action which would result in changing the legal status and geographical nature and materially affecting the demographic composition of the Arab territories occupied since 1967, including Jerusalem and, in particular, not to transfer parts of its own civilian population into the occupied Arab territories'
Also the resolution 452 of the 1979 "calls upon the Government and people of Israel to cease, on an urgent basis, the establishment, construction and planning of settlements in the Arab territories occupied since 1967, including Jerusalem."
Furthermore the Forth Geneva Convention also states in Article 49 that 'The occupying power shall not deport or transfer parts of its own population into the territories it occupies.' and Article 174 of the same convention "prohibits the 'extensive destruction and appropriation of property not justified by military necessity and carried out unlawfully and wantonly.'
Prepared by:
The Applied Research Institute – Jerusalem