Yizhar colonists sabotage 26 olive trees in Burin village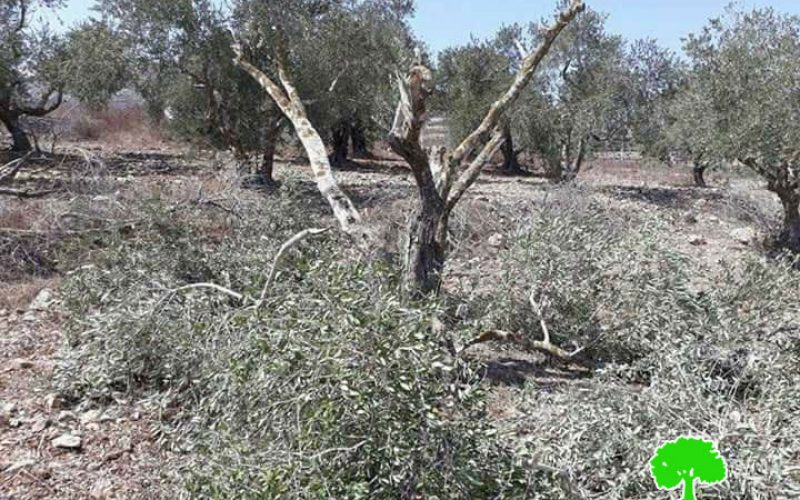 Violation: cutting down and sabotaging trees
Location: Burin village- Nablus governorate
Date: September 13, 2017
Perpetrators: Yizhar colonists
Victims: residents of Burin
Details:
On September 13, 2017, a group of Yizhar colonists sneaked into the area of Al-Suwwaneh, which is2 meters away from the colony's border area and cut down 26 olive trees aging 60 years each.
It should be marked that the targeted area is declared inaccessible for Palestinians due to its proximity to the colony. Noteworthy, the targeted trees belong to farmer Ratiba Faris (17 trees) and Kheiri Al-Najjar (9 trees).
It is reported that Al- Suwwaneh area is constantly targeted by colonists' attacks of torching, cutting down and stealing trees. Despite complaints submitted to the Israeli side by Palestinians in that regard, no actions took place to stop such violations and attacks.
It should be marked that 80% of Burin's agricultural lands are located in the nearby of the Israeli colonies of Yizhar and Bracha, a factor which made those lands an interest for colonial expansion and takeover. This happened through transforming a vast area of land into closed military zones that are inaccessible for Palestinians but through a beforehand coordination from the Palestinian-Israeli District of Coordination Office DCO.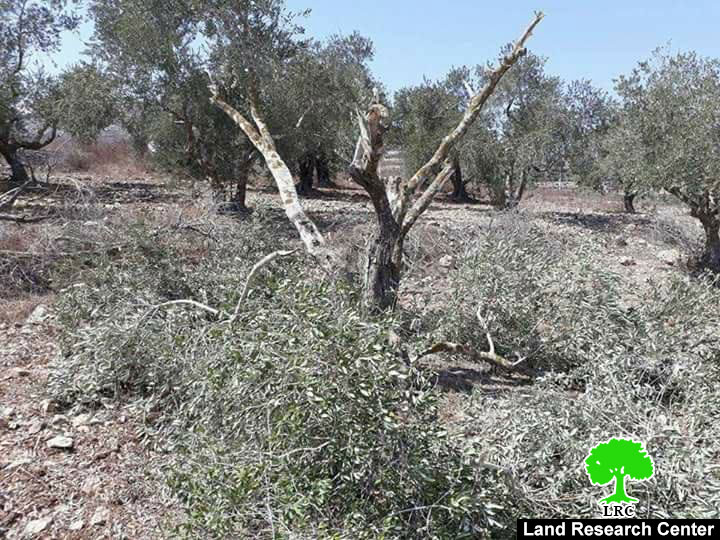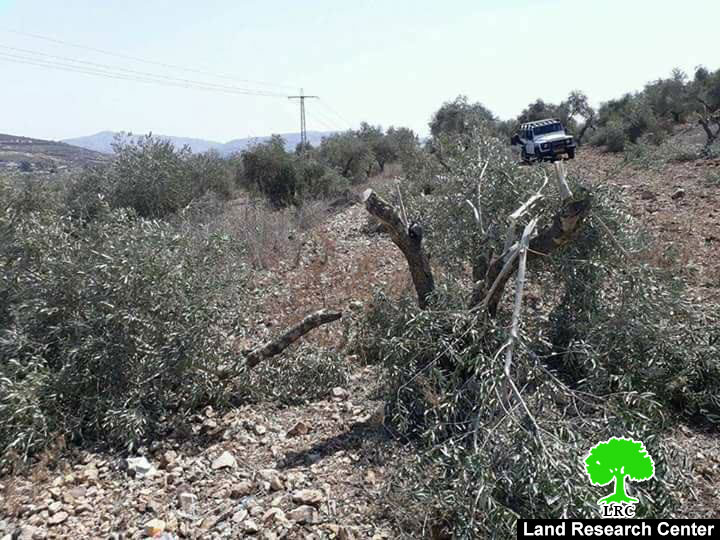 Photos 1-2: the cut down trees in the village
Villages like Burin and Huwwara witness colonial attacks that are carried out under the protection of the Israeli occupation army, which eases the task of taking agricultural lands over. During the past 15 years, many Israeli violations and attacks were reported to take place in Palestinian areas as shooting farmers, breaking into houses, damaging trees, and looting farmers' agricultural tools. Not only that, around 14 houses that are located next to the bypass road relative to Yizhar colony have been witnessing, on daily basis, colonial attacks since three years.
About Burin:
It is located 8km to the south of Nablus city and is of 10,416 dunums in area, of which 335 dunums are the village's built-up area. Burin has a total population of 3500 people. Two Israeli colonies are founded on the lands of Burin which are:
Bracha: it confiscated 205 dunums from Burin's lands
Yizhar: it confiscated 150 dunums from Burin's lands
Prepared by
The Land Research Center
LRC