The Israeli Occupation Army closes an agricultural road in Tulkarm governorate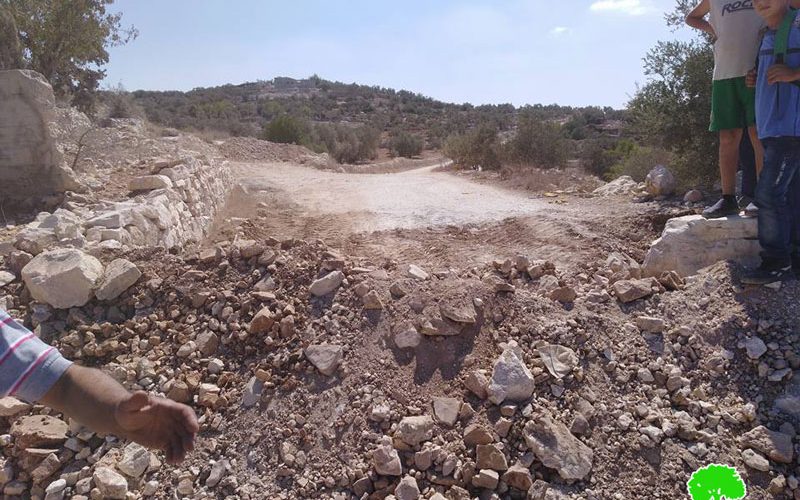 • Violation: closing an agricultural road.
• Location: south of Kafr Al Lubbad village / Tulkarm governorate.
• Date : September 28, 2017.
• Perpetrators: the Israeli Occupation Army.
• Victims : Farmers in Kafr El Lubbad and Shufa towns.
• Details:
With the start of olive season in the northern part of the West Bank, the Israeli army began implementing arbitrary measures that would hamper the olive harvest season.
On Thursday, September 28, 2017, the Israeli army closed an agricultural road southwest of the village of Kafr Al-Lubbad via eath mounds. Noteworthy, the road serves hundreds of dunums of agricultural land.
The Israeli army justified the closure of the agricultural road under reasons that claim to be security as the area is close to lands controlled by "Avni Hefts" colony. This is why thus farmers were prevented from going to the agricultural area.
Ziad Jibaiti, head of Kafr Al Lubbad municipality, told the Land Research Center that the road, which was closed, serves at least 50% of the town's land, especially Al- Wajh AL-Qabali and Ras Shomer area. Not only, the road links the town to the neighboring town of Shufa.
He added that the closure of the road will affect the agricultural sector in the region, especially as most of the agricultural lands require means of transportation to access and service, and this will cast a shadow on the current olive season. In addition to this, the road is a linking point with a number of agricultural roads spread throughout the region.
Photos 1-3: the closed agricultural road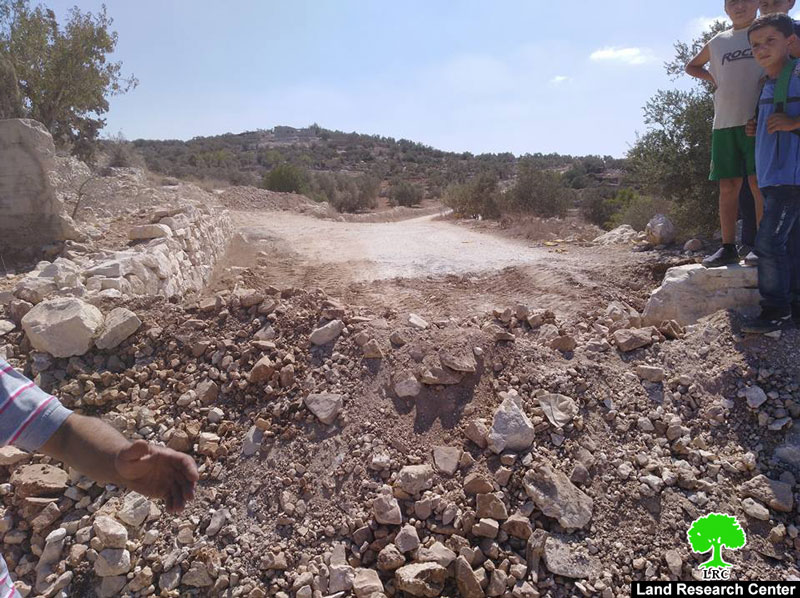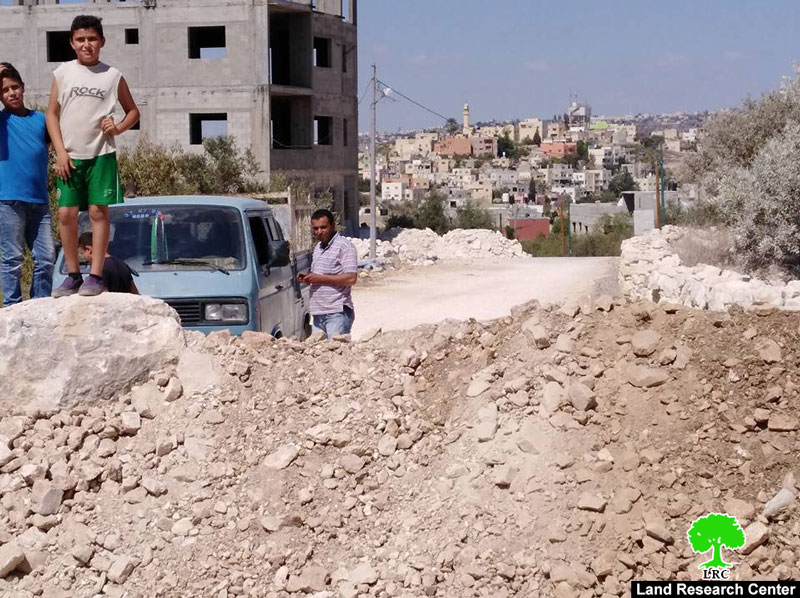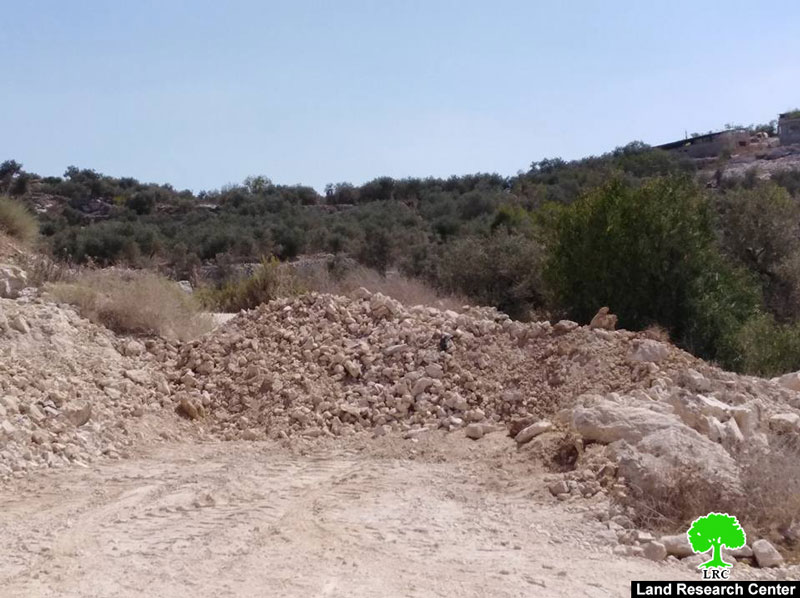 Ban on using lands:
The farmers whose lands are located in the nearby of Avnei Hefetz are most of the times denied access to them. This gives colonists a room to destroy the lands and uproot the trees planted in there. Over the past couple of years, many violations and attacks against farmers and lands have been documented.
It should be marked that the colony was established in 1987 on confiscated lands from Izbat Shufa, Kfar Al-Lubbad and Izbat Al-Haffasi. Noteworthy, colonists of Avnei Hefetz are active in expanding the area of the colony through building and annexing new residential units.
Avnei Hefetz populates 964 on a built-up area of 1,397 dunums (source: geographical information system GIS – LRC.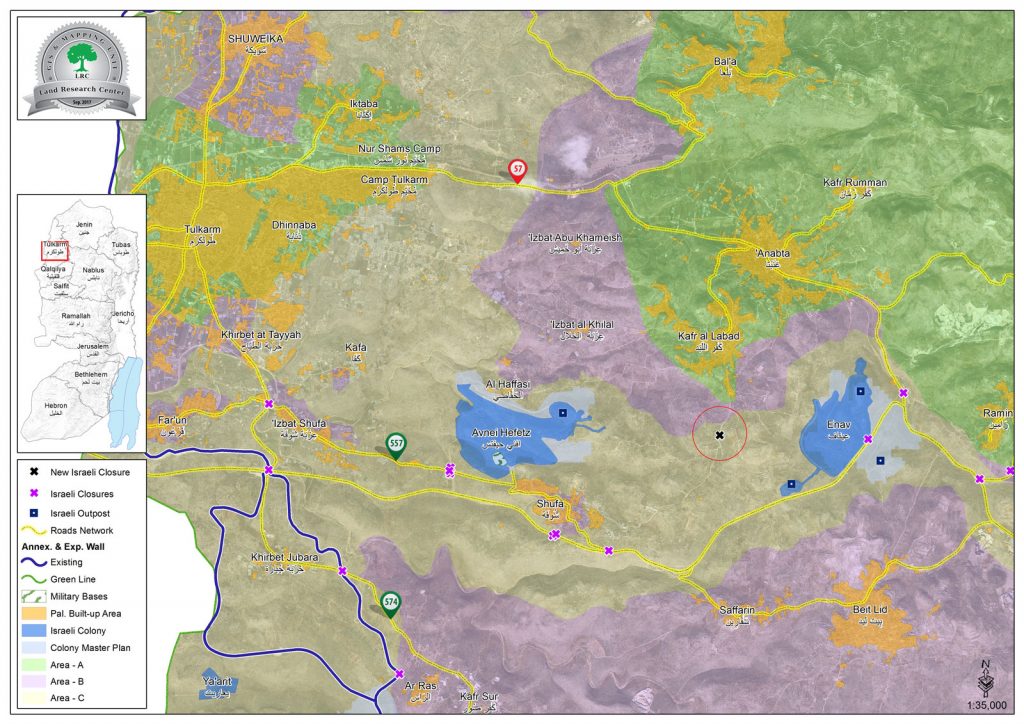 Prepared by
The Land Research Center
LRC