Stop-work orders on residential and agricultural barrack in the Qalqiliya village of Jit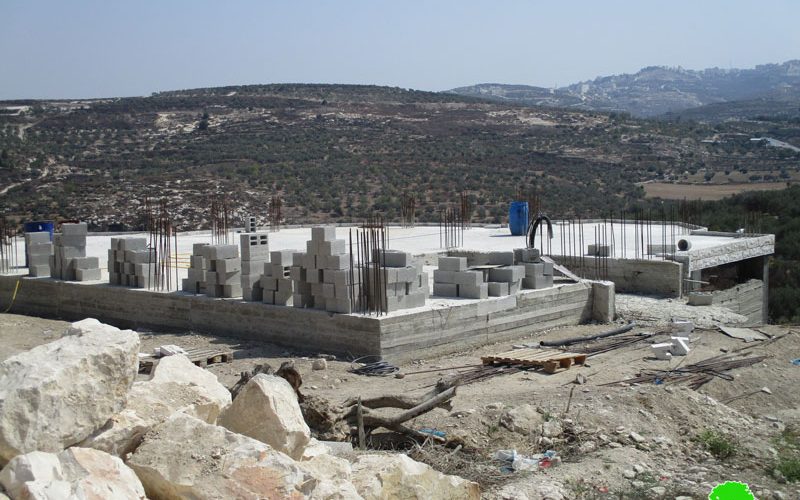 Violation: issuing stop-work orders
Location: Jit village-Qalqiliya
Date: September 07, 2017
Perpetrators: Planning and Construction Committee- Israel Civil Administration
Victims: 13 Palestinian families
Details:
It should be marked that a massive force from the Israeli occupation army accompanied by a staff from the Planning and Construction Committee- Israel Civil Administration raided on September 07, 2017 Jit village and delivered 13 stop-work orders on twelve residences and one agricultural barrack. The orders came under the pretext of "unlicensed construction" within an area classified C according to Oslo Accords.
The affected people were given a deadline until September 27, 2017 to complete all licensing procedures. This comes in time with the hearing session of the Planning and Construction Committee in the Israeli court of Beit El colony to consider the status of the notified structures.
The following table shows information about the affected owners and their properties:
Affected citizen

Location

Family

Minors

Nature of targeted structure

No. of military order

Photo

Jamal Yameen

Jabal Al-Shamali

10

5

220 m2 one story house (inhabited).

Khalaf Yameen

Jabal Al-Shamali

9

7

150m2 under construction house

Eyad Al-Saddeh

Jabal Al-Shamali

7

3

200m2 sheep barrack

Faisal Irman

Al-Bayada

7

1

1602 under construction house

Abdelsalam Irman

Al-Bayada

9

3

1602 under construction house

N/A

Ibrahin Al-Saddeh

Al-Bayada

8

3

1802 under construction house

Abdallah Irman

Al-Bayada

4

2

1602 under construction house

Omar Abu Bakr

Al-Bayada

11

5

2202 under construction house

N/A

Mu'tasem Irman

Al-Bayada

6

4

1402 under construction house

Sajid Irman

Al-Saybeh

4

2

1902 under construction house

Hashim Irman

Al-Saybeh

5

3

2102 under construction house

Nabil Yameen

Al-Saybeh

7

1

under construction house

Hasan Abu Bakr

Al-Saybeh

7

5

under construction house

Total

94

44
Source : Field observation- Department of Monitoring Israeli Violations- Land Research Center-2017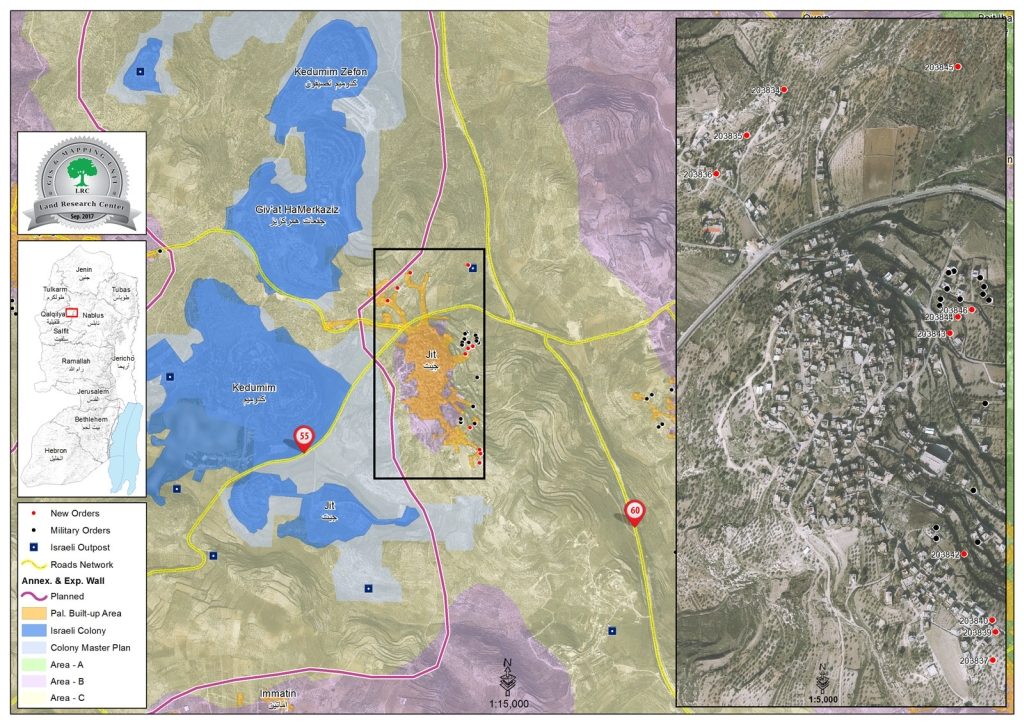 The chairman of Jit village council, Jamal Yameen, told Land Research Center that more than 70 residential and agricultural structures are notified of stop-work in the village. The village's built-up area doesn't meet the demographic expansion needs and therefore people are forced to build in areas "C" according to Oslo Accords.
In reality, the issue is not all about unlicensed construction than it is on the occupation's intention to take over more lands in the area of their control (Area C according to Oslo Accords). The Israeli occupation considers such lands as a colonial reserve, which will be hard to negotiate on in any future agreements with Palestinians.
In a press conference, Israeli Minister of Economy Neftali Benet told journalist the following:
"The Oslo era is almost over; a real epoch is getting introduced to Israel's politics. It is time to vision an economic peace through increasing investments ,enhancing the lifestyle of Palestinians, applying the Israeli sovereignty on areas classified "C" according to Oslo Accords and giving residents of the those areas full Israeli citizenship"
Jit – an Overview:
Jit is located 12 km to the south west of Nablus city, on An Nar Mountain. It is also 14 km to the east of Qalqiliya city and is located under the jurisdictions of Qalqiliya Governorate. The village residences are placed over two parallel mountains overlooking the main road connecting Nablus and Qalqiliya. Jit is surrounded by various Palestinian communities including Surra and Tal (east), Far'ata. Al Funduq, Immatin, and Hijja (south), Qusin and Kafr Kaddum (north). It is also edged by the expanding Israeli colony of Kadummim.
Its total area is 6460 dunums including 243 dunums of built up area.
The Israeli Occupation confiscated more than 1200 of the village lands for colonial expansion purposes including the expansion of Kadummim and Gil'ad Zohar colonial nucleus. Such colonial entities cause day-to-day suffering to surrounding Palestinian population because of the Israeli army measures in addition to the daily aggressions committed by the colonists. Such attacks included attacks against agricultural fields and farmers.
Prepared by
The Land Research Center
LRC