Israeli Occupation Forces issue Stop-work orders in the Hebron town of Yatta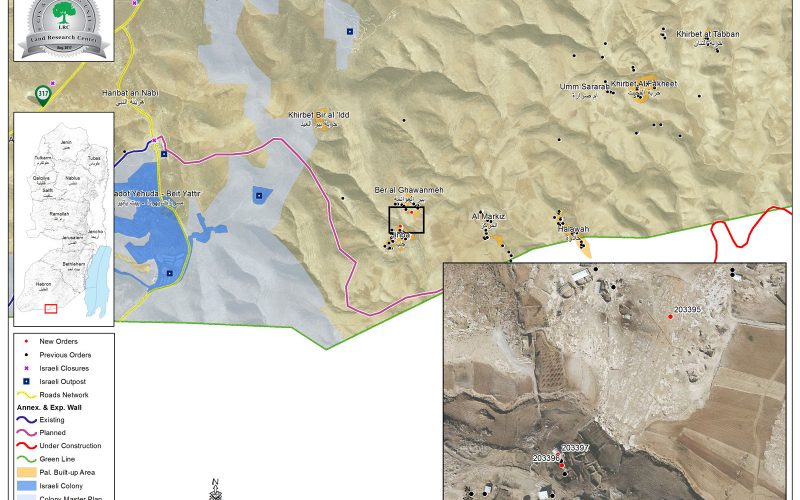 Violation: issuing stop-work orders
Location: Jinba hamlet- Yatta town
Date: August 15, 2017
Perpetrators: Israel Civil Administration
Victims: Ni'man Jabarin and Kamil Raba'i
Details:
Israeli occupation authorities served on August 15, 2017 stop-work order s on three residences in the Yatta hamlet of Jinba on the claim of "unlicensed construction".
The Israeli Civil Administration accompanied by an army patrol stormed the area at noon, hanged the orders on the structures and took photos of the place before they had left.
The orders compelled a halt on construction works under the pretext of lacking building permits. September 04, 2017 was assigned as the hearing session of the Planning Sub-Committee in the Israeli court of Beit El to consider the status of the notified structure. The following table shows information about the affected owners and properties:
No.

Name

Family

Minors

Structure

Year of construction

Area\m2

Order

Remarks

1

Ni'man Jabarin

13

8

Residential room

2012

45 m2

1

Rehabilitated by ACF in 2017

Residential room

45 m2

2

Sheep barrack

50 m2

30 sheep

Tent

20 m2

Abandoned

2

Kamil Raba'i

5

3

Residential room

2017

30 m2

3
Source : Field observation- Department of Monitoring Israeli Violations- Land Research Center-2017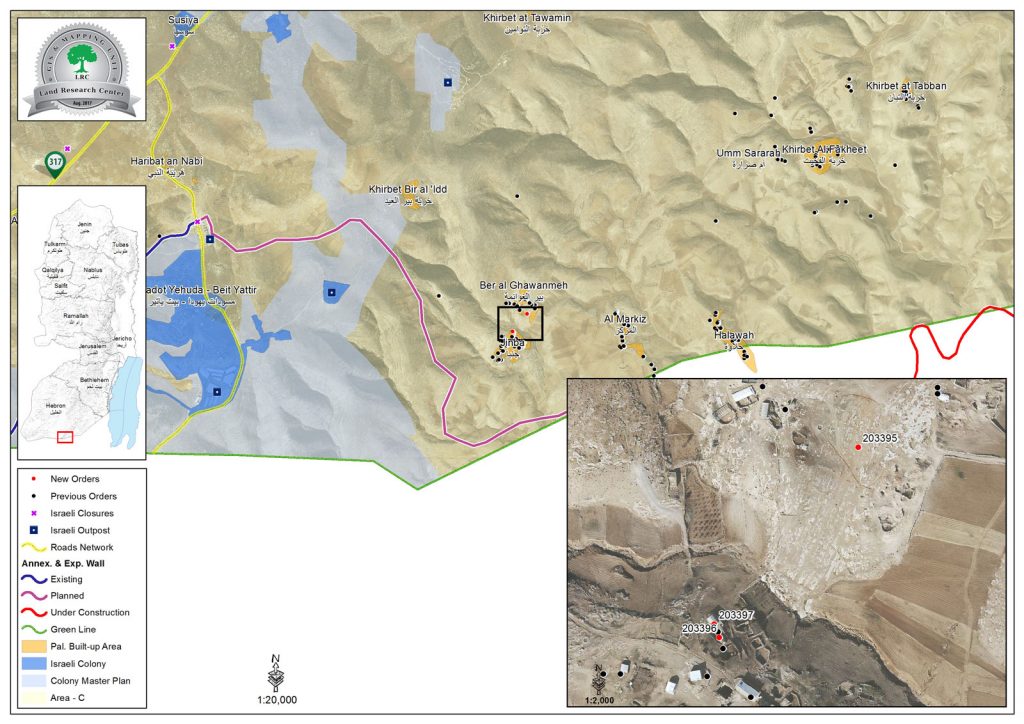 Israeli occupation authorities mentioned the possibility to apply for a building permit in Planning and Construction Committee- Israel Civil Administration but made it clear that such permits will not be granted for Palestinian applicants. Israel conducts such policies and practices to force people out of their lands, creating a reserve for colonial expansion.
Since the beginning of 2016 and until the preparation of this report, Israeli Occupation Forces notified 18 structures of stop-work and demolished 20 other structures, of which 13 were residential.
About Jinba:
Jinba is a small village located in an area known as Masafer Yatta, 12km to the south east of Yatta town. It is inhabited by 27 families which are around 207 people. Residents of the area depend on livestock. Most of the village structures are built of bricks, metal slabs, and sackcloth; the structures are very simple in their nature. The village holds a school, a kindergarten, and mosque within but they are all threatened with demolitions. A small generator provides the village with power while they get their fresh water from cisterns.
An unpaved road connects the village with the surrounding communities; the locals rehabilitated one km of the road in the past year but the Israeli responded by issuing stop-work orders for that road.
The village is edged by Mizpe Ya'ir (west), the segregation wall (south and east) and Masafer Yatta (north).
Prepared by
The Land Research Center
LRC